Shopping Cart
Your Cart is Empty
There was an error with PayPal
Click here to try again
Thank you for your business!
You should be receiving an order confirmation from Paypal shortly.
Exit Shopping Cart
Features, Reviews and a Blog by John Sciacca
| | |
| --- | --- |
| Posted on December 31, 2011 at 1:15 PM | |
On this final day of the year, it seemed fitting to post up the links to the most popular stories over the past year. (Fitting because I see so many other sites doing it, so, well, it must be the meta, blog recap thing to do.) So with a couple of clicks through Google analytics and some custom date range adjustment, I was able to quickly compile a list of the most viewed stories for the past 365 days.
The popularity of some stories surprised me – when PaidOutbrain.com picks something up, you are gonna see a mega short term traffic spike! – while the lack of popularity in others – really thought the Steve Jobs piece "One more thing..." would have made the list – was a bit disappointing. (I *really* need to get over that just because I like something, it doesn't mean that it will necessarily resonate with a larger group of people. I had a similar disappointment with my story on the Truman aircraft carrier. Le sigh...)
Without any additional fanfare, the top stories of 2011. (My list goes to 11.) (My list also counts down.) (From 11.)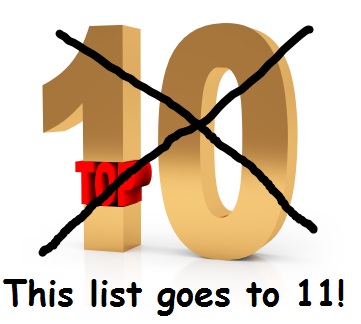 11  At the coveted #11 spot with 404 unique views is my story on Runco's dual-stack 3D projector. I was the first reviewer to get a full day of hands on with this bad girl and it remains my pick for the premier in-home 3D movie watching experience. (Well, unless you've got an extra 200 Grand lying around for the D-113d and need to drive like a 20-foot video screen with 6-cell Mag-Lite brightness.)  
First Look: Runco D-73d 3D Video Projector
10  With just 2 extra views at 406 is a clip from the movie Gnomeo and Juliet. If you haven't witnessed the unnecessarily powerful power of the Terrafirminator, well, brother, you need to! More awesome is the text that whips by at unreadable speed. Don't worry, I wrote it all down for you.
The Terrafirminator: Oh yeah, brother!
9  This year, Netflix's Reed Hastings provided plenty of blog fodder for me. His letters to subscribers and whacky business ideas – We're splitting the company AND changing the name! Wait! No! Scratch that! Totally NOT doing that! – got enough attention – 480 views – to make it the number nine story of the year.
Netflix Important Account Info and F-you!
8  Seems some of you – 591 to be exact – like to know a little bit about the writer behind the blog. My About Me page pulled down enough views that it would have been the #8 most viewed thing of the year. (You HAVE read about me, right…?) But that isn't really a story. So, it doesn't get the spot. The *actual* #8 most viewed post with 747 views is a fairly recent post and is my third rant on the whole Netflix debacle. I also summed up Netflix's entire year in a Haiku.
Please to enjoy:
Hastings sends e-mail;
Subscribers abandon ship;
Netflix stock plummets.
7  Thanks to a link from Geoffrey Morrison in his article at CNet, my TV calibration gone wrong story had 796 views and earned the number seven spot. Major takeaway, lesson learned from this debacle: Do not give a TV calibration as a gift to you older, angrier, non-tech loving parents. And part B of lesson: Do not be the calibrator delivering said gift.
You broke my TV. Now fix it or give me a new one!

6  I have NO doubt that this next story disappointed A LOT of people. Coming in at the number 6 spot with 898 views, I thought I would be cute and use the word "porn" in a blog title to describe the unboxing of two new products I received for review. Little did I know that there is apparently an actual porn actress – with a pretty Google-happy fan base as it turns out – named Meridian. So, if you search "Meridian porn" you will probably find my link. To be clear: There is no actual porn here. But, a pretty sexy unboxing of two super sweet products. Also, if you are looking to increase blog traffic to your site, working the word "porn" in the title will probably help.
AV Porn: Meridian Core 200 and DSP3200
5  Kaleidescape was kind enough to give me an exclusive hands-on look at their new M700 Disc Vault/Player. I received the system a few days prior to the official launch, and had my review all ready and Kaleidescape included a link to my story in their dealer launch announcement. Between that and all of the traffic from the Kaleidescape Owner's Forum and all of the Google searches for this machine, this story had 1169 views and is the 5th most popular of the year.
Exclusive hands-on review: Kaleidescape M700 Disc Player
4  Continuing to be popular more than a year after it was posted, my Navy SEAL cousin's explanation of how a silenced weapon really sounds grabbed the number 4 spot with1229 views.
Pew-Pew! What does a silenced weapon really sound like?
3 One of my most popular Google referral search terms is "Kaleidescape price." People are constantly curious about the pricing of Kaleidescape systems, and those searches propelled this story about Kaleidescape's new, lower-priced, Cinema One system to the number 3 spot with 2013 views. It also didn't hurt that Kaleidescape co-founder, Michael Malcolm, said they "laughed and laughed. It's the best article on Kaleidescape to date!"
Kaleidescape slashes the price, retains the awesome.
2  I was *totally* shocked that this next story not only cracked the top 11, but that it also managed 2117 views. Then I remembered that it was one of those glorious Paid Outbrain moments, where it was picked up and pimped out to other sites for one magical 24-hour period. This post is about two movies that my dad let me watch when I was 5 years old that he *totally* shouldn't have. Over 35 years later I am still scarred by them. (Thanks, dad!) Please to enjoy my pain!
Movies: Scarring lives since 1975
1  And now, we get to el numero uno. This story was born on Super Bowl Sunday this past year. Best Buy had a commercial starring the Osbourne's and the Bieber. The ad kicked off a new program called "Buy Back." A program that on the surface sounded like a good idea for consumers; you buy something, a couple of years later, when a new something comes out, you trade your old something back in for credit towards buying the NEW something. Great deal, right? Wrong. Suck-diddily-uck deal. I looked into the fine print of the offer and found out that it is a totally horrible deal that is only another sheer profit center for Best Buy. So, with 2187 unique views, my number one most popular story of the year:
Best Buy Back Not Such a Best Buy
Thank you again for reading and returning! I appreciate all of the views, and especially love the comments. If there was a story that you particularly enjoyed over the past year, please share it with me in the comment section. Love to hear what you, the reader, thinks. (If there was something you didn't like, well, send that in an e-mail to Darryl Wilkinson.)

Categories: December 2011, Top 10 List, Best Of...
/