| | |
| --- | --- |
| Posted on February 28, 2012 at 3:50 PM | |
So, I've been getting into craft beers pretty hardcore lately and I've found there's really a lot to love. (Here's my recent rundown of 6 IPAs and my Super Bowl 2012 7 beer taste off.)
Now, don't get me wrong, I still lurv a three-bleu-cheese-stuffed-olive vodka martini or a nice single malt scotch or even a Manhattan. (I've found that a thick cut of orange peel is the key to *really* taking the well-made Manhattan to the next level.) And I'm not opposed to trying new drink concoctions suggested by The Darryl Wilkinson. Drinks that some would consider to be…unnatural. (Chocolate milk and bourbon on ice. Seriously. You have to try it. I know it sounds like an alcoholic alternative to syrup of Ipecac, but I assure you, it is quite creamy and delicious. Pro tip: Use store bought chocolate milk. Mixing up Nestle or Hershey syrup just doesn't taste as good.)
Dollar for dollar, it's tough to beat beer. Want to try a new scotch? Probably gonna run you $50 or so. (And possibly way WAY more.) A premium vodka is gonna be in the $30-40 range. Most decent new wines are going to run you at least $10 – 20. (Unless you are dealing with Kim Lancaster, in which case anything that you suggest under $30 40 is likely to be met with scorn, ridicule, derision and immediate demands that your palate receive higher-education, preferably under her strict tutelage. I picture it involving black patent leather, a riding crop, crisp linens and a gleaming array of Riedel stemware. Foreshadowing: Mrs. Lancaster has agreed to grace us with a future guest blog on wine. Every wine I've ever had under her direction has been terrific, so I eagerly away the education.)
But with a quality craft beer, you get a unique and affordable experience in every bottle. (Note, that "unique" doesn't always mean "good."
For a couple of bucks, you can try something that is likely going to be different than anything you've tried before. And if it's great, you know you can buy more. And if it sucks, well, you're only out a couple of bucks and you've only got those 12 ounces to plow through. Plus, it's pretty easy to drink 3 or 4 different beers in a night so you can have a real taste flight of a particular style and really get a good comparison.
While I have my favorites (most anything from Stone, or the quintessential IPA, Pliny the Elder) I really like trying new stuff. And my favorite way to go about doing this is by going to a store and grabbing a mixed six-pack; six individual bottles. Some places are really cool about letting you buy singles. (If you ever make it to Berkeley, you *must* visit Andronico's on Telegraph. It has one of the most epic individual beer purchase selections. I think they had over 100 different singles when I lived there back in the 90s.) Lowe's Foods has one of the best policies on mix-packs -- $9.99 for 6 -- but over several visits, I've pretty much exhausted their singles collection. Piggly Wiggly has got a fair selection, but the individual beers are gonna cost you; I bought 7 the other day and it was close to $27. World Market sells singles but price is like $10.99 and the selection is just meh.
So the other day I drove up to my favorite local liquor store, Greene's, to check out what they had to offer. And sure enough, they had an awesome array of beers, including many that I've never heard of, let alone tried. But only in six-packs. Same with Piggly Wiggly. Row after row of amazing beers, but 90% of them are only sold by the six-pack. (Even though the guy running the beer department made some cryptic comment about buying individual bottles. Perhaps he was referring to the section of 40s -- Schlitz, OE, King Cobra, Colt 45 -- in the scary, dark back corner...) 
So, as I'm apt to do when there is a grievance that is directly affecting me and keeping me from enjoying something, I harvested an idea. Why not find five like-minded drinkers and form a Beer Club?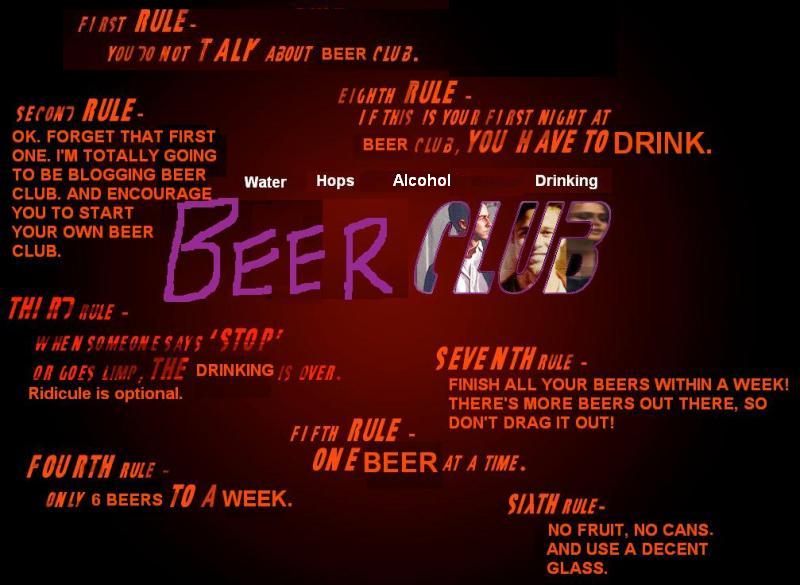 Everyone chips in like $15, I go to the store, I buy six 6-packs and create my own mixed-pack for each member of the Club. Then we could all share our comments on the beers and, I don't know, have some meaningful bonding moment or something. Like men. Whatever. It sounded brilliant.
So I approached five other people and they were all immediately on-board with the idea. So, I'm hoping to pick-up and deliver my first six-pack for the group this weekend and then taste over the following week and (hopefully) get some comments and put a blog up. If all else fails, I'll still have tried 6 new beers. Not too shabby.
Like beer? Like my idea? Form your own Beer Club and let me know how it goes. Prost!
Categories: February 2012, Beer/Liquor/Wine