Shopping Cart
Your Cart is Empty
There was an error with PayPal
Click here to try again
Thank you for your business!
You should be receiving an order confirmation from Paypal shortly.
Exit Shopping Cart
Features, Reviews and a Blog by John Sciacca
| | |
| --- | --- |
| Posted on March 12, 2012 at 3:50 PM | |
To know me is to know that I love – and HAVE loved – the band They Might Be Giants, or just TMBG. From the first moment that I discovered them – a cassette of Flood blasting on endless repeat over a giant, portable boombox back in the early 90s – I have been smitten. What other band can weave in deep, obscure literary references along with quirky riffs and hooks? Or have a song where "Minimum wage!" and a whipcrack are the entire thing? And do it over and over again?  And make the accordion cool?
I first saw the Giants live in San Francisco at the Great American Music Hall. The night I saw them, it was just the two John's on stage. After playing a couple of songs and riffing with the crowd, they pulled out a boombox that they turned to the FM dial and just spun around until they heard songs that they liked. Then they immediately started played along. Then they played their entire first album from cover to cover. The show was brilliant. And if I was in love before, I was in total LURV after.
Ever since I've made it a goal to see the Giants in concert whenever possible. I'm up to 10 shows so far and almost every show is different and clever and hip and awesome in its own way. The thought of following them around for several legs of their tour is incredibly appealing to me, and it has taken TMBG for me to actually understand the appeal and why people would become Dead Heads.
The Giants pulled a fast one on me when we moved to Myrtle Beach. We arrived on a Monday, and they were playing here, in Myrtle Beach, at the House of Blues on Friday night. I thought, "Oh my God! We're one of the tour stops! I'll get to see them every year!" But, alas. That was back in March of 1998, and they have yet to return to Myrtle since. You used to be able to count on them playing at the Music Farm in Charleston, but sadly that too has fallen off the tour schedule for the past couple of years. Charlotte and Raleigh continue to get the TMBG treatment, but they are both about 3+ hours – one way – from Myrtle and tough to schedule.
So, when I saw the latest Giants' Join Us tour schedule, I looked first for stops that would work for me – NOOOOOO! WHYYYYYY?!?! – and then for stops that might work for my friends. (A Twitter exchange with the Giants themselves said "we love Charleston; not sure why it isn't on the schedule" didn't really help to assuage the pain.) I tried to get Glasses to see them in Salt Lake City – and I mean I *tried*. Every manner of guilt and persuasion at my disposal, but still no go. Then when I saw that the second-to-last stop was in Providence, Rhode Island I reached out to the good folks at Caster Communications over Twitter. And, Nick Brown immediately rose to the challenge! (Though, to be fair, I'm not sure he was aware it was a challenge at the time.)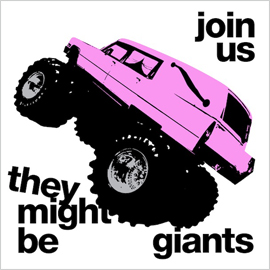 For a long time, Nick was the sole Y-chromosome carrying member at Caster. He also occasionally attempts non-violent, Foursquare Mayor takeover coups of the Caster home office. And being surrounded by all of that estrogen and beauty has made him soft, supple and able to take a joke in the form of a badly edited MS-Paint photo that might have involved him, a unicorn and non-consensual relations with John Mayer. Seriously, though, Nick is great, and when he agreed to go to the show AND blog his experience, I knew it was going to be the awesome. Take it away, Nick! (My comments set off in italics when I felt the need to interject...)
Contributing to the John Sciacca Writes blog is a bit like being asked to paint a border around the Sistine Chapel pinch hit for an all star slugger who spent the previous night making it rain before waking up in a puddle of DNA , malt liquor and regret. (Based on the contents of the most recent puddles, it would be 21-year single malt. But, tomato, tomahto...)  In all seriousness, I know John enjoys others living vicariously through his blog, so when he asked me to re-cap this weekend's They Might Be Giants concert in Providence, I decided to return the favor, and gladly agreed.
My first experience with They Might Be Giants was from an episode of the animated series Tiny Toons where Istanbul (Not Constantinople) played over a cartoon following the pursuit of a jade duck. I also recall the Animaniacs producing a cartoon using TMBG's Particle Man that featured a dynamic accordion solo and representation of Person Man that reminds me of Booger from Revenge of the Nerds. Ultimately, this led me to buy the Flood album. (Flood is clearly the gateway TMBG album for those of us belonging to the "born before the 80s" set. "Birdhouse in your soul" remains one of my favorite songs and – being an entire song sung from the viewpoint of a small nightlight – remains quintessential TMBG.)
In college, I lost touch with TMBG, choosing to pursue more urban music flavors, but history has a way of re-connecting. So when my son turned four, I asked around for decent kid's music at CES 2009 and was steered towards TMBG by Al Griffin of Sound+Vision magazine. This led me to purchase Here Come the 123s and ultimately teach my son the value of trumpet practice (and also the equally important lesson of NEVER going to work...) and dinosaurs balancing soup.
(This was also Lauryn's intro to the world of the Giants. We started with the ABCs and 123s – along with a healthy dose of Schoolhouse Rocks -- and then moved on to Science. The CDs come with a DVD that has a little video for each song. The great thing is that even though these are songs geared towards kids, they Giants don't slack on the song writing or arranging. Just listen to the awesome horn section flourish at the end of Electric Car. Plus, that is Flansberg's wife on vocals. A pic of Lauryn at her first concert: )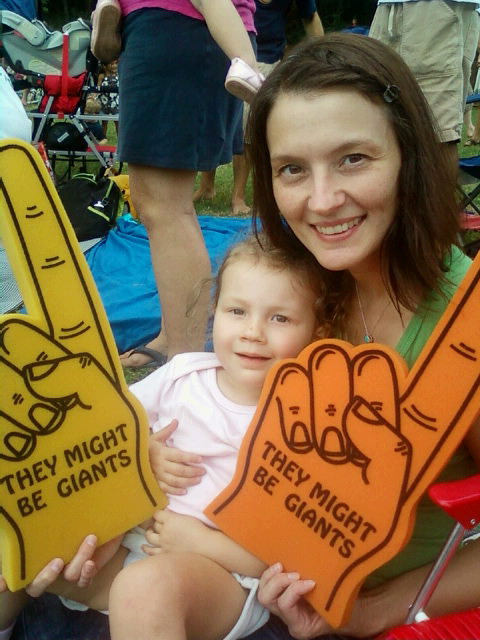 Fast forward to 2012 and TMBG is now touring with a stop at the dog-eared but intimate Lupo's Heartbreak Hotel in Providence, RI. It was here that I saw my first show ever, George Clinton and the P-Funk All Stars, when it was called The Strand. (My first show was The Beach Boys with my parents at the Concord Pavilion. I remembered cringing whenever they said "a swear.") At the time it was a night of firsts. First time seeing an adult man in a diaper acting funky, first time drinking outside a friend's basement, and the first (and last) time I passed out standing up. What could TMBG have in store?
Before entering the venue, my guest (who we'll just call Driver X) and I decided to stop into a watering hole for a little pre-game. Not looking at the sign, just moseying in the first door after a Mexican restaurant, we enter The Stable. Almost immediately it became quite clear this was not a typical equestrian-themed sports bar. Colorful wall-decor, muted lighting, two unisex bathrooms, perfectly groomed bartenders in skin tight shirts, Gloria Gainer techno covers playing to video of sweaty guys dancing together, I think you see where this is going.
As a securely heterosexual male, drinks are drinks and the Johnnie Walker on the wall serves the same purpose no matter who is serving and who is surrounding. Seeing that it was mostly empty, Driver X had no problem with the surroundings, and we were in close proximity to the concert venue, we bellied up to the bar and ordered a round. If there's one thing I hate more than soggy mini wheats, it's the measured pour. A bar that serves exactly one shot of liquor in a rocks glass as a drink should be in Canada (literally, that's the law there). Not so at The Stable. A smattering of rocks and fill to the brim, that's a drink. Three of those and a brief visit to the bathroom, which involved zero door locks and two people barging in (accident?), and we were ready for the show. (In my mind, I can't help but picture The Stable having a glory hole… Also, Nick happened to accidentally stumble into a gay bar called The Stable…? Come on. We were all thinking it.)
Lupo's has a spacious standing area downstairs and 20+ rows of seats in the upper level. It used to be called The Strand, with no seats, two standing levels, the top level catering to a more provocative audience, but those ships have sailed.  On arriving, a 14+ age limit gave the show a Backstreet Boys on wine coolers/Phish-light feel before broadening later in the night with a more diverse and older crowd filling in. (You would be challenged to find a venue more packed with young, glasses-covered eyes and filled with geek cred than a TMBG show.)     
Taking seats upstairs while opening act Jonathan Coulton performed rock n' roll, we (cough) waited for TMBG to take the stage, the venue at about 2/3 capacity. After a 10 minute intermission, TMBG appeared suddenly, uttered a few words of welcome before immediately rolling into Can't Keep Johnny Down, Birdhouse in Your Soul, Damn Good Times, a couple songs I can't remember, and the expected Particle Man, done worthily.  (They've opened with Alphabet of Nations the past few times I've seen them. Thought I love Johnny, an upbeat number from their new album, that would be a good starter.)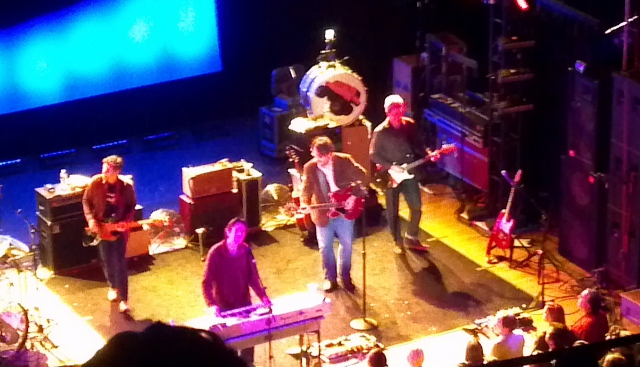 Many of the songs were unknown to me, but soon after Particle Man, a screen appeared on stage featuring a pair of sock puppets called the Avatars of They, which, to my understanding, are doppelgangers to John and John from TMBG. (They narrowly avoided being burned up in a trailer fire and now have their own Twitter account , @AvatarsofThey.) It was hard to hear what they were saying from the upper level, but the puppets performed in between and sometimes during Snowball in Hell, Pandor, and Spoiler Alert, narrating a mix of commentary about drugs, I think, and semi-coherent, stream of conscious nonsense. To their credit, it did hold people's attention, allowing the Johns a brief recess from the stage. (I would be remiss if I did not admit to you that I fancy myself the third John. Yes. Even with absolutely no music experience whatsoever. Thus is the level of my fanship.)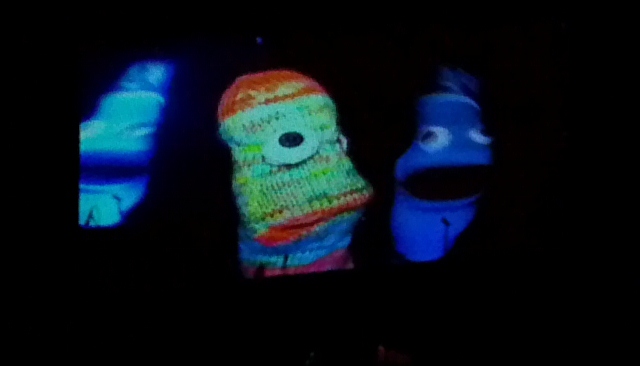 More music ensued, some highlights included a flamboyant saxophone solo on Cloisonné and a brief cover of Black Sabbath's Paranoid, less about biting the heads off bats and more about getting the crowd to go bat shit crazy (they did), even if only for a few riffs. The accordion made a few appearances, always welcome since it deserves more than just the occasional Polka. One of my notes appears to say "Accordion, Incandescent Legos sardine" so I think I was really impressed.  
TMBG, Driver X and I kept things moving at a steady pace, and at some point Don't Let's Start comes on and I know it's getting later, so we work our way to the floor. A few more songs and When Will You Die (a surprisingly upbeat song, given its title) brings it to a close, with the expectation of an encore. Three minutes, back onstage, three more songs, including Mesopotamians, nice, but it can't be over. Applause, cheers, lighters, onstage again, Why Does the Sun Shine? (I think that's where "incandescent" came from), a fitting end. (Further Giants scientific study has revealed that the sun is really a giant miasma of plasma; forget all that stuff they told you before...)

But wait, just one more, and then the familiar strum of Istanbul. Floor level with Lupo's, the audience, and TMBG all as one amorphous being, moving, breathing synchronously, TMBG the puppeteers and we the marionette, responding to the plucking of strings, time passing insentience until the final chord and a well-earned, "Thank You Providence." That's how you send the house home happy.
TMBG played what we wanted with energy and made it feel distinctive, the most important concert judging criteria. It may have been the sound system or my advanced commitment to enjoyment, but my only criticism is that there were times when the lyrics seemed completely garbled, even when I squinted. For $30 it was worth it to see them in an intimate environment with an enthusiastic crowd and I would definitely recommend. Driver X and I even made a few new friends, but that's nobody's business but the Turks.
Awesome, recap! Thanks, Nick! And with that, Nick joins the pantheon of other great Sciacca Writes guest bloggers. They've tackled such compelling topics as Oprah's Favorite Things, Kitchen Nightmares (by ex-Caster employee, PR Buddha), silenced weapons and drinking in strange cities. If you've got an interesting story, tell me about it…
And if you need any public relations work -- or just want a little extra humor in your life -- follow Nick on Twitter at @prnick or contact him at Caster Communications.

Categories: March 2012, Guest Blog, Music
/