Shopping Cart
Your Cart is Empty
There was an error with PayPal
Click here to try again
Thank you for your business!
You should be receiving an order confirmation from Paypal shortly.
Exit Shopping Cart
Features, Reviews and a Blog by John Sciacca
| | |
| --- | --- |
| Posted on April 10, 2012 at 2:00 PM | |
With the recent news that Bond will be drinking a (ugh!) Heineken in the upcoming film,  and since I've been on a beer terror lately, I've come up with a list of 10 beers that I could imagine Bond actually drinking.
Not always ordering, mind you, because I can't really picture too many moments where Bond orders himself a beer over another option. But beers that are sent to him, sending a subtle – or not so subtle – message.
So, here's the beers I've selected for Bond and the scenarios I see them being used.
#2 Foothills Brewery - Sexual Chocolate Imperial Stout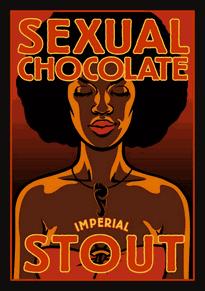 That niggling sixth-sense, which had saved his live so many times before, went off and Bond became aware of a person approaching him from behind. His muscles tensed for action, but the scent told him it was a woman before he'd even turned and he allowed himself to relax a bit. He stood, positioning his body in a less compromising position, and turned to face the strange woman. 
She had skin the color of dark molasses and wore a white, silk blouse which stood in stark, brilliant contrast to her skin. She wore a simple, wide, brown leather belt over dark pants. Bond noted with approval that the top three buttons of the blouse were undone, revealing that the blouse held plenty underneath. Bond let his eyes wander slowly up to rest on her beautiful face.
"Sexual chocolate," the woman said, the corners of her mouth turning into a wicked smile as her dark eyes sparkled.
"Sexual chocolate indeed," Bond replied, holding her gaze fiercely with his own. "So, I take it you're reading minds," Bond added. "Tell me; what am I thinking now?"
She laughed, the pleasure of his retort lighting up her face. "Ah, you're clever. No, but a nice guess," she said, holding the beer up between the swell of her large breasts. "The beer. It's called 'Sexual Chocolate.'"  She handed Bond a pint a dark liquid.
"I saw you sitting here alone and thought I'd join you for a drink. Mr…?"
"Bond. James Bond." Bond loved the aggressiveness of women in this part of the world, and he took the glass, taking a tentative first sip. It had the strong, dark flavor of a bar of 92% cacao with a wonderful bittersweet finish. He smiled his approval. "Very nice."

"So, do you like chocolate, Mr. Bond?"
"I like all manner of sweet things. But when it comes to chocolate," Bond said, his gaze dropping to the deep V and generous swell of her blouse, "the darker the better."
Categories: April 2012, Books, Beer/Liquor/Wine
/