Shopping Cart
Your Cart is Empty
There was an error with PayPal
Click here to try again
Thank you for your business!
You should be receiving an order confirmation from Paypal shortly.
Exit Shopping Cart
Features, Reviews and a Blog by John Sciacca
| | |
| --- | --- |
| Posted on August 26, 2012 at 8:55 PM | |
Obi-Wan: That boy is our last hope.
Yoda: No. There is another... The Empire Strikes Back
I first saw Star Wars in 1977. I was 7 years old. And I think it will be one of those memories that I will carry with me until the day the day that I die.
My parents were shopping in Carmel, California and they dropped my cousin and me off at this small theater. I remember that you walked down these steps to kind of go underground to get into the theater. We knew none of the hype of the film, and I can't remember being especially excited about seeing it. But I remember being awed by that opening scene when the Star Destroyer flew overhead, and the sound of it emanating from the back of the auditorium and traveling to the front of the screen. And it just kept coming. And coming.
When the movie was over, I remember my cousin and I bursting out of the theater and meeting my parents, telling them how awesome it was, and then turning around and going back in and seeing it again.
That was my first experience with Star Wars. And I've been hooked ever since.
Of course, I've seen Star Wars (Episode IV) many times since then. I saw it at the Mann's Grauman's Chinese Theatre, where I ate an entire box of theater-sized Red Vines (and then had the stomachache to prove it.) I saw it in a double-feature with Close Encounters of the Third Kind. I saw it on Beta. I saw it on VHS. I saw it on Laser Disc. I saw it on DVD. I saw it at the theatrical re-release in 1997.
But I have been waiting for the right time to show Star Wars to Lauryn. I wanted her to love it as much as I did, and I figured that I'd wait until she was 7, the same age that I was. (Of course, the cold, analytical part of my mind acknowledged that there was little chance that she would love the films the same way that I did for all the reasons listed here. Plus, let's be real. Lauryn is a girl. And while there are some girls that DO indeed love Star Wars as much as boys -- Amy Ratcliffe (@amy_geek on Twitter), I don't know you, but MAD respect on your Star Wars love, girl! -- they are about as likely as completing the Kessel Run in less than twelve parsecs.)
It's not just that Star Wars would be too scary or too intense for her, but that I wanted her to be old enough to understand and appreciate it. To be captivated by the power of the Force and the idea of owning a lightsaber and of X-Wing fighters blowing up space stations the size of planets.
But, then something happened that changed my mind.
When I found out that the D-BOX Motion Platform would be arriving at our home for review, and after I experienced how awesome D-BOX was for adding an extra dimension to The Empire Strikes Back Hoth battle scene at CES this year, I decided that this was an event impressive enough to warrant letting her watch the movie now.
The D-BOX Platform is something that attaches to the frame of your couch/chair/loveseat and uses four powerful motion actuators to move the seating in precise coordination with the on-screen action. Their engineers code each movie individually to add an additional layer of emotion to the film by letting you feel and move along with the on-screen action. (You can read about my experience of watching Spiderman at the theater with D-BOX seating here.) The system also ain't cheap; it costs upwards of $10,000. So, when combined with our 9-channel surround system and 115-inch anamorphic front projection system, I figured that this was as likely to be an unforgettable Star Wars experience as she was likely to get.
We planned the event for the weekend where she wouldn't have to get up early for school the next day. We had dinner early so we could start the film as soon as it got dark. I went and bought her some Pink Lemonade – her favorite at-the-movie drink – to enjoy with the film. Then it was lights off, shades and screen down, go-to-the-bathroom, sit down, we're about to watch Star Wars: Episode IV: A New Hope and there ain't gonna be no interruptions!
Before we started, I wondered what Lauryn knew about Star Wars. So I made this video interview where I asked her some questions:
Now, this was the first time that I had watched Star Wars Ep IV all the way through in a while; I'm guessing probably ten years or so. In fact, it was the first time that I watched the new Blu-Ray release.
Here were my thoughts on A New Hope, watching it for the umpteenth time, some 35 years after my first viewing…
1)    The clean-up and restoration on the film are amazing. The sound is also incredibly impressive. Until George releases it again in 3D, and then again-again in 4K, this is the best Star Wars we're gonna see, and it looks and sounds great.
2)    That initial scene with the Star Destroyer flying overhead is still just as impressive.
3)    Luke is kind of a whiny bitch. I'm not sure I realized how whiny Luke was. No wonder Uncle Owen was always riding him about his moisture farm duties.  
4)    It seemed like the scene with Obi-Wan handing Luke the lightsaber should have been more important or intense or ceremonial or something. It's really so, "Oh, yeah. Your dad wanted you to have his lightsaber. So, here you go!" And wouldn't Luke have been like, "Holy sh--! A lightsaber! WTF?!? This thing is frickin' awesome! How do you use it? Let's go chop some crap!" Instead he just calmly sparks it up and just waves it around for a bit.
5)    Han not shooting first is *really* a major change in his character. He is unbuckling his blaster, he is pulling out his weapon, he is preparing to blast Greedo and not think twice about it. Him firing first is such a more rogue movie. The Blu-ray has been re-edited to make it seem like Han and Greedo fire simultaneously, but, still, Han firing first is a far more bad-ass move.
6)    The whole added scene with Jabba is lame. "Han, ma bookie…"  Especially when Han steps on his tail. Lame, lame, LAME. Seeing Jabba for the first time in Jedi has SO much more impact. (Though the quick Boba cameo is pretty sweet. Respect.)  
7)    I still wish they'd make some version of the chess-whatever game that Chewbacca and R2-D2 were playing on the Falcon. It would be awesome on an iPad.

8 )   Stormtroopers can't shoot for crap. Like, they are*awful*. Like the worst. I'm not sure if they ever hit anything. Even with a whole battalion of them shooting at targets from a point blank range, they still can't hit anything. And anyone that *looks* like they were hit by a Stormtrooper really has probably just fainted out of shock over them actually getting close. I'm not sure what Obi-Wan was smoking up in his desert cave when he said, "These blast marks are far too accurate for Tusken Raider's....these were made by Imperial Storm Troopers."
9)    They all get over the death of Obi-Wan pretty darn quick. Like, "Well, the old man's dead. He was a nice old man, but, well, time to move on. Hey, let's shoot some Tie Fighters! Yee-haw!"
10)    So, Leia was the Princess of Alderaan. And Alderaan got vaporized. So, that made her the Princess of…? Also, with her planet – and presumably all of her resources and wealth – suddenly obliterated, where did they get all of that reward to pay Han and why did she still have so much influence with the Rebellion?
11)    I never noticed that the fat, needs-a-neck-shave, first guy to die in the X-Wing attack was named "Porkins." To name a fat guy "Porkins" is pretty hilarious. Also, the Rebels clearly didn't have very high standards for the pilot recruitment program. I mean, they let Luke jump into an X-Wing in the MOST IMPORTANT FIGHT OF EVER without any training or testing or anything.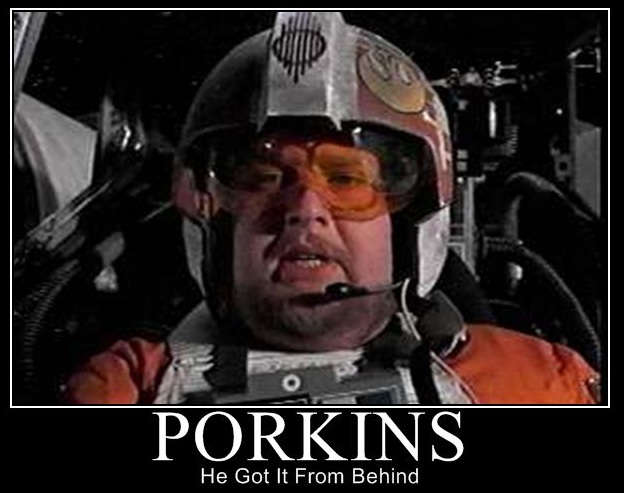 12)    Even though the Jedi have been "wiped out" for many years by this point, it is interesting that so many of the characters still say, "May the Force be with you." I mean, would they know about the Force? It had been gone for a long time. They'd likely never seen it or any Jedi in action. And the Force WASN'T with the Jedi that got wiped out, right?  
13)    The trench run scene with the D-BOX seating was AWESOME. You feel the couch dip and rise in perfect sync with the fighters dropping into the trench and then this gentle box and weave as they make their run. Subtle and awesome to draw you into the scene. Also cool was the way that you felt the Death Star's explosion rip through the room, with a huge initial blast, and then a rumbling shock wave as the explosion traveled out into space. By far the best use of the D-BOX motion seating throughout the film. Other cool D-BOX moments were getting caught in the Death Star's tractor beam, and cruising in Luke's sand speeder.

So, when the movie was over, I re-interviewed Lauryn and asked her what she thought. Here are her post Star Wars thoughts:
I asked her if she could have a lightsaber what color she would want it to be. She said she's want a blue one. I said that I was surprised she didn't want a pink one and she said, "Dad, I thought I could only pick from the real ones." Awesome.
Her three favorite guys were R2-D2 – her favorite scene with him was when the Jawas captured him and she thought he was funny – C3PO – she liked the part where he was saying, "Just you reconsider playing that message for him!" – and Princess Leia because "she's beautiful and she's a princess." Her favorite scene in the movie was the lightsaber battle between Vader and Obi-Wan.
She had a lot of questions about the Force. "What's the Force?" "If he [Obi-Wan] is dead, how does he keep talking?" "How do you get the Force?" "How did he (Obi-Wan) make those guys (Stormtroopers) do what he wanted by waving his hand?" Also other questions like, "When does Darth Vader turn good?" "Where's Yoda?" "What's going to happen next? Will it be scary?"
She understands that there are more films. "So, I saw number four, and there are six movies so that means that there are five more movies that I haven't seen. When do I get to see those?"
Overall, she liked it, but I'm not sure that it made that big of an impact on her. Honestly, I think she was still a bit young for it. She seemed confused by a lot of what was going on, and she started getting tired near the end. (She almost fell asleep during the Death Star battle; I had to keep saying, "Don't you want to see them blow up the Death Star?" "Just stay up until they blow up the Death Star!" and then "Now they're going to a big party. Don't you want to see the party?")
But whether she loved it as much as I did or not, watching it with her was still a chance for me to re-experience Star Wars all over again for the first time. And to remember how great that experience was. And hopefully she'll a bit of that magic rubbed off on her too.

Categories: August 2012, Family, Movies
/