Shopping Cart
Your Cart is Empty
There was an error with PayPal
Click here to try again
Thank you for your business!
You should be receiving an order confirmation from Paypal shortly.
Exit Shopping Cart
Features, Reviews and a Blog by John Sciacca
| | |
| --- | --- |
| Posted on November 10, 2012 at 3:20 PM | |
Without a doubt, big, fresh, juicy, hop-filled IPAs are my beer of choice. The zing of the fresh pine and citrus juice that nearly puckers your mouth followed the lingering finish of bitterness… When done right, it is difficult to surpass the flavors of a great (Double/Imperial) IPA in my book.
But there are a lot of other beer styles out there, and for this tasting I rounded-up five different Trappist and Belgian Triple style offerings. And lest you think that monks are only interested in wearing brown robes while hymnal-ing, or selling local made honey or fudge, it turns out that brewing is quite a lively trade for them.
According to Chimay, the term "Trappist" refers to beers that have been "brewed within the walls of a Trappist monastery under the control and responsibility of the community of monks, and whose revenue is devoted to social service. The 'Authentic Trappist Product' logo is granted by the International Trappist Association. It guarantees the consumer the Trappist origin of the products according to well-established principles:
1.    They are manufactured on-site or in close proximity to the monastery.
2.    The monastic community is engaged in management and all aspects of the means necessary for their operation. This must clearly reflect both the unquestionably subordinate relationship with the beneficiary monastery and the relationship with the culture of the enterprise itself in the plan of monastic life.
3.    The income provides for the major portion of the necessities of the community and for social services."
I've no doubt that Derrick "Beard" Dellinger and Dennis Burger – beer Jedi Masters if ever there were such a thing – would be able to weigh-in a little more deeply here, but I'm not about dissecting beer; I'm about drinking beer! Without further adieu, a la votre!

Chimay - Grande Reserve Ale
Hops: Unlisted
ABV 9%, IBU Unlisted
$8.99 for 1 Pint, 9.4 ounce bottle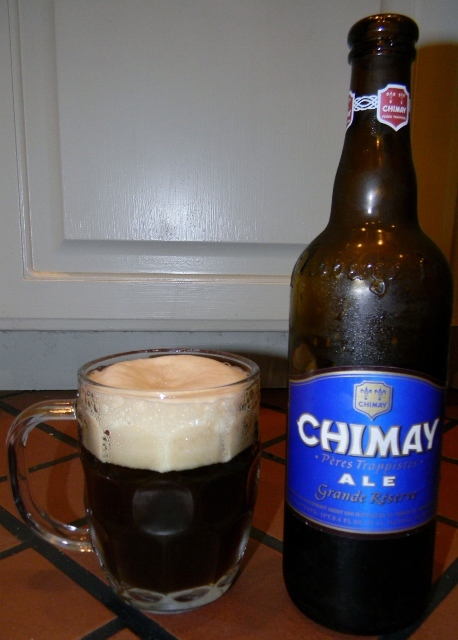 Description: "The registered trademark "Trappist" certifies that this ale was brewed within  the walls of an existing Trappist monastery under the control of the Trappist  community. A major part of the sales revenue is used by the monks to support charitable works. The exceptional yeast isolated by father Theodore, combined with the purity of the highly protected water of the Abbeys Wells, gives Chimay it's unique richness. Since 1862, Chimay's secondary fermented ales have neither been pasteurized nor filtered and only natural ingredients are used. To fully appreciate the strong character of the Chimay grand reserve (see vintage on Cork), served slightly chilled, in a wide-mouthed glass."
"The Chimay Blue Cap, 'baptized'  'Grande Reserve' in 750 ml bottles is a dark Trappist beer with a powerful aroma, the complex flavour of which improves across the years. It was first brewed as a Christmas beer, explaining the presence of a "vintage". This authentic Belgian beer, whose tinge of fresh yeast is associated with a light rosy flowery touch, is particularly pleasant. Its aroma, perceived as one enjoys it, only accents the delightful sensations revealed by the odour, all revealing a light but agreeable caramelized note. It is served ideally at cellar temperature (10 to 12°C)."
I stumbled across this beauty while strolling the wine and beer aisles at Costco of all places. Much to the chagrin of Trappist ale specialist, Dennis Burger, I didn't cellar this beer for a few years, but rather elected to drink it within a few days of purchase. (Hey, I can always buy more!) I did try and appease him by opting for my biggest glass and going with an aggressive pour as per. The cork pops like a bottle of champagne, so right out of the gate this is a classy ale. Huge head immediately volcanoes up, dominating half of the glass, but quickly settles down to a nice finger of frothy-bubbly tan colored foam. The froth holds its shape and just lies gently on top throughout the drink. Beer looks quite dark pouring out of the bottle, and appears the color of  crème soda. But in the glass it's a very cloudy, dark reddish-orangish brown. Nose is rich with spices; clove, banana peel, cinnamon spice. I could easily believe it was another take on a pumpkin ale just from the bouquet. Beer lands mid tongue with a nice tingle, and then kind of coats the mouth with flavor, and then gently eases down the throat with spicy, banana flavored yeast and a flash of alcohol sweetness. The beer has a nice lingering finish of malty, honey, bready notes. As the beer gets near the end of the glass, the grassy wheat field notes are more prevalent, and the alcohol edge is dulled. (Second pour..) There is a definite zip when the beer if coldest out of the fridge, first in the glass, but it also has an edge that eases and mellows and developer into smoother, richer flavor after some minutes in the glass/chalice. The flavor at its best is a rich, grassy, burnt caramel-apple malt, figgy/raisin jammy spicy sweet flavor that is incredibly satisfying and leaves you wanting for more. I've no doubt that it would improve with time, but also know that I wouldn't have the willpower to live with this in my fridge.
Terrapin Brewing - Monk's Revenge Belgian Style IPA
Hops: Magnum, Columbus, Chinook, Amarillo, Cascade, Simco
ABV 9.6%, 82 IBU
$13.99/4-pack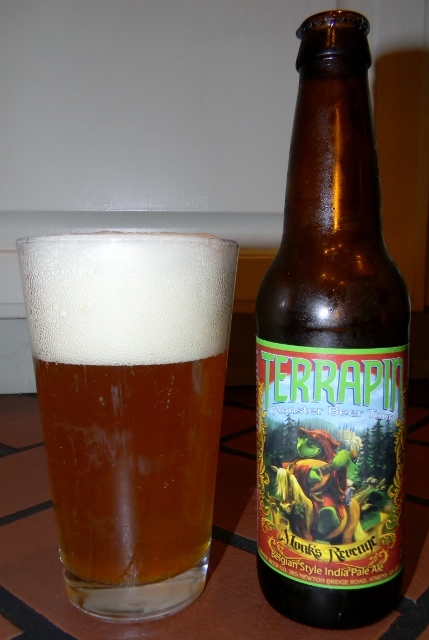 Description: "Step back in time for this holier-than-thou union of two great brewing traditions that are worlds apart. Kudos to Fria Spike and little John for marrying a classic Belgian Style Tripel and a new age American Double IPA. Revenge is a BEER best served cold!"
This is part of the Terrapin's Monster Beer Tour Series. My previous experience with one of their Monsters was the Hopzilla, which had the distinction of being my 100th beer reviewed. I've been generally pleased with Terrapin's offerings and thought I'd give their take on the Belgian style a try. Also, any beer that can quote-drop Khan has earned a review opporunity in my book! Poured straight down the glass the beer produced a volcanic explosion of three-plus fingers of thick, creamy, meringue-like foam. Foam remained thick and chunky on top of the beer and left tons of lacing on the sides of my glass. Body is a very cloudy golden yellow. Smell is rich and intense with gummy, banana, and sweet fruit odors. Smells like a classic, juicy Belgian. First sip and the beer just lands nicely on mid-tongue, creating a real splash of excitement. It then eases to the back of the mouth where it explodes in big fruity, juicy flavors. A bit of lingering bitter on the finish. All-in-all, it's really a nice, complete mouth experience, with something happening from start to finish throughout the drink. It's not as sweet as some Belgians which is OK by me and the alcohol is well in check. You could easily assume this was a 6% ABV; it is just so smooth and balanced. That is until you finish the first bottle and then you're like, "Oh. Yeah. Right. Almost 10%. Totally!" Monk's is really a nice representation of the Belgian IPA style, with good flavors and mouth involvement throughout. I like how the banana and bubble gum are there but dialed back a bit. As the label says, this is best enjoyed cold, as it warms and spends a bit of time in the glass, the beer mellows a bit and loses some of its snap and kind of takes on the mouth-texture of drinking honey; thick and viscous. Don't dilly-dally with this one; a vengeful monk needs to get down to business for best results!
(Thanks to my business partner, Allen, who brought in these next two bottles to our installation showroom. We then had a bit of "afternoon delight," taking casual Friday to delicious new heights. We split the two bottles, which was certainly enough to let you appreciate/experience what both beers had to offer.)
Maredsous – Abbaye Triple
Hops: Unlisted
ABV 10%, IBU Unlisted
11.2 ounce bottle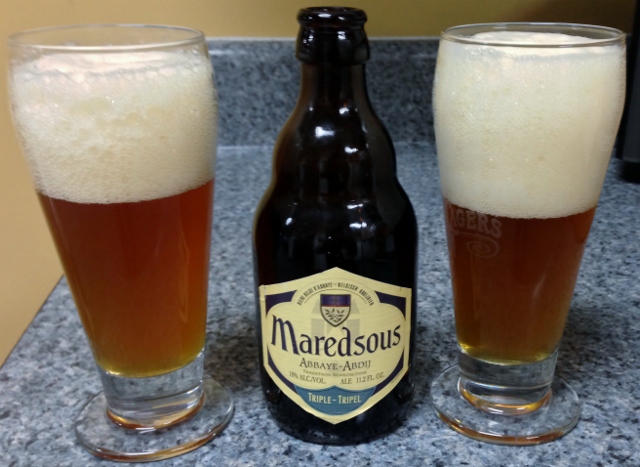 Description: "Maredsous Triple is a high fermentation abbey ale, brewed in accordance with the Benedictine tradition of the community of Maredsous Abbey. The ale is refermented in the bottle during the two-month ageing period. Maredsous Triple should ideally be served at a temperature of 6-10° C/42-50° F. Contains barley malt."
"Maredsous Triple is only served on special occasions at the abbey. This ale has a full, robust character, revelling in its glorious aroma and rich aftertaste. The abbey beer par excellence for the true connoisseur. This is a golden-bodied Triple, replete with festive sparkle, creamy body, and a luscious head. Its elegant smoothness belies the strong alcohol content. You will revel in its balanced, long, and warming finish."
Pours the color of golden, liquid honey, and produces a giant, creamy, meringue frothing of head that stays like a large cotton-cloud blanket resting on top of the beer. Body has some cloud to it. Smell is rich and robust with sweet honey and bubble gum and spicy clove notes. First sip and it lands with a big note on the front and mid tongue and the sweetness and high-alcohol content are immediately apparent. Really nice lingering flavor with notes of bread and wheat that do a nice job of balancing out the sweetness. Imaging drinking a cold, liquid, glass of honey slathered wheat bread. But with a spike of alcohol in there. The initial taste is really a tad too sweet and forward for me. Like an aggressive honey-sugar assault.  I really dig the finish as it mellows and brings in other notes, but that initial sweet rush is a little overpowering. As I near the end of the glass, the "elegant smoothness" of the alcohol notes are becoming less elegant and more prevalent, which make for a bit of an unpleasant bite that I am not reveling in.

Maredsous – Abbaye Brune
Hops: Unlisted
ABV 8%, IBU Unlisted
11.2 ounce bottle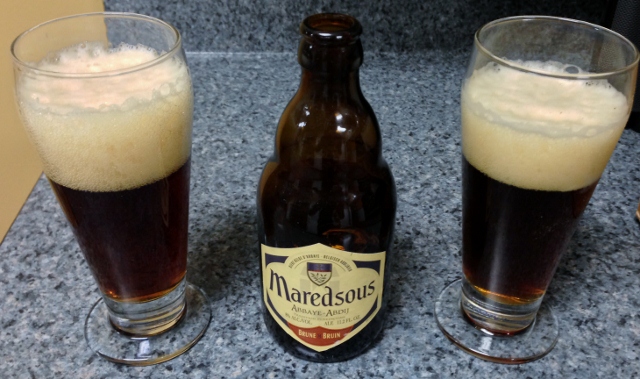 Description: "Maredsous Brune is a high fermentation abbey ale, brewed in accordance with the Benedictine tradition of the community of Maredsous Abbey. The beer is refermented in the bottle during the two-month ageing period. Maredsous Brune should ideally be served at a temperature of 42-50° F. Contains barley malt."
"Maredsous Brune was blended by Father Attout, whose aim was to brew an aromatic ale for Christmas. His creation, with a delicate caramel bouquet, has become an indispensable fixture for beer lovers. This is a rich mahogany-brown Dubbel ale, with a delicate body, creamy head, and lush bouquet. Within its velvety taste you will discover subtle hints of dark fruit, chocolate, and toffee. You will also savour a dry and warming finish."
Pours a rich, medium-dark brown with a big head that slowly settled down to a creamy, puffy, frothy layer. Leaves big lacing on the sides of the glass. Body appears clear, like a dark tea that has spent a long time steeping. Nose is sweet and chocolatey and reminds me of brownie batter. And I mean that in a good way. (Was that necessary to add? I mean, is there anyone out there that doesn't love brownie batter?) This beer smells like a heavenly dessert. Nice tingle on the tongue, but following the Triple, this beer is far more laid back and easier to drink. I'm also worried that the over-powering Triple may have dulled my taste buds a bit, and I'm wishing I would have started with this one. The finish is easy with just a touch of toasted malt, and bread and coffee notes. I don't taste any of the brownie batter that I smell, but this beer is definitely preferable to my palate as it is more balanced and even throughout. As I near the end of the glass there is a smoothness and a creaminess to the beer that is really pleasing. It has a great mouthfeel that just feels so *right* in your mouth and is just so smooth going down. This is not a beer that has overwhelming flavors, but it is like nestling up in a favorite warm blanket.
Avery Brewing – Anniversary Edition: Nineteen
Hop Variety: Bravo, Czech Saaz
ABV 8.23%, IBU 41
22 ounce bottle $7.99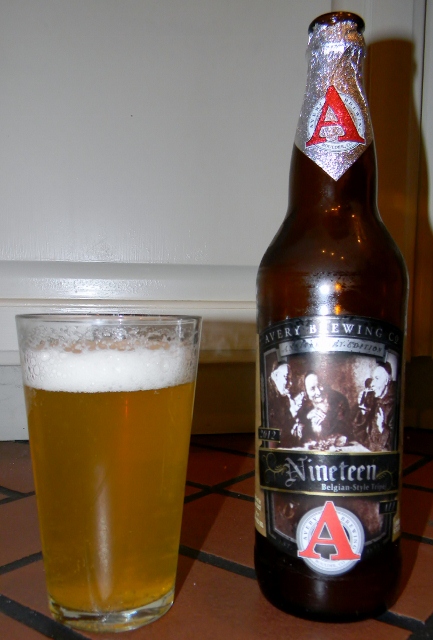 Description: "The hallmark of Belgian Triples are fruity esters balanced with a dry finish that fall in the range of 7-9% ABV. And for this year's 19th anniversary celebratory brew, we decided to create a stylistically perfect beer—something unusual considering our penchant for producing eccentric beers that defy styles or categories. Bottled in May 2012. One and done."
I've been pretty impressed with Avery's offerings, most recently their Maharaja whish is an all-world Imperial IPA by all counts. When I saw this special anniversary edition in the Belgian Triple style, I knew it was what I needed to complete this round of tasting. Pours out a surprisingly light color of yellow that is, well, let's just say my first thought was, "Huh. That looks like pee." Produces a decent bit if head that quickly grows thick, chunky and then breaks down into just a scrim of froth on the top.  Leaves nice streaks of lacing on the glass. Very clear body with tons of visible carbonation. Smell is juicy sweet, with notes of pineapple and mango and that typical Belgian yeast banana-bubblegum scent. First sip and the beer lands with a zing on the mid tongue and you can feel the sweetness in your cheeks. Beer is definitely on the juicy sweet side, but not overpowering. The carbonation visible in the glass is definitely present as this beer has a nice pop! to it. This is actually pretty close to the flavors I picture when I think of a Tripel style, with lots of juicy and fruity notes and sweetness, but in nice balance and a really lengthy finish. I'm thinking that the Terrapin was a little "bolder" in flavor and this is a shade more laid back. At the end of the glass I'm starting to get just a hint of the alcohol as the beer has had a chance to warm up a bit. That's usually my cue that I'm drinking too slowly and that its time to get my second pour on! (Say what you will about beer being sold in 22 ounce bombers, but it is *awfully* nice to reach the bottom of that first glass and know that you still have another full reload to go!) First sip (part deux) and it's that nice, juicy sweet all over again. I'm also noticing a nice crispness to the finish here. I have to say, Avery has been impressing the hell out of me lately and is up there with Stone and definitely vying for top brewery honors. If Tripels are your thing, Nineteen is definitely worth your time and money, though this is a one-off offering and won't be around for long…
Categories: November 2012, Beer/Liquor/Wine, Reviews
/