Shopping Cart
Your Cart is Empty
There was an error with PayPal
Click here to try again
Thank you for your business!
You should be receiving an order confirmation from Paypal shortly.
Exit Shopping Cart
Features, Reviews and a Blog by John Sciacca
| | |
| --- | --- |
| Posted on December 1, 2012 at 11:30 AM | |
My brother, Adam, is a triple-threat, perfect storm when it comes to helping-a-brother-out and providing beer. 1) He's incredibly generous, 2) He loves huge, crazy-hopped IPAs, and 3) He lives just outside the San Francisco Bay Area which is home to some of the greatest microbrewers on the planet, giving him regular access to some of the finest beers on the planet. (How'd you like to just stroll into the store any day and pick up Pliny the Elder for $5?)
So, when he said that he would be coming to visit and would be bringing some beers for us to enjoy, I knew it would be something awesome. Unfortunately, he wasn't even here for a full 24-hours, but we managed to cram a lot into the 22 hours he was here (dinner, a movie, some shopping, lunch, fixing a broken toilet...) including drinking quite a few great brews.
As we cracked open the first bottle, I asked Adam if he'd like to do a mini-beer club and submit reviews to accompany my own. So, with pen in hand, we poured the first of four beers and were off.. Before we get to the reviews of the four we enjoyed together, here's a quick note of introduction from Adam…
I know beer, right?  Right?  Well, I know what I like (big bold IPA, with mouth-smacking hop bitterness) and I know what I'm looking for (Pliny, Stone Ruination 10th). But when I went tasting with my brother, I began to question myself. Why, you ask?  One simple reason - descriptions.
My brother is a wordsmith, a poet, a knight of the word Templar. Me, not so much. I tried to describe four beers and the descriptions were all nearly identical. If you we're to read my reviews, you would describe them as blah or staccato and probably wouldn't drink any of my choices. Enter John. He makes you want to either spit out the beer with contempt or savor it like a special night with your spouse. We have near identical tastes but our descriptions make (or break) the beer.
With the spirit of description in mind, I embark on a new word journey. So set sail with me on my new word voyage.
Let's taste, shall we…?
Avery Brewing – duganA Double IPA
Hop Varieties: Chinook, Centennial and Columbus
8.5% ABV 93 IBUs
$7.49/22-ounce Bomber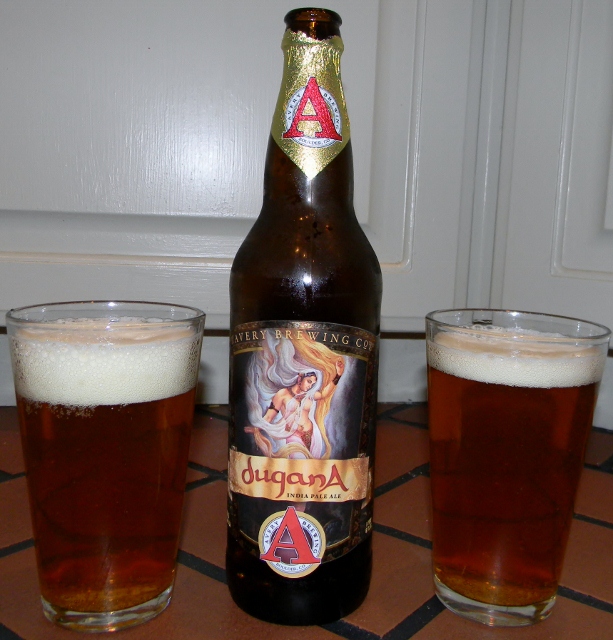 Description: "Lupulin Rapture Incarnate! As fervent devotees of hops, we found ourselves on a quest to create a transcendental IPA capable of quenching our voracious lupulin desires. Our mantra became "unity of bitterness, hop flavor and aroma." Enlightened, duganA IPA was born: A brutally bitter, dank, piney and resinous ale designed for those seeking a divine hop experience."
I've been a recent convert to Avery's offerings, having greatly enjoyed The Maharaja and practically every other brew I've tried from this Colorado based brewery. When I stumbled across three new (to me) bombers in a local store, I immediaely snatched them up. Since the other two were not styles Adam liked, I knew this was the first beer to share with him. Produced a light fluffy head and a really rich, beautiful golden color with clear body and tons of visible carbonation. Leaves huge streaks of lacing on the sides of the glass, showing tons of body. Smell is big and hoppy with danky citrus under notes. While it has a big hop aroma, its missing that sweet, juicy orange fruit smell that is part of my favorite IPAs. First sip, and I get a lot of involvement on the tongue, a big burst grapefruit hops and then an immediate blast of bitterness that has a nice, long finish. Second sip and It lands nicely on mid-tongue, blossoming with a big, immediate grapefruit flare that just lasts and rides all the way till the end and then for a while after.  Near the end of the glass the sweetness comes out some and it is improved to me, however the beer retains is crisp, bright flavor. This beer isn't great enough to be a top 10 – certainly not a Maharaja -- but it is definitely worth seeking out and giving a try especially for true hop lovers.
Adam: I had just arrived in Florida after a red eye flight. I was tired, but excited for the journey to see my brother, who was just a mere six hours away. So my best friend Keith and I depart Fernandina Beach, FL to make the drive to South Carolina. I tell you this because when I finally get there, I am offered a 'special' Budweiser to start my night of beer drinking (side note, the beer was okay).  (OK, John note: I purchased a 12-pack of special Bud brews -- 4 bottles each of 3 different brews -- that different brewers around the country had made. I was conflicted because on the one hand, I wanted to savor and write about each beer that Ad and I were tasting but I wasn't ready to sit down and seriously enjoy a beer but I also wanted to offer him *something* after his long car ride. Thus, the reason why I had Bud in the first place and why I offered it to him...) This might have skewed my pallet, but I am plowing ahead. The duganA color was a deep golden amber, with a nice fruity aroma. I could smell just a hint of alcohol, as this was a big beer. The head had 'simmered down' but was noticeable. My first taste reminded me of pine and grapefruit and did not consist of that dreaded metallic taste. It left a coating on my mouth of hoppy bitterness, but it was pleasant. It was a filling beer, but aren't all big IPAs?  Overall, it was a very pleasant beer to drink and I look forward to more beers from Avery.
Knee Deep Brewing - Hoptologist DIPA
Hop Varieties: Cascade, Citra, Columbus, Magnum and Hersbrucker    
9% ABV, 102 IBU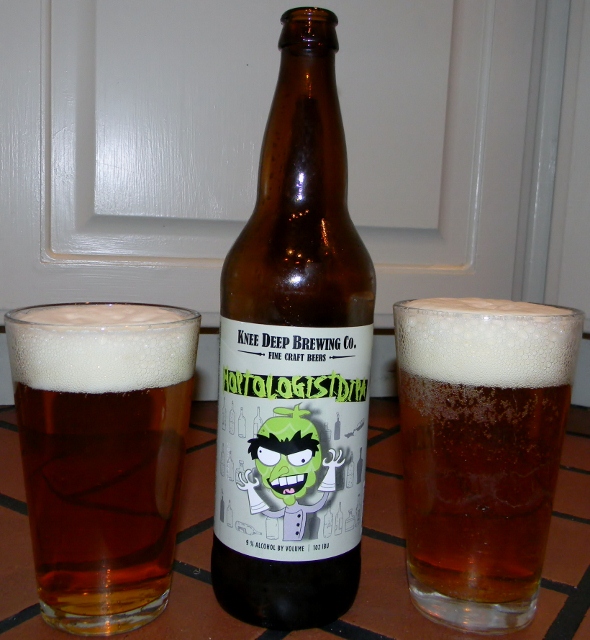 Description: "Hoptologist Double India Pale Ale. An American Double India Pale Ale that packs a punch when it comes to hops.  The aroma and flavors will give you citrus and pine with a slight malt sweetness that finishes dry."
Sure, a brew called "Hoptologist" with a picture of a crazed, hop maniacally donning a pair of suspicious looking latex medical examination gloves may seem a bit disconcerting at first, but… Well, in the interest of a great brew, I'm willing to give it the old college try. And Adam was excited that I try Knee Deep so I knew it had to be something pretty outstanding. Pours a beautiful, rich deep golden that produces a wonderful, thick and pillowy two finger cloud of head. The beer is also amazing clear. Like, startlingly, wonderfully clear, with visible bubbles rising like slow jewels up from the bottom of the glass. Huge lacing coating the glass leaves clear evidence of the thick, rich body. Drinking immediately after a fresh Pliny the Elder my brother flew in by hand from California (we're both convinced that some of the the Pliny's he has sent have not fared well in the heat of the 5-7 day cross country journey; as Pliny says, "Enjoy it fresh!"), I'm immediately struck by how much the Knee Deep's smell reminds me of the Pliny. It's fresh, it's full of sweet, piney citrus, and the nose is rich with everything that you want a big IPA to be. First sip...and it is very much like Pliny, except there is a slight mid note of orange zest that makes it closer to the flavors of the Stone Ruination (my current top beer ever). The beer lands gently mid tongue, but has a very thick, full mouth feel, and follows with a big bitter finish that just lasts and lasts. Again, as with the best beers, the alcohol is well balanced and totally not present, letting you enjoy the flavors without being aware of the high alcohol. As the beer opens a bit in the glass the pine notes become more prevalent, making the beer even more enjoyable.
Adam: This is one of my favorites from CA. I think this brewery has a ton of potential, and this beer shines. I like the label, a green Hop Doctor with a probing glove. It is a large beer with alcohol in the 8 to 9 range. My initial thoughts of the smell is of a light pine forest with grapefruit nearby.  The color is a beautiful golden amber, just out of Jurassic Park. The head is small, but the flavor is big. I get the great pine and grapefruit I long for, without the metal taste. The hop coating on my tongue is delightful. The beer leaves a nice lingering bitterness, but it isn't overpowering. This beer is great, and even with the price increase (5.99 to 7.99) I will buy again!
Knee Deep Brewing - Simtra Triple India Pale Ale
Hop Varities: Simcoe and Citra
11.25% ABV, 131 IBU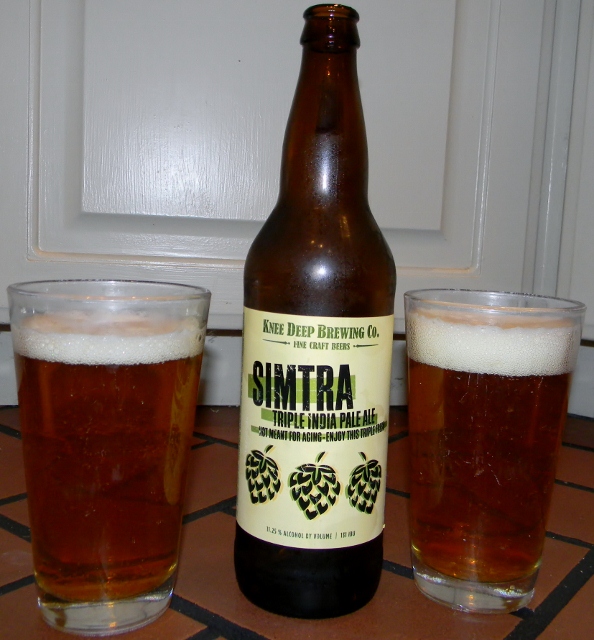 Description: "Simtra Triple IPA delivers a punch in the face with its very danky hop aroma derived from Simcoe and Citra hops. You wanted more hops you got them."
After my first encounter with Knee Deep, I'm willing to go fully mouth deep into Knee Deep! And, sweet Jebus…a Triple! This is a rare bird indeed! This is Pliny the Younger territory here! The label really says everything you need to know...three, giant hop cones. Pours a beautiful deep golden with a finger and a half a thick creamy white head. Head holds a nice pillowy shape for a bit and settles down to a nice steady cloud cover resting atop the glass. Very clear body with a dazzling array of micro bubble activity. The sides of the glass are just coated with a thick wall of hanging, clinging foam, marking every step of your progress like a geological survey. The smell is nothing short of giant. It's huge and fresh and piney and has that rich sweetness that is just indicative of a monster fresh IPA. First sip...oh...my...DAY-UM! Huge tingling involvement on the entire length of your tongue that is like liquid, hop filled electricity. There is a gobsmacking of pine and hops and then...umm, an odd, off-putting metallic/skunky/BO filled bitterness. Hmm. I'm trying to find a good way to spin this, but, um, no. I'm most definitely not loving the first finishing swallow.  Second swallow and the finish is way better, and if I disliked the first swallow a 10, this is now a 4. But that hint of mouthful of BO once tasted is difficult to untaste. The finish gets subsequently better on each swallow, improving the overall flavor of the beer from start to finish, meaning that you should maybe give it a second in the glass to chill out. You'd also never know this was an 11+% ABV beer and the flavor is just so smooth and even and balanced with no trace of alcohol. There is a beautiful, wonderful moment from when the beer enters your mouth and wakes it up like a firework show and then you swallow and there is a bright flash of wonderful delicious hop filled sweetness.  Each swallow gets better, making the last drink a real pleasure. I can only imagine how good the second pour would be if we hadn't split this bomber… Beyond that you get to enjoy the fantastic aroma throughout the entire glass.  I think this may very well be a top 10 beer and is highly recommended.
Adam: If love and passion had a smell, it would be perfumed sweat. (John note: I'm not sure if he meant sweet and just misspelled it or if he is into sweaty girls with a splash of perfume. Hey, he's my brother, and I'm not judging either way...) In the world of beer, it is pine and grapefruit. This beer is a winner in the olfactory category. It permeates pine and grapefruit like a dancer does shame!  The alcohol content was a stunning 11.25, and it couldn't be smelt or tasted. The color, like all great IPAs is amazing golden amber. The head is ever so slight, but it could be because this was a shared experience beer. The taste starts off amazing. It has that desired pine sweetness with a light lingering of hops on the tongue.  There is a major flaw though. The aftertaste is metallic. It is distinct as the smell of burning pot. It seems to disappear as it heats up but it leaves a distinct taste that turns an amazing beer into a good beer. If the metal taste could disappear, this could rival The Younger. It has some work to do so I won't be shelling out the 10 bucks on this guy for a while.
Knee Deep Brewing - Hop Shortage
Hops: Centennial and Chinook
11.3% ABV, IBU "No shortage here"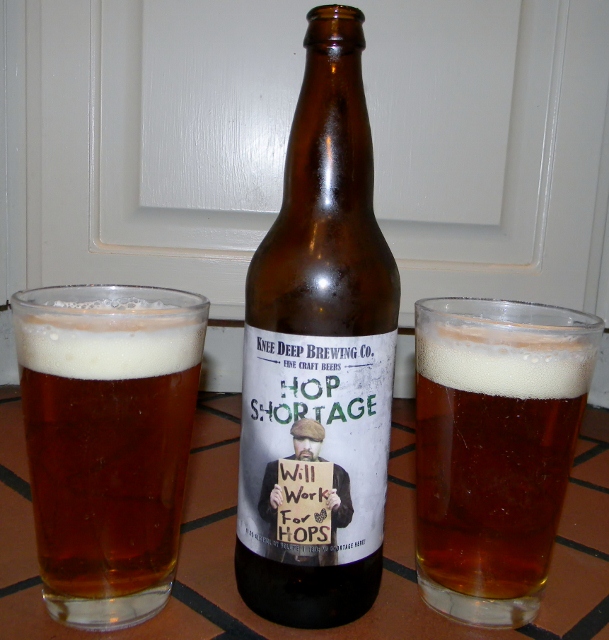 Description: "The cousin of Simtra, but brewed with only Centennial and Chinook hops. Need we say more?"
We popped this within minutes of finishing the Simtra Triple, so, of course, we were both hoping, nay, expecting a repeat performance of Knee Deep hoptasticalness. Visually, this looks very much like the Simtra Triple; a beautiful deep golden with a finger and a half a thick creamy white head that holds a nice pillowy shape for a bit and slowly settles down to a nice steady cloud cover resting atop the glass. Very clear body with a dazzling array of micro bubble activity. Leaves a huge body of lacing behind with thick creamy rings of lacing behind in the glass. The nose has an odd, uh, nose to it. Almost chemically or something. Like sweet chemicals. With a dank under note. It kind of comes and goes, where sometimes it is just sweet and citrus filled hoppiness and the next moment it is redolent with walking through a hair salon and smelling rows of women getting their hair did. First sip...and oh. No. No, sir. There is a nice initial tingling and engagement on the tongue, but then all of that weird, bitter, metallic BO flavor I noticed in the Simtra is just amplified here. Imagine someone working all day long in a very hot, physical and sweaty job. They are pounded an anvil with a small sledge while working next to a forge in a factory where the AC has broken and now it only circulates the 98 degree air all day like a convection oven. Now imagine that the worker whipped off their workshirt and rubbed it all over your lips and mouth. The second and third sips are definitely better, but this beer reminds me a lot of the Weyerbacher Double Simcoe, which had an odd opening flavor to me, and tasted better at the end of the glass. (Interestingly, Adam brought one and drank it last night and felt the same way.) Without question, this beer definitely improves with some time in the glass, and is far better at the end than the beginning, however even at its best it can't rise to the level of the Simtra.  And if this is the "cousin to Simtra," it's that weird cousin that stays locked away in their room that keeps a weird journal filled with newspaper clippings and only comes out to show you their bug collection. I can only guess that one of two things happened: 1) Our palates were previously wrecked by the Simtra or 2) We got a suspect bottle of Hop Shortage…
Adam: If Simtra's smell was passion then Shortage would be industry.  This was another huge beer (11.3 alcohol) but was worlds away from Simtra. It smelt malty, burnt and metallic. The color was identical to Simtra as was the head. The taste, though, went to the dark side.  It tasted like a malty pine tree but no grapefruit. It had strong metal flavoring and the aftertaste was like an industrial factory's sludge. Huge disappointment. In the world of winners and losers, this is a loser. If you go to the store, pick up another Knee Deep.
Categories: November 2012, Beer/Liquor/Wine, Reviews
/