Shopping Cart
Your Cart is Empty
There was an error with PayPal
Click here to try again
Thank you for your business!
You should be receiving an order confirmation from Paypal shortly.
Exit Shopping Cart
Features, Reviews and a Blog by John Sciacca
| | |
| --- | --- |
| Posted on December 13, 2012 at 10:10 PM | |
All day on Twitter yesterday I was bombarded with messages and reminders that it was 12/12/12. And until that most unlucky of unlucky days – 13/13/13 – this would be the last time such a date happened in this century. So, what better beer to drink on such a day as an Epic Ale?
And what beer could possibly be more epic than a beer that had been 11 years in the making? A beer so Epic that its release was even covered by CNBC? 
Stone, very likely the most epic of breweries, has been brewing special ales for the past 11 years; each release coming exactly 1 year, 1 month and 1 day after the last. Stone's goal was for you to save all of these beers and then enjoy them on one truly epic-of-all-epicness days. Unfortunately, I didn't have the other 10, but I did have the most recent.
So, let's get Epic!

Stone Brewing Co. – 12.12.12 Vertical Epic Ale

Hop Variety: Unlisted
9.0% ABV, 50 IBUs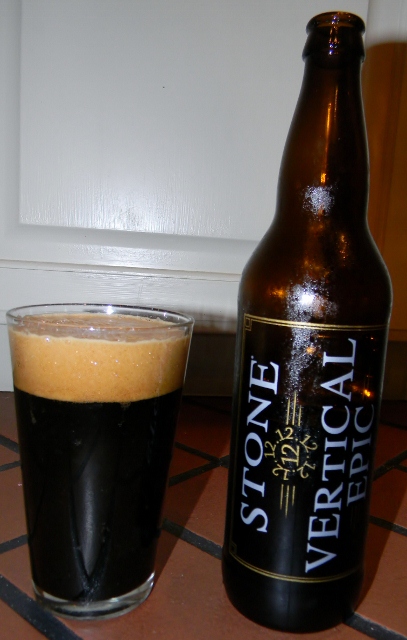 Description: "ep-ic adj. (1) Heroic and impressive in quality. (2) Surpassing the usual or ordinary, particularly in scope or size. (3) Of, constituting, having to do with, or suggestive of a literary epic. The final chapter in an 'epic' series. As with any good epic, herein lies the promise of larger-then-life experiences, heroics, and twists & turns as the adventure unfolds. This bottle-conditioned* ale is chapter eleven. Now is the time to enjoy it in a 'vertical' tasting side by side with its ten Stone Vertical Epic Ale brethren! Each one unique to its year of release. Each with its own 'twist & turn' in the plot line. Each one released one year, one month and one day from the previos year's edition. To remind you, the release dates were:
02.02.02, 03.03.03, 04.04.04, 05.05.05, 06.06.06, 07.07.07, 08.08.08. 09.09.09, 10.10.10, 11.11.11, 12.12.12.
This year's Stone Vertical Epic Ale is the very last one. Yep, this is it. The final chapter. Or as they say on the last slide in some old films: 'Fin.' No worries though; this edition is particularly well suited for prolonging the experience, as it's as cellarable as any in the series, or more. In this, the final edition, you can expect a perfectly balanced *womp* of spices: cinnamon, nutmeg, allspice, ,sweet orange peel, clove (only a little!) and rosehips, all in the context of a dark Belgian style abbey-ish beer…but not as sweet. Dry even. Stone style. Thanks for coming on this Epic Stone-style journey with us! You can rest assured there will be new adventures to come... (* Naturally carbonated in the bottle, which creates some yeast sediment.)"
This beer pours a thick, oily, near black into the glass. The way it slides out of the bottle and into the glass you can just sense that it is going to be thick. It produces a nice two fingers of rich, dense, mocha-brown head. Imagine the beautiful crema on a freshly pulled espresso shot. The beer leaves thick rings of lacing that cling to the edges of the glass. The beer is a dark, dark, DARK brown and it's impossible to peer into the body. Is there lots of carbonation? Is there a there a prize at the bottom? Is there a beer mermaid swimming around, inviting me to join her on a wonderful adventure? I can tell you not. The smell is rich with hints of different spices. Like you opened up grandma's pie baking spice cupboard and many wonderful aromas wash over you at one. There's the sweet notes of clove and allspice and others that form a mélange of odors that add up to a smell reminiscent of a pumpkin ale. Continue smeling and you catch other bits like the sweetness of an orange peel. First sip…beer lands nicely on the front-mid tongue and then slides nicely to the back of the mouth and there is just a ton of different tastes going on. There is some sweetness, and some spice, and then some burnt coffee and then a nice sweetly-bitter follow. It has notes of sweetness, but it's definitely not sweet. It has 9.0% ABV, but this could be some fantastical holiday non-alcoholic blend for as much as you taste the alcohol. (Second pour...) The head produces a beautiful cascade a la Guinness and really looks inviting in the glass.This beer has some flavors of a porter and others of a Belgian with the spices of a seasonal. The spiciness and sweetness come in a quick flash that is then balanced and washed over by the bitter porter finish giving it an interesting twist. I can see how this would be a warming winter ale, as this just *tastes* like winter. I want to pull out my sweater collection and sit near a fire with a book and while an afternoon away as I sip this ale. The flavor is interesting and it's a nice diversion, but I can't say that I love it… I'm enjoying it and it's not a chore to drink, but I don't know that I would need to buy another bottle of it.
Because this beer is truly epic, I thought I'd let the Brewmaster share a bit about it:

Tasting Notes, provided by Brewmaster Mitch Steele
Appearance: Deep black with a dark brown, foamy head.
Aroma: First impressions are of cinnamon and allspice, combined with fruity banana esters and hints of clove from the Belgian yeast. As the beer warms in the glass, swirl it around and take in the aromatics one more time—caramel, dark toffee and molasses notes come into play as well. The end result is a wonderful juxtaposition of roasted malts, yeast esters and baking spices.
Taste: Intense cinnamon, nutmeg and allspice with banana esters dominate up front. Hints of citrus arrive mid-palate, while molasses notes persevere in the finish along with a very nice dark-roasted malt dryness.
Palate: A full, but not sweet, extremely dry finish. Very complex with great flavor balance.
Overall: The aromas wafting through the brewery as we brewed this beer were amazing! We couldn't think of a better way to sign off this Epic series of beers.
From Lead Brewer Jeremy Moynier: This beer will transport you to a very warm place; the house is warm, a fire's going and grandma's in the kitchen baking away.
Categories: December 2012, Beer/Liquor/Wine, Reviews
/