Shopping Cart
Your Cart is Empty
There was an error with PayPal
Click here to try again
Thank you for your business!
You should be receiving an order confirmation from Paypal shortly.
Exit Shopping Cart
Features, Reviews and a Blog by John Sciacca
| | |
| --- | --- |
| Posted on December 31, 2012 at 3:55 PM | |
It seems to be the end-of-the-year blog thing to recap your top stories of the year, and who am I to buck the trend? Surely at least one of you out there has wondered, "Just what was the most popular story John wrote over the past 12 months?" Or, perhaps you're a casual Sciacca Writes reader (to which, I ask the must-be-asked question, "Why?!? You should be coming every day, hungry, nay starving for new content!") and you have missed some of the most interesting posts.
Fret no more! Below are the stories which others before you have known and loved. Revel in the Top 12 of 2012! (All headings are clickable for your blog reading pleasure...)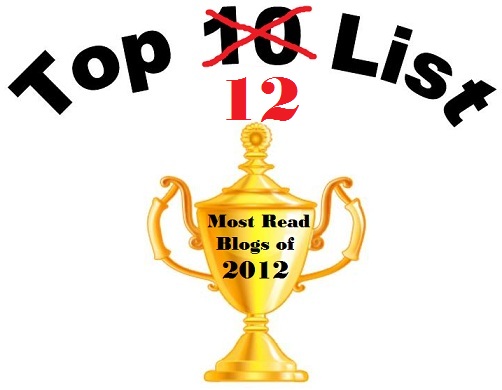 Kaleidescape Opens Industry Leading Download Store
Coming in at #12 with 380 page views was my first-to-press story/review of Kaleidescape's new movie download store, posted 1 minute after the embargo lifted. With this store, Kaleidescape becomes the first company to offer bit-for-bit exact audio and video quality downloads of movies – including all bonus content – to system owners. I've purchased multiple movies already and look forward to Kaleidescape adding Blu-ray quality downloads in the early spring!
10 Reasons Why I'm Not Betting on Apple TV

At #11 with 425 views are the 10 reasons why I'm not betting on Apple TV to take over the market. The Jobs mentioned "finally cracking it" in one of his final interviews adn Tim Cook seems to continue teasing an upcoming TV launch, but nothing has changed since I ran this post to make me change my mind...
Top 10 Actresses Perfect in That Moment

At #10 with 483 views is my list of 10 Perfect Actresses. To be perfect, it is more than just being beautiful; it requires a role, character, film and performance that makes you truly love that character. This is not a list for Megan Fox or Sofia Vergara. This is a list for...well, read it and see...
iPad3: 19 Wishes, Wants and Predictions

At #9 with 491 views is my predictions and wish list for the new iPad3. Little did I know that months later there would be an iPad4 (possibly called the "new, even newer iPad), or that just a bit after that I would be the proud owner of an iPhone5. The Jobs moves in mysterious ways...
Pew-Pew! What Does a Silenced Weapon Really Sound Like?

This post continues to be popular more than TWO YEARS after it was posted. Frighteningly, many searches seem to come from Middle Eastern countries... But at grabbing another 589 views this year and taking the #8 spot we find my Navy SEAL cousin's explanation of how a silenced weapon really sounds.
Holy Paid Outbrain Traffic Batman!

At #7 with 630 views is my story on the incredible whirlwind surge of traffic that I received in the 48 hours following my story being picked up by Paid Outbrain, a Web service that puts up content links on other sights. This is like a blogger's dream!
AV Porn: Meridian Core 200 and DSP3000
I have NO doubt that the 824 people that pushed this story to the #6 spot were quite disappointing when they found out that the "AV porn" in the title did not actually mean any porn. I thought I would be cute and use the word "porn" in a blog title to describe the unboxing of two new products I received for review. Little did I know that there is apparently an actual porn actress – with a pretty Google-happy fan base as it turns out – named "Meridian." So, if you search "Meridian porn" you will probably find my link. To be clear: There is no actual porn here. But, a pretty sexy unboxing of two super-sweet products. Also, if you are looking to increase blog traffic to your site, working the word "porn" in the title will probably help.
Exclusive Hands-On review of Kaleidescape's M700 Disc Vault 
Kaleidescape was kind enough to give me an exclusive hands-on look at their new M700 Disc Vault/Player, and I still have one of the few reviews available on the product. I received the system a few days prior to the official launch, and had my review all ready and Kaleidescape included a link to my story in their dealer launch announcement. Between that and all of the traffic from the Kaleidescape Owner's Forum and all of the Google searches for this machine, this story had 923 views and is the 5th most popular of the year.
10 Reasons Why Sonos is Great; 1 Way to Make it Greater!

Owning the #4 spot with 2071 views is my list of 10 reasons why the Sonos audio system is so great, with one important way to make it ever better. Sonos still hasn't taken me up on this yet -- and I know you've read it! -- but CES is next week where product announcements are typically made so you never know…
Kaleidescape Slashes the Price, Retains the Awesome

One of my most popular Google referral search terms is "Kaleidescape price." People are constantly curious about the pricing of Kaleidescape systems, and those searches propelled this story about Kaleidescape's new, lower-priced, Cinema One system (now no longer in production) to the number 3 spot with 2188 views. It also didn't hurt that Kaleidescape co-founder, Michael Malcolm, said they "laughed and laughed. It's the best article on Kaleidescape to date!"
Exclusive First Look: Marantz AV8801 / MM8077 
The runner-up with 2616 views is my exclusive first look at Marantz's awesome new flagship pre-amp/processor and amplifier combo. Depending on how you look at it, I received the first or second set of these units in the world (immediately before or after VP Kevin Zarow!) and there has been a TON of interest in my pics and thoughts on this setup, with a huge amount of daily traffic flooding in from various sites like AVS Forum. This is even more impressive when you realize that this story has only been up a little more than a month! Having some more time with this combo under my belt, I can say that it only continues to impress, with fantastic sound quality and an ability to produce amazingly immersive surround experience.

Now...drumroll please…
And the #1 most popular story of the year with 2929 views is my post on an episode of Survivor One World: Never Say Die. I decided to blog the last season of Survivor, and did a humorous take on each episode. Several of the players read my blog and it became fairly popular with other Survivor viewers. (It became decidedly unpopular with Dana, however, as each episode took like 4 hours to blog and required multiple viewings and lots of rewinding...) Here's a couple of my favorite screen caps from the episode: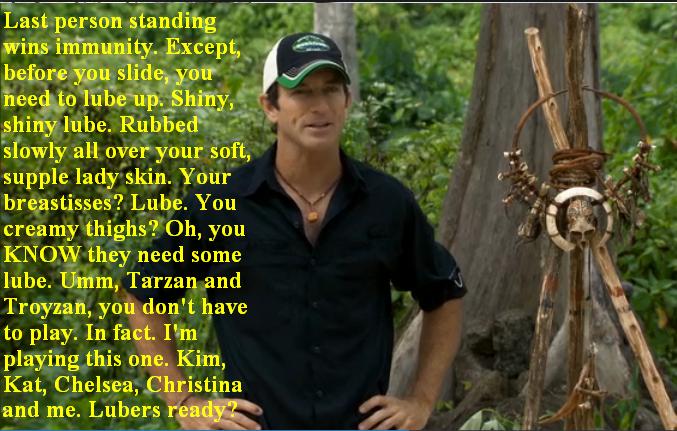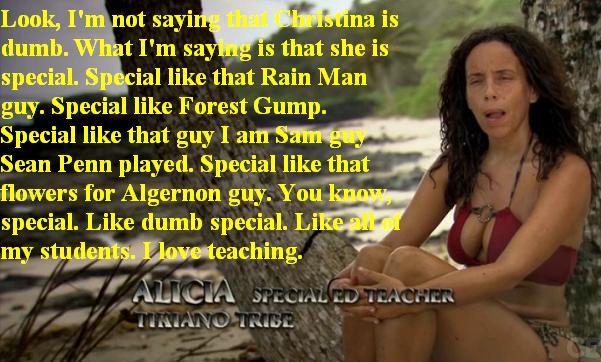 Actually, most of my Survivor posts had 1000 views or more, and would have heavily weighed on the Top 12 list if I included them all. For instance, The Beauty in a  Merge drew nearly 1500 views.
That's it. Thanks again for tuning in to read and telling others about my writing. This past year had over 57,550 visits and 95,000 page views! I appreciate all of the support and hope to continue providing you a reason to return in 2013!

Categories: December 2012, Best Of..., Top 10 List
/