Shopping Cart
Your Cart is Empty
There was an error with PayPal
Click here to try again
Thank you for your business!
You should be receiving an order confirmation from Paypal shortly.
Exit Shopping Cart
Features, Reviews and a Blog by John Sciacca
| | |
| --- | --- |
| Posted on January 15, 2013 at 5:25 PM | |
This pretty much sums up the whirlwind which is CES… I started dinner my first night at the same time I was climbing into bed the previous night! It's Vegas, baby, so you've got to just suck it up! Fortunately it was an amazing dinner.
I thought that my dinner dance card had been filled up, but a look at my Sunday night schedule showed an opening that GoldenEar Technologies Sandy Gross was only too kind to fill. (Sandy and his long-time companion, Anne, were also the ones that sent me a 4-pack of Dogfish Head 120 minute IPA you may recall...) And not only was it dinner with Sandy – which is special enough --  it was at a restaurant that I had really been wanting to try, Bouchon.
Bouchon is a Thomas Keller restaurant located in the Venetian. The very same Keller of The French Laundry fame, which is located in Napa and often considered one of the finest restaurants in the world. (My parents ate there once. They happened to sit next to Halley Berry. And their dinner-for-two with one bottle of wine cost a cool $650.) (He's also the chef featured in a Ratatouille special feature where he demonstrates making the actual ratatouille dish from the movie's climax.) So, yeah, I was pretty stoked to get an invite to Bouchon.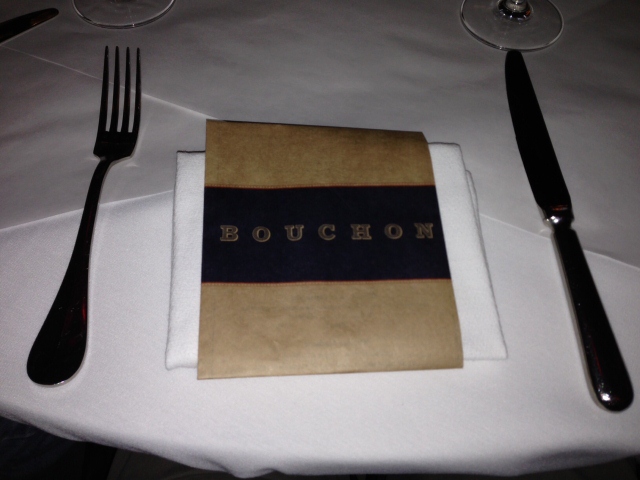 Bouchon had the best beer list I found at any of the Vegas restaurants I visited, though heavily leaning towards Belgian-style ales with very few IPAs and nothing from Stone or Russian River. (I mean, would I have loved to find The Elder on draft? Yes. Yes I would.) I ordered a Delirium Tremens on tap and it was excellent. I also had a leg of lamb that was terrific and relied on the terrific wine-listing skills of Sandy to provide excellent whites and reds throughout. It was so terrific, I barely noticed that I didn't get to bed until after 3 AM eastern time…
The first pre-day of CES (aka "Monday) is press day. Here there are various events designed to cram as many bodies as the fire marshal and state of Nevada will allow into one single, enclosed space. My first press event was supposed to be LG, but I just couldn't muster the fortitude to get up for the 8:00 AM start. Sorry, LG…
So, my actual first event was the Sharp presser which was pretty typical of a video press conference; they talked about bigger, brighter, better, um, Sharp-er sets with expected higher – UltraHD 4K – resolutions. Sharp's Chairman and CEO, Toshi Osawa, affirmed the company's dominance as the number leader in the 60-inch and above LED category.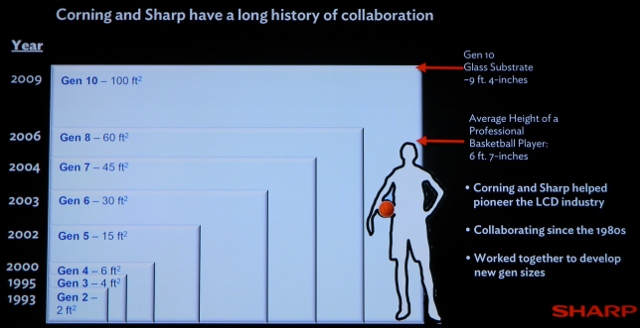 Since it has been since 2009 since Sharp upgraded to Gen 10 panel sizing, I really thought that the Sharp event was leading up to a, "You've seen a 70, and an 80, and a 90-inch. And now, Sharp is thrilled to introduce the first 100-inch mass-production panel!!!" I was all set to stand up and cheer, but, alas, no. It was not to be…
For 2013, all large screen sizes in the Sharp line-up throughout the 6, 7 and 8 series will be smart. In addition, Sharp is adding a variety of features to its Web-enabled sets, and all of the 2013 Smart sets will features Dual Core processors, HTML5 and Flash support, 2nd screen support and built-in WiFi.  Another cool feature is Sharp Beam, a very Apple TV sounding free app that will allow users to "flick" content from iOS or Android devices for viewing on their big screen.  Also cool is a new Wallpaper mode. The sets come pre-loaded with some art work and the screen adjusts to museum lighting level to turn the flat screen into the largest piece of art in the home.
Also impressive was the Sharp's showcasing of IGZO – Indium, Gallium, Zinc, Oxide. IGZO is "an innovative compound that replaces the industry standard amorphous silicon material used for the active layer in thin-film transistors" and Sharp claims that IGZO will be the key to future Organic LED displays. This technology will allow a whole generation of displays that produce ultra-high-resolution images at dramatically lower power and be highly responsive to touch. Sharp is revealing a 32-inch IGZO LCD monitor with 4K resolution.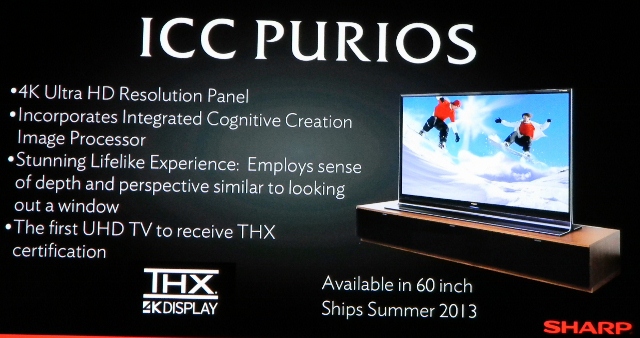 Sharp is also launching two new 4K Ultra HD resolution sets, including one in the new flagship ICC Purios line which is the first set that has passed the 400 tests required to receive THX 4K Display certification. Additionally, an AQUOS branded Ultra HD set will also be coming later in the year. I got some up-close-and-personal time with the Purios and thought it looked awesome, with incredibly edge detail and depth of field and focus. And that was on upconverted 1080p content! Sadly, I hear it is going to run in the $30k range…
I missed out on the Panasonic press conference because I opted for the Stream TV Networks event instead. But I was cool with that because I was intrigued by the Stream TV Networks press release which stated, "The wait is finally over. Ultra-D 2160p makes its public debut at CES2013. Be the first to see the Ultra-D powered 60-inch 4K glasses-free 3D display at our Press Conference."
To read my thoughts on that event – and see a video I took – click this link to read the story at Residential Systems…
Following the Stream TV event, I headed over to VOXX International. They started talking about USB chargers and clock radios and antennas and after what felt like 45 minutes I looked at my watch and said, "OH MY GOD! WE'VE ONLY BEEN IN HERE FOR 7 MINUTES?!?" I soldiered on for a bit and then decided I needed to take a powder on the VOXX event and headed to the press room for some writing.
This is also when I noticed that my iPhone5 was down to like 5% battery. Since no one in my group had a spare lightning cable – and, note to self, do not leave lightning cable in hotel room anymore – I looked around for someone who might have one. Lo-and-behold I saw a very pretty blonde sitting along on a vacant couch with a lightning cable. So, after a quick trade of a piece of Big Red for some charging time, was good to go. I must say, she was quite impressed that such  a manly-man as myself would be rocking a pink iPhone5 case…
(Sidebar... Have we talked about my pink iPhone case…? I'm not sure. So, as you know, I replaced Lady Phone a while back with iPhone5. Well, so many of my "friends" – ie: Darryl Wilkinson, arch nemesis – felt that the tech industry would be incomplete if I didn't have a pink phone. So, one day a package shows up at my store and it is addressed to "The Sicaca," and inside is this: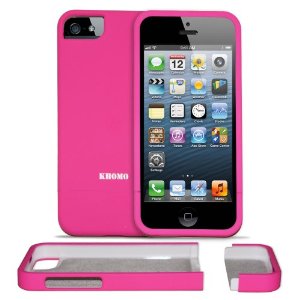 Even more twist the knife? The case has the manufacturer's name prominently stamped on the back in manly silver foil: "KHOMO," which, despite what Darryl says, I don't believe uses a silent-K. To show what a trooper I am, I used the case...)
Anyhow, turns out the woman was Christiane Vejlo (imagine that the last o has a line through it Zorro-style, and it is pronounced "Vel-yute") and that she's a really funny and popular tech-journalist from Denmark and runs a site called Elektronista. You can read all about her here...provided your Danish is up to par. Also, against all common sense, she loves the iPad Mini MORE than the big iPad and says she's totally given up on the big boy now that Mini is around. I'm still not buying it...

Also sitting/standing/pacing right next to us in the press room was this total douche of a guy wearing a top hat covered in lots of little video screens. The guy was up walking around wildly gesticulating and talking really loudly and saying classic douche things like, "I don't want to tell you how to do your job, but I'm really good at what I do!" and "I'm nominated for an Oscar" and name-dropping all of these random names. All the while he was wearing really ratty golf shoes. Yes. Golf shoes. Which I recognize, you know, on account of me having been a golf professional for like 8 years... We all felt like there was a really good chance that there was actually no one on the other end of the phone and that he just *really* wanted the attention.
Christiane actually mustered the nerve to go and interview the guy and you can experience the true essence de douche in her video here:
After a press-room boxed lunch, I went to the Samsung press event, except that I didn't. The line was insane and I just didn't feel like being the 4983 person in line. So I headed over to camp out for the DISH press event and wrote for a bit while waiting. (And managed to crib another Lightning cable while waiting.)
The DISH event was great and their CEO, Joe Clayton, puts on an awesome show. Where other events are all, "Here are our Q4 sales figures and projections for the upcoming year, blah, blah" Joe comes dancing out on stage to rock music and a kangaroo. It was awesome. And, even more cool? They flashed up one of my quotes from my Sound + Vision review! (Swoon!) The new Hopper With Sling sounds epic, with the coolest feature being the ability to transcode anything you record on the DVR to an iPad friendly format for portable viewing on the go! #Love I'm hoping to secure a review sample which I will then keep and love forever. Or, until DISH makes a Hopper 3 that has 6 tuners and 4 Terabytes…
Last event of the day was the Sony presser. In the past Sony has always been good for a celeb or two, but this year…nada. The event was heavy on 4K (including a rather brutally timed 4K Blue Screen of death *right* in the middle of the demo) and cameras. I must say, the camera in the new Sony Xperia Z is *uh-may-zing* and takes WAY better pictures than the iPhone5. (I believe my quote was, "that makes the iPhone its bitch!") It also has a beautiful industrial design and is swathed in some nano material that makes it waterproof or something and made me even more resentful of my pink iPhone5 case...
Here's the sizzle reel of Sony's 4K presentation:
Categories: January 2013, CES/CEDIA, Electronics
/