Shopping Cart
Your Cart is Empty
There was an error with PayPal
Click here to try again
Thank you for your business!
You should be receiving an order confirmation from Paypal shortly.
Exit Shopping Cart
Features, Reviews and a Blog by John Sciacca
| | |
| --- | --- |
| Posted on February 12, 2013 at 9:55 AM | |
Because I like you, I'm going to share a hard truth with you. Because friends can be honest with each other, right, and say the tough things that need to be said.
Here goes: You're not perfect.
And whether you've been in business for one year or 20 years, fresh out of CEDIA Boot Camp or a grizzled "I remember when you had to spend 12 hours calibrating a CRT!" vet, you are probably making a number of mistakes. Mistakes that are costing you business and ultimately costing you money.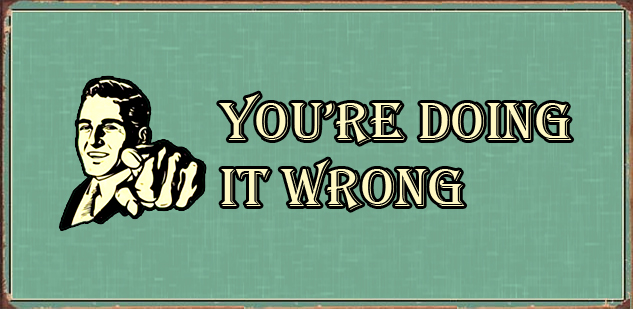 And these mistakes are frequently two sides of the same coin, either doing too much or too little. Fortunately, these are mistakes that you can rectify. Examine this list of six common business errors and then take an introspective look at your company and see where you can tighten up.




1 - Charging Too Much or Charging Too Little




Money. We've all got to make it to not only keep our doors open to stay in business but also to pay our employees and feed ourselves and our families, but there are two big money mistakes you could be making at different stages of the job. Now you might be thinking that charging too much is a good thing. The charging "what the market can bear" mentality keeps away the tire-kickers, puts more green the coffers and establishes you as the high-end solution in town. And if you can get by with that, bully for you. But realize that it is likely costing you business too. Some business that you don't even get a shot at because people are staying away due to your, "Man, they are SO expensive!" reputation. Other business that you might hand out proposals for that are then compared to other quotes in town. In a time when you are probably being price shopped on nearly every item and going up against multiple proposals on a project, being the most expensive guy probably won't win you a lot of new work.




The flip side is not charging enough. Sure, this will land you a lot of jobs, but in the long run, this is going to sap your company of profits and can put you out of business. If you are working on such razor-thin margins that even a slight hiccup on a job puts you into the red, you need to reexamine your rates. We took a look at our service call rates earlier in the year. On the surface, we thought what we were charging was very profitable. But by the time we calculated how much time it took to prepare for the job, to drive to the job, to load-in and out at the job, to return to the store, and to unload from the job, we realized that we were losing money on some service calls.




2 - Being Over or Understaffed




Employees are the oil that keeps a well-honed company running and unless you are a very small operation, you've got employees. Beyond all of the interpersonal issues that come with having employees, staffing size is a real concern for CI firms. If you have too many employees, you are probably bleeding out cash on your payroll. And with payroll comes taxes, insurance, benefits, etc. Letting go of people stinks – especially if they are good and have been with you for a while – but sometimes you have to cut off a limb to save the body.




Being understaffed is another killer. I wrote about this problem earlier (Stop Telling Me It's a Good Problem!) when our company found itself shorthanded. When you are understaffed, the stress levels skyrocket and company morale can plummet. There is only so long that you can ask the staff to put in 12 and 14 hour days, to stay late and "just get it done" before they start to snap. Also, when you are unable to respond to requests in a timely manner you will lose work – "I really want to use you, but I just can't wait three weeks to get a new TV" – and aggravate customers.




There is likely a "magic number" of employees that works  best for  your company's size and business volume, and the sooner you find that number, the better.

Click here to read four other mistakes you are making at Residential Systems...


Categories: February 2013, CTA

0

/