Shopping Cart
Your Cart is Empty
There was an error with PayPal
Click here to try again
Thank you for your business!
You should be receiving an order confirmation from Paypal shortly.
Exit Shopping Cart
Features, Reviews and a Blog by John Sciacca
| | |
| --- | --- |
| Posted on February 14, 2013 at 2:05 PM | |
Admit it; your expectations when it comes to eating at fast food restaurants are pretty low. You want to get in and out in the quickest time possible, hope that they get your order right – heaven forbid you have any customizations like "no mayo, extra mustard" – that the employee walking out of the bathroom thoroughly washed his hands of any Norovirus, and that you leave without being any closer to diabetes than when you entered.
With a 6 year old daughter, we eat more fast food now – usually lunch on the weekends – than we did before. Fast food is quick, it's easy and it has somehow been hard-wired into kid's DNA to love chicken nuggets.
We usually end up eating at Chick-Fil-A because a) it is like 1.8 miles from our house, b) it's incredibly consistent c) Lauryn says they have the best chicken nuggets (agreed) and sweet tea (a southern staple which is roughly 2 parts sugar to 1 parts tea and water) and d) as "fast food" goes, it at least lets you live with the illusion that you are being somewhat healthy. Or at least less unhealthy.

Now, I know that some people have taken umbrage with Chick-Fil-A over the COO's views on same-sex marriage last year, and if you feel like not eating there is the right choice for you and yours, I'm not going to try and sway you. (Just as I'll kindly thank you not to try and impose your views on me.) In my experiences – and I mean *many* experiences – at Chick-Fil-A restaurants all over the southeast, I have never had anything but the exact same hospitable, "It would be my pleasure" service. In fact, I began a blog post that I never finished a while ago titled "Stepford-Fil-A" that was about the amazing employee grooming and training program they must have to churn out such uniform polite service throughout the chain. I have literally never had an experience at the restaurant that has been atypical. In fact, my only complaint is that sometimes they "short scoop" you on a large order of waffle fries...
Our local Chick-Fil-A store in Myrtle Beach does a great job of holding events; they had a dress-up like your favorite super hero night, a dress like a pirate or princess night, dress like a cow events, lots of support for local sports teams and schools, etc. The other night they held a Daddy/Daughter Date Night that Lauryn and I made a reservation to attend.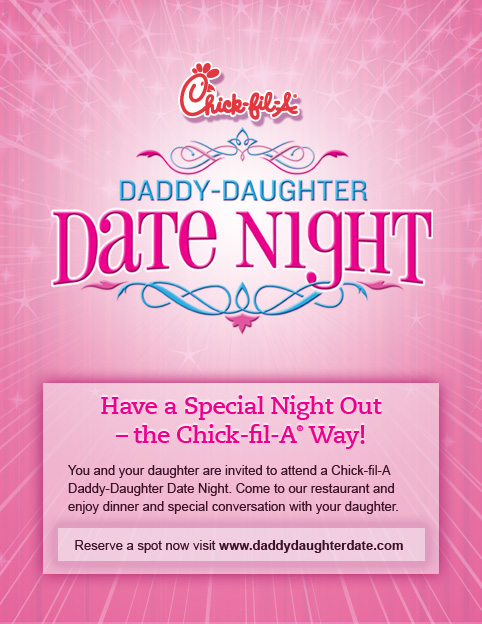 Now, my expectations for the event really weren't that high. I figured there would be some balloons, maybe a juggler or something and, I don't know, more balloons… But Chick-Fil-A did such an amazing, near Disney-level of going above and beyone to create a special event that I just had to give them some blog props.
At the entrance of the restaurant was a covered awning lit up with white lights and two greeters that were dressed up to welcome us.
Lauryn thought this was great and commented on how beautiful and fancy it looked. Also in the parking lot they had coned-off an entire area and had hired a horse-drawn carriage to give rides!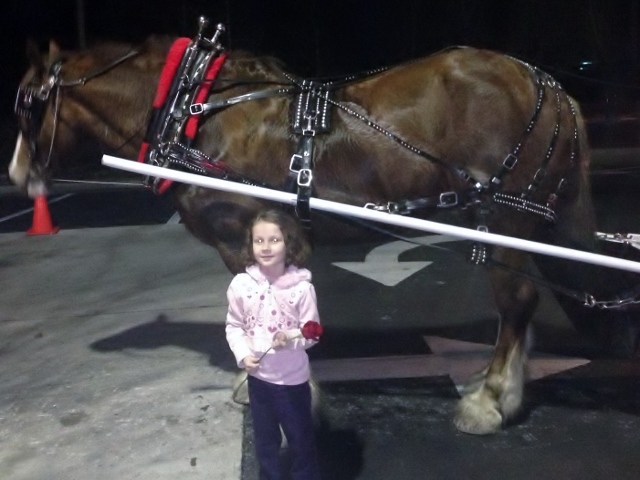 Before stepping into the carriage, they handed Lauryn a long stemmed red rose. Then we stepped into the carriage and took a clip-clop ride around the parking lot.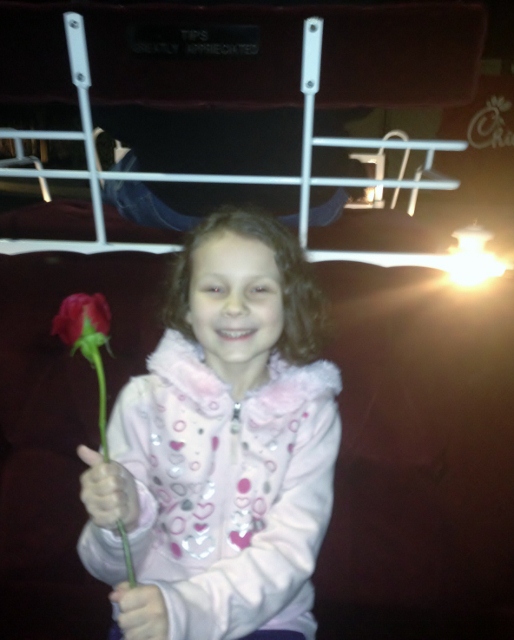 Lauryn truly felt like a princess holding her rose and waving to all of the cars that were in the drive-through as we went around the lot not once but twice.
When we entered the restaurant, they had set up a formal reservation stand where we were again greeted by an employee in dress attire and then -- after placing our order in a special reserved line -- were lead to our seats. The tables were all covered in linens with faux rose petals and candles and they brought our food to us on plates.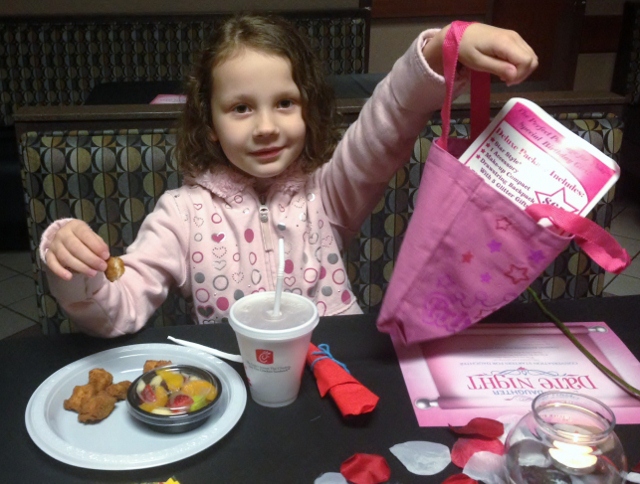 At the table were separate placemats, a pink one for Lauryn and a blue one for me, with different conversation starters for us to talk about.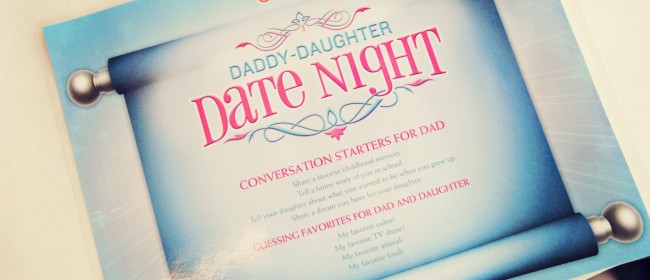 Mine had things like guess her favorite color (Pink, totally nailed it), favorite TV show (I said "Good Luck Charlie" she said "Phineas and Ferb"), favorite kind of animal, "I said, "Kitty, no, puppy!" she said, "Cheetah") and favorite kind of food (I guessed noodles, she said pizza). There was also a gift bag for Lauryn with coupons and lip gloss and little toys and it was pink and said "Princess" on it so #Winning.
During our dinner the princess cow came around and Lauryn posed for a picture.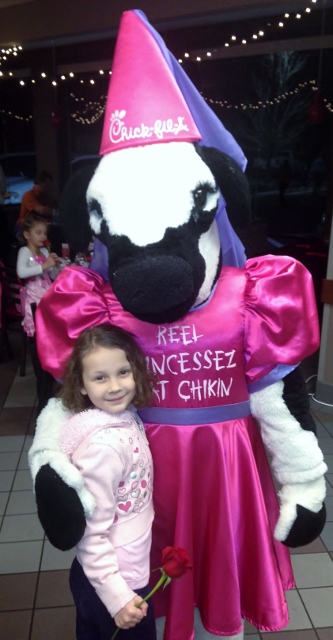 While we had to pay for our meal, they comped us any dessert on the menu and Lauryn broke my heart by saying, "You now, I don't really like chocolate…" (Also, Chick-Fil-A, you should make the mint cookies and cream milkshake a year-round staple… Signed, EVERYONE!)
After dinner they had a nail station set up and Lauryn got her nails done with some pink sparkly stuff.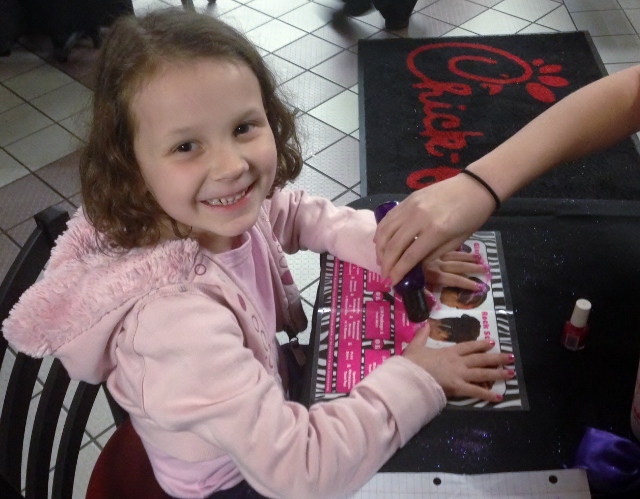 Then we headed over to the photo booth where they had tons of different costumes set up for dress-up. Lauryn loved the photo booth and probably would have spent all night changing into different outfits and making funny poses, but we did it a few times and then decided to let the other dads and daughters have a go. Here are some of our best shots as I channel JT and Flava Flav: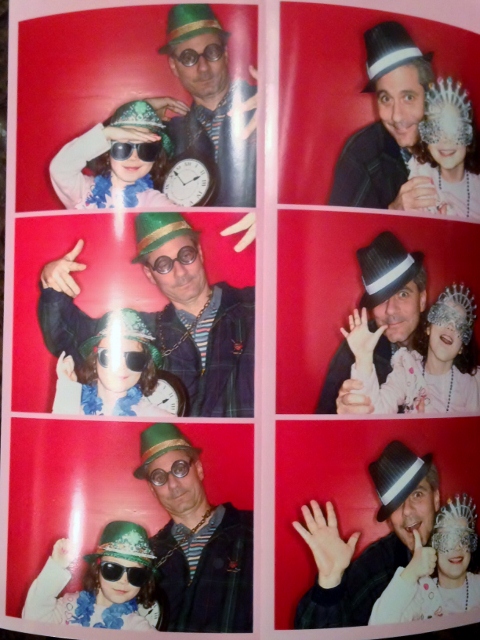 Afterwards we took one final horse ride and then headed home. Lauryn and I had a wonderful evening, and she couldn't wait to get home to tell Dana all about it and to show off her sparkly nails and our pictures. (And then asked me to get the very biggest vase we have in the house to put her rose out on display.)
You want to know how to make a dad feel good? You make his little girl feel good. And when Lauryn said, "I didn't have a good time, I had a great time! Let's do it again!" that made it a special evening for me.

Now, I'm sure that they would like me to say that it will make me eat at Chick-Fil-A even more, but truthfully, I think about once per week is as much as I can muster. But the effort that the management and staff put in to make this a special event was truly above-and-beyond and definitely left an incredibly positive brand impression. And will have us returning for Date Night next year…and likely many times in between.
Categories: February 2013, Family
/