Shopping Cart
Your Cart is Empty
There was an error with PayPal
Click here to try again
Thank you for your business!
You should be receiving an order confirmation from Paypal shortly.
Exit Shopping Cart
Features, Reviews and a Blog by John Sciacca
| | |
| --- | --- |
| Posted on February 26, 2013 at 10:05 AM | |
"With the bass kicked in, the Vegas are pumpin'
Quick to the point, to the point no faking
I'm cooking MC's like a pound of bacon
Burning them if they're not quick and nimble"
Vanilla Ice, "Ice Ice Baby"
Be honest. You didn't think that you would come to the blog today and get hit with a classic/infamous rap quote from the Ice Man, did you?
But, there are some things that we can learn from Mr. Ice here. We must first and foremost always do great work, remembering that "anything less than the best is a felony." There also things beyond the fact that many of our customers do prefer to have the "bass kicked in" as it were; perhaps tweaked up a few dB for a little extra punch and impact in the home theater (but hopefully with well positioned subwoofers and some room treatments). And when those Vegas (or perhaps Velos (Velodyne), JLs (JL Audio), Panas (Paradigms), SVS-es or Definitives) are indeed pumpin', surely Vanilla would want to ensure that it was neither overly boomy as flabby as well. However, Ice cautioned against having a room that is too treated, sonically dead as it were by explaining that he goes crazy when hearing a cymbal...and a hi hat...with a souped up tempo. But I digress…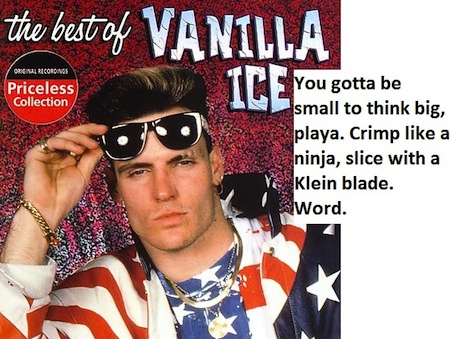 Many times we grouse about the benefits that big companies have. They have buying power, where they can order huge quantities and get massive, volume discounts. They get pricing on video products that makes it impossible for us to sells TVs any longer. They order in mass and avoid freight costs. They have marketing muscle to spend to help spread their message far and wide. They can spread losses around so they can more easily absorb them.




However, the reality is there are a lot of things that we small, specialist – even "mom and pop" if you will – companies can do that the big guys just can't. Our businesses are lean and agile, and can be "quick and nimble." Much like military Special Forces, there are times when small, specialized teams can go in and get things done that the big boys just can't.





Training




One area where we beat the big guys is in training. As you know, training is expensive, it's time consuming and if done incorrectly, it can be totally ineffective. I can remember some trainings I'd go to when I worked at a Big Box company. They would bring everyone in to a big room and then either talk at you for an hour or show you some video. It was lame and totally unproductive because pretty much everyone zoned out and "training" was really viewed as a paid hour of downtime.




With a small company, training can be an intense, focused, very hands-on, one-on-one affair where a master, journeyman employee can impart serious knowledge to a rookie. Whether it's programming or rack-building or retrofit skills or system configuration, this kind of training yields rich results and produces better employees. It also allows for better learning with instant, "are you getting this? Does this make sense?" feedback that can be tailored to each person's learning needs and style.




Click here for the rest of this article and more Advice-vice Baby at Residential Systems...


Categories: February 2013, CTA, Music

0

/