Shopping Cart
Your Cart is Empty
There was an error with PayPal
Click here to try again
Thank you for your business!
You should be receiving an order confirmation from Paypal shortly.
Exit Shopping Cart
Features, Reviews and a Blog by John Sciacca
| | |
| --- | --- |
| Posted on June 20, 2013 at 2:25 PM | |
A couple of days ago, CEDIA Communications Manager, Olivia Sellke – not to be confused with a Selkie, a mythological mermaid-like creature said to live as a seal in the sea but shed their skin to become human on land. However, it must be noted that I have never actually seen Olivia Sellke in the water, so it is entirely possible she is indeed both a Sellke and a Selkie, so we mustn't rush to judgment here… - posed the question, "What is your best money saving tip when planning to attend CEDIA EXPO?"
Now, I consider myself something of a master when it comes to penny-pinching. I once stayed in a hotel room in Las Cruces, New Mexico that cost $16 a night. Granted, walking on the floor left the bottoms of your feet stained a nightmarish black and the water in the shower drained through a hole that looked like it had been made with a sledge-hammer and it was the kind of place that might invite late night hourly female company… (I also like to say that my family motto is, "You don't find money looking up." Not that that really helps in this instance, but, it's a sage bit of advice that has indeed found me a good bit of ground money over the years.) So, if you are headed to CEDIA this year and don't have a cushy company expense account to  fall back on, here are some ways to still have an awesome EXPO and not come home with a busted bank account.
Registering:
Sure, you could pay to attend CEDIA, or you could wait around for some distributor or manufacturer to take pity on your wretched soul and offer you a pass like a free-loading chump. OR you could click this link and use coupon code CT1 to register for the EXPO for FREE!

Looky there, you haven't even left for the show yet and you're already saving money! The code is strong with free registration powers, and only gets more powerful as more people click it and register. Give it to your friends. Pass it out at bus stations and Internet cafes. Better yet, share it with your enemies! Kill them with the soul searing kindness that only a free CEDIA Expo registration can bring. Then every time you see them in the halls, you can cast a snarky smirk their way, knowing that they know that you know that they are indebted to you. It's the kind of satisfaction that will keep you warm on cold nights.
Getting There:
If you can drive to CEDIA, do it. Even better? Carpool with some buddies and share the gas expenses. Four to six dudes in a car/van can cover some serious miles in short order, and arrive without too much expense. Plus, you'll have a car while you're in Denver! (Make sure that the hotel has parking.)
Don't have any rich friends with fancy toys like cars? No worries. Just stick out your thumb. No one expects a wandering transient to chip in for gas, and you'll likely get to meet some interesting people on the road! Plusses of hitching: Totally free travel; interesting conversations. Negatives: No way of knowing when you'll actually arrive; might have to ride in back of pick-up; possibility of head ending up in box Seven style.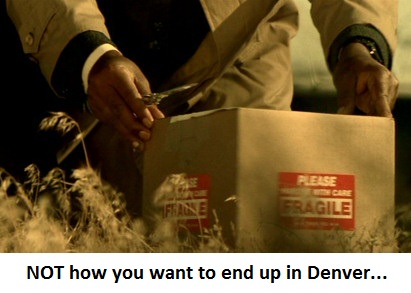 Admittedly, thumbing is sketchy and possibly too tame for the adventure-minded. Like, where's the fun if you get picked up by a station wagon full of elderly ladies out for a Bingo trip? If you really want to put some excitement and turn your CEDIA road trip into a right-proper Rumspringa, I've got just the thing: truck stops! Truckers are in it for the long-haul, and if you wait long enough, you'll possibly find a hitch going all the way to Denver! You are going to want to brush up on your CB lingo, so you'll know that if they ask if you want a "road pizza" or if you are a "male buffalo" you can most definitely say no. Also, if the Mos Eisley Cantina were the hive of scum and villainy, then truck stop bathrooms can be the refuge of some of the ill-est repute, holding unspeakable sights and solicitations that no one should have to witness…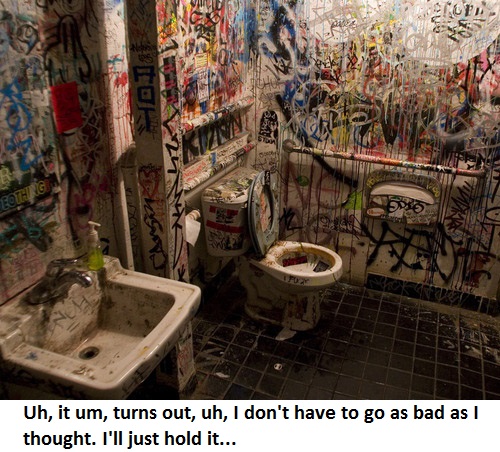 If you can't drive to CEDIA, you could take a bus all Jack Reacher style. Just you, the clothes on your back and a folding toothbrush in your pocket as you travel the countryside ready to headbutt and neck punch any punks that get in your way.  Of course, you're (sadly) not Reacher. And even though the Greyhound ride is only $218 from Myrtle Beach to Denver, dammit, man! You'd be on the bus for 2 days, 6 hours and 50 minutes! And you'd arrive in town. On…a…BUS! That is about the lowest amount of swag humanly possible. And can you imagine the awesome mélange of BO that you would encounter on a 2,000-plus mile bus ride?! You just know it's not gonna be a cool bus like in Speed, and that there will likely be a lot of missing teeth – and possibly limbs – amongst the passengers. No. The bus is not the way to roll to CEDIA. Unless you are Jack Reacher and then #Respect.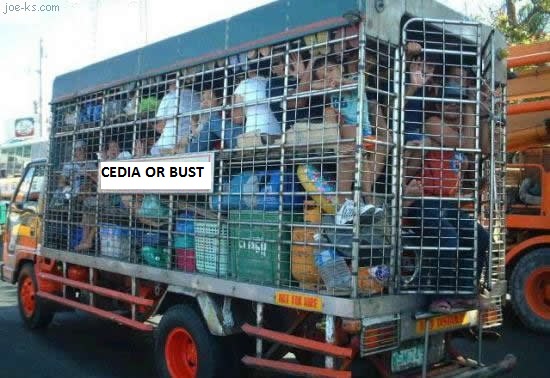 Before you start thinking train, with visions of Skyfall in your mind, rolling up in a tuxedo with sexy-sexy spies and martini filled dining cars, lower your sights a bit and instead mull this word over in your mind…"Amtrak." And, also, the train is not a way to save money. In fact, it shockingly costs almost as much as a plane ticket, but with the added bonus of taking 49 hours and 1 minute and requiring sleepovers in exotic locales like the waiting rooms of Penn and Union Station. If you decide to take the train, I can only hope it is because you are planning on writing an extended blog titled, "An extended journey and examination into the suffering of the human condition" and I am most definitely looking forward to reading it.
For most of us, getting to Denver will involve a plane, and depending on where you live, your fares will vary. If you've got frequent flier miles, this might be a good time to burn some of them up. If not, a Texas A&M study found that weekends are the best time to purchase tickets as prices drop nearly 5 percent. Another helpful tool is Bing Travel, which uses NSA's PRISM to search through every email and phone call Cyberdyne algorithms to predict whether ticket prices will go up or down between now and your travel date.
Staying There:
The easiest way to save on rooming expense is to share a room with someone. Boom! Just cut your bill in half! If you're feeling even more thrifty, you could ask if you could crash on someone's couch or on the floor. I mean, if it means CEDIA or no CEDIA, I'm definitely sleeping on the floor instead of going. Sadly, the Denver YMCA does not accommodate overnight guests.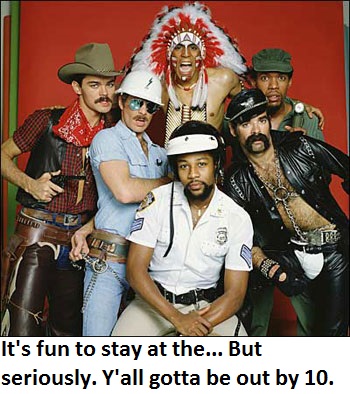 Total bummer I know. However – and I admit, this is a total last resort kinda thing – Denver does have a pretty extensive homeless shelter program… And, as a bonus, many offer alcohol treatment programs in case your CEDIA partying gets a little out of bounds.
Getting Around:
One of the awesome things about Denver is that the downtown area is totally clean and easy to navigate and feels safe. Unlike Atlanta. Where a good day can start with, "Well, they only knifed me in the leg and didn't get my emergency shoe money, so that was nice…" (I say this having been accosted on the street as I left Atlanta from CEDIA 2010. From a massive dude that told me he had just got out of prison. For killing a man. Ah, good times...)
There is a free trolley thing called the RTD MallRide that runs the length of the downtown area and drops you off super close to the convention center. And, from what I recall, one of the pick-ups is *literally* out in front of a Starbucks. So, that. But, obviously, since we are doing CEDIA on the cheaps, we won't be drinking any $4-a-cup macro-blend nor $6-plus frappa-blenda anything. If you stay in a hotel – or shelter – in the downtown area, use this awesome service that runs from 5:00 AM to 1:30 AM and enjoy some fresh, mile high air as you walk around the city. If you are outside the range of the MallRide, try and stay at a hotel that utilizes CEDIA's free shuttle bus system. This is another great way to get to-and-fro and whatnot from the convention center to your hotel. Or to visit other hotels if that's your sort of thing. But, again, totally free and you don't have to deal with the hassles of parking or anything. If you are at a hotel SO far out of town that there isn't a shuttle available, take a cab to the closest CEDIA shuttle hotel and then ride for free from there. Yes, it will take a bit longer, but it will save you some duckets, son!
Eating and Drinking:
Ideally you'll stay at a place that offers a free breakfast. This is your time to eat like it is your last meal before The Hunger Games! Gorge! A second bacon wrapped waffle, you ask? Damn straight, I say! Another tub of yogurt? Drink that baby down! Carbo load like you are about to Sherpa up the side of Everest! Maybe even take a yogurt or banana for the road.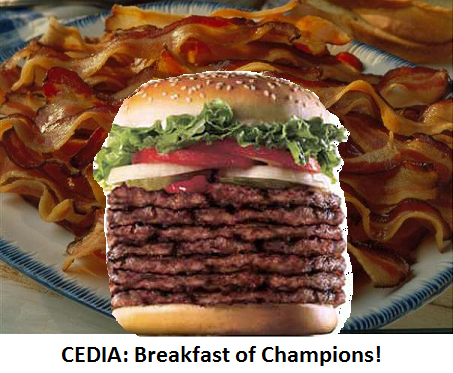 And coffee. Lots of coffee. Coffee has caffeine that keeps the brain sharp and fools the stomach into thinking its busy doing something instead of gnawing on itself with constant reminders that you aren't feeding it.
When I'm traveling, I have a motto, "Eat now; you don't know when you'll get a chance to eat again." (It makes me wonderfully popular with my family.) Part of this motto also means we're gonna skip lunch. Yep. I know it's not a popular suggestion, but for travelling on a budget, we don't need the extravagance of three meals a day. What are we, Hobbits? And, seriously, if you did breakfast right, by the time lunch rolls around you should be saying, "Oh, God, I seriously still can't even think about food."
Besides, you're at CEDIA seeing things you've never seen before. Know what you have seen before? Lunch. So adios that meal straight off. If you start feeling hungry during the middle of the day, just give yourself a good hard pinch on the stomach and say, "Mmmm! That pain just lets me know how much I'm loving the Expo show floor!" Or suck on a mint.
Now, there are usually plenty of opportunities to grab food on the show floor, and I encourage you to embrace these. Especially when you stumble on free waters; gotta stay hydrated and water fills the belly. And you know what really makes those terribly-named, micro, "Fun Size" candy bars actually "fun"? Eating like six of them. Now that's fun.
At the end of the day, there is usually some booth that starts pouring beer. Find this booth. Find it with the intensity of a white-hot Tommy Lee Jones in The Fugitive. When you get to the front of the line, don't forget to get a beer for "your friend." Do you have a friend? Yeah. It's you after you finish the first beer. Hi, friend. God helps those that help themselves, am I right?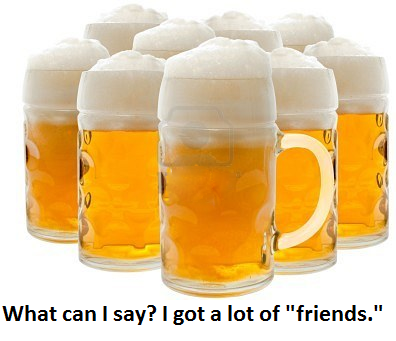 There are usually several options for dining on the cheaps plan at night. If you're cool, maybe you've got a rep or manufacturer that is taking you out to dinner. If you're not that cool, there are always parties going on, so keep your ears open. Sometimes you need to get a pass or ticket at a manufacturer's booth. Other times it is just a show up and party kind of thing. If all else fails, you can start a, "Dude…where's the party tonight?" ask-around on the show floor. There's almost always something going on, and that something nearly always involves free food and drink.
OK, worst case scenario; you find yourself with an empty dance card, no money and a sad liver. Don't panic. Here's a how-to on making some delicious toilet wine. Now, a good batch of toilet wine can take 3-4 days to really set up, so you are going to want to start as soon as you get to Denver. Also, I highly recommend putting the "No Maid Service" sign on the door, 'cause a maid is gonna flush your vintage sure as some hard-nose screw in the joint.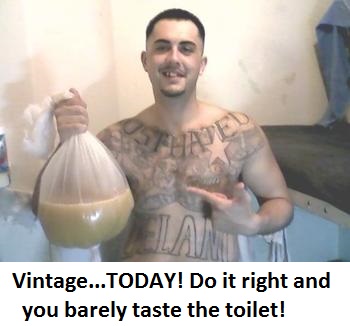 ProTip: Nothing ruins a delicious batch of toilet wine quicker than someone actually using the toilet.
Whatever you need to do to get there, make sure that come September 25 you are in Denver for CEDIA Expo. I'll be looking for ya. And if you figure out how to make some toilet IPA, I'm in… And remember, click this link and use coupon code CT1 to register for the EXPO for FREE.
Categories: June 2013, CES/CEDIA
/