Shopping Cart
Your Cart is Empty
There was an error with PayPal
Click here to try again
Thank you for your business!
You should be receiving an order confirmation from Paypal shortly.
Exit Shopping Cart
Features, Reviews and a Blog by John Sciacca
| | |
| --- | --- |
| Posted on October 9, 2013 at 1:00 PM | |
It takes about a full week to decompress from the CEDIA show. After spending three solid days wandering aisles under the uncompromising glare of arc sodium overhead lighting, and having your body bombarded with enough WiFi waves to make David Banner squirm, you come home so overloaded with the sights and sounds of Expo, it takes a bit to just…(deep breath)…sit back and process it all. Well, I'm done processing, and here is my wrap on some of the trends that I noticed at CEDIA this year.
Best 4K News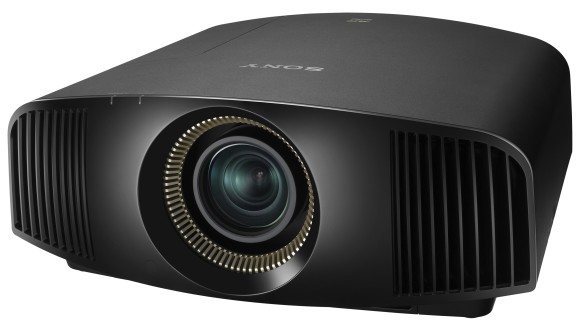 If you came to CEDIA hoping to be overwhelmed by 4K news and to have your eyes titillated by 8 million glorious pixels of RGB video magic, well, you likely left disappointed. At the show, there were only two manufacturers actually showing 4K by my count, Sony – who introduced two new, full-4K projectors, including the VPL-VW600ES that breaks the $15,000 barrier – and Planar, who displayed an 84-inch 4K panel that seemed more geared to commercial applications. Many of the distribution companies, however, were touting "4K ready" aspects to their switchers and extenders meaning that when the stars align for content and displays, the tech for getting it from point A-to-B should be in place. Also, not necessarily CEDIA news, but it has been made abundantly clear that existing "high speed" rated HDMI cables should be capable for handling 4K signals – even 4K at 60 fps – so your existing installs should be ready for upgrade.
Most Prolific Tech
If there was one technology that I saw employed in more booths than any other it was HDBaseT. It seemed that any company offering an extender, splitter or matrix was adopting HDBaseT, and based on my personal experiences with the tech, this is a good thing. For example, Control4 demonstrated its new 8x8 HDMI Matrix featuring HDBaseT that can carry audio, video, IR, RS-232 and Ethernet signals up to 330 feet on a single Cat5 cable.

Wyrestorm also launched a new HDBaseT receiver that incorporates a built in digital amplifier and subwoofer pre-out making it a perfect local amplifier for audio distribution systems. HDBaseT also found its way into Epson projectors and Integra and Pioneer receivers at the show, and could also be seen in the Atlona, Key Digital, Crestron, Gefen, Extron, Leaf, Savant, and Hydra Connect booths. They also claim it will be compatible with the proposed HDMI 2.0 standard as well, so feel free to use the tech now and know that it will continue working in the future.
Most Rare and Delicious
What do you give someone to commemorate their 40th anniversary? According to the modern and traditional list, it would be something with Ruby. But, unless you plan on breaking Dorothy's slippers out of the Smithsonian, going with Ruby is pretty lame. And if you're British audiophile manufacturer, Linn, and you want to create something truly special, then you partner with Highland Park and produce the Limited Edition Sondek LP12 turntable, the latest iteration of the very first product Linn company made.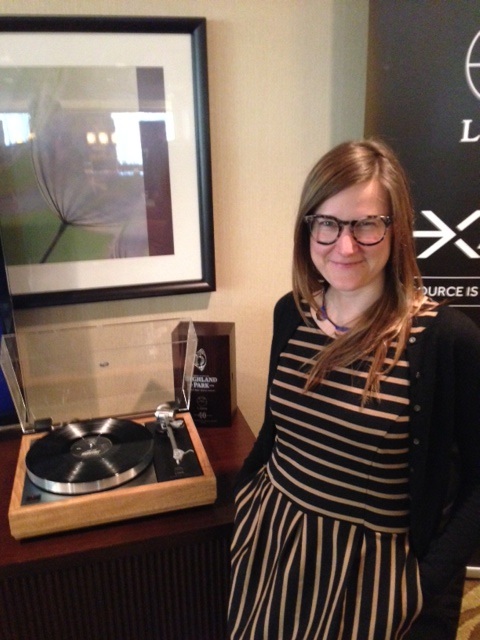 SCN's Kirsten "Glasses" Nelson posing with tantalizingly close to two of her favorite things.
Few things excite hardcore fanatics like sweet, warm, analog vinyl played back on a wonderful turntable and a well-aged, single malt scotch, and now Linn is combining both of these amazing things together into one very limited and oh-so delicious tasting and sounding product. (Note: I can only assume that it is delicious tasting; Linn declined my requests for a tasting. Twice.) The Limited Edition Sondek LP12 Turntable features a plinth crafted from the solid oak casks uses to mature the Highland Park, who has been making whisky to the same exacting standards since 1798. Besides telling a wonderful story and looking gorgeous, the turntable produces audio the kind of warm, full, rich audio one would expect while sipping a dram of single malt that has spent more time in a cask than many of us have walked this earth. As befitting such a special product and special anniversary, only 40 of these magnificent turntables will be made. Each will also include a bottle of 40-year Highland Park, also limited to just 40 bottles. Also 40 is the number of thousands you will need to pick one of these beauties up.
Please click here to continue reading my recap at Residential Systems...

Categories: October 2013, CES/CEDIA, Electronics
/