Shopping Cart
Your Cart is Empty
There was an error with PayPal
Click here to try again
Thank you for your business!
You should be receiving an order confirmation from Paypal shortly.
Exit Shopping Cart
Features, Reviews and a Blog by John Sciacca
| | |
| --- | --- |
| Posted on April 14, 2010 at 1:31 PM | |
Today finds me jet-setting off to luxurious Fort Lauderdale, Florida where I'll be attending an event this afternoon to experience Runco's new Window Wall TV system. (Thanks to Lauren at Caster Comm for the hook-up! And thanks to US Air for the bump to First Class! Oh, seat 1A, you make me want to be a better man!) Also excellent is that Runco is putting me up in a hotel that starts with "Trump" instead of my usual "Econo," "Sleep," or "Days." Color me "Celebrity!" (One of Runco's new custom ColourPalette colors to help that giant 103-inch Plasma blend into your décor.)
As I write this, I'm rocking my iPod and Etymotic headphones, enjoying Oingo Boingo imploring me to "Stay" ("Don't you go. Won't you stay with me one more day? If we get the room, one more night…") and sitting in the US Airways club lounge in concourse C at the Charlotte airport. Currently I'm enduring that unique bit of 21st Century persecution which is the now you see it, now you don't WiFi connection. (The irony of going into the special, business traveler lounge is that you leave the cushy, free puffy WiFi cloud sanctuary of the main terminal and enter the lurid, pay-per-play T-Mobile Hot Spot.)
This is my first time in a US Air lounge, and I have to say they have one of the most complex coffee machines that I've ever seen. (Best lounge experience? Alitalia's first class lounge in JFK. Super sleek leather furniture and a classy little self-serve liquor and cheese area that compels you to sip Campari and soda and gesticulate wildly with your arms.) You know that you're in for a complicated auto-barista experience when the machine has two different sets of instructions AND some of the coffees come in packets marked "Step 1 of 2."  I wasn't instantly blown away by the name "Flavia," which calls to mind the windswept hair and unnaturally smooth chest of Fabio, but in the interest of a potentially good first cup of the day – and the alternative being a stainless canister imprisoned drip brew of uncertain age, strength and character – I decided that Flavia was the way to go. Also, it had a line for it, and like all Americans, I have been conditioned to stand in a line, assured of something good to come from my time spent. (I mean, isn't that why I continually endure the self-flagellation that is the Wal-Mart shopping experience?)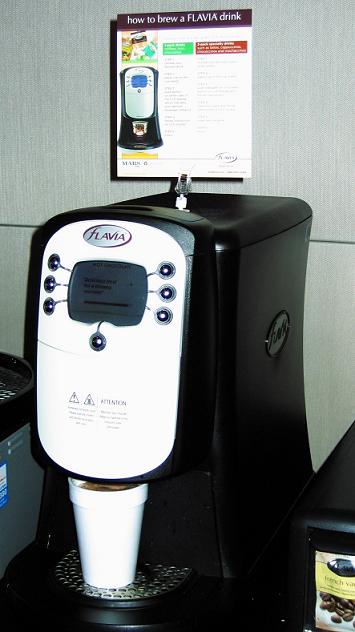 There was a daunting array of choices, but I quickly whittled them down by eliminating anything with the words "Tea" and "Decaf" in the titles. This caused me to focus in on a flavor packet that promised a "cappuccino/latte swirl," but this particular flavor adventure was a two-step process and step 2 of 2 was MIA. (I wasn't about to go off reservation for my first Flavia encounter. Perhaps that second packet contains the catalyst necessary for activating the swirling action, without which you have some kind of horribly unsettling, NON-swirling Frankenstein alchemy.) So, for my first go, I went with the rather benign sounding "Hazlenut." The brew process is pretty quick, however it is *greatly* sped up by the fact that it produces only about a half-cup. (Had I been more dashing, I would have turned to the growing line behind me, tossed them a Devil-may-care grin and popped in a second packet and filled my cup like a man. But, as I got up just north of 5 AM, I just meekly took my half cup without even mustering so much as an Oliver Twist worthy "more please.") On the walk back to my chair, I was hoping that perhaps Flavia was electing to trade quantity for quality. Alas, no. I give it a C+ grade; decent flavor, but nothing special.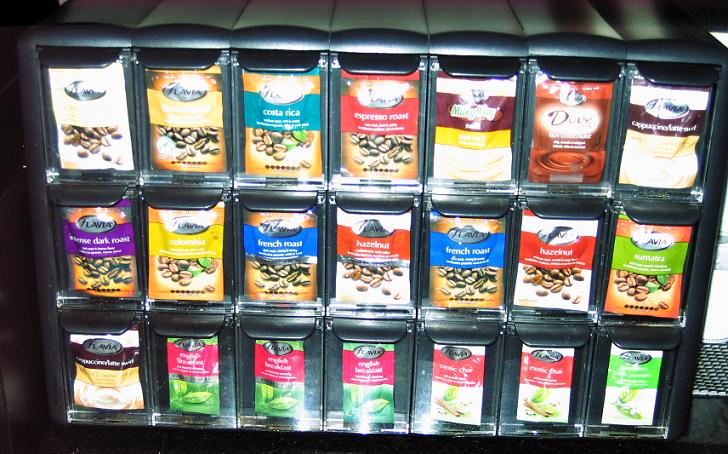 For my second cup, I went with a classic espresso, hoping for something strong like bull! I was prepared for the half ration and pre-grabbed two packets, linking them up like quarters at a bar pool table letting all onlookers know that I meant business. This brew had a respectable flavor but wasn't very strong (more like bull that has been castrated many years ago and now occasionally plows a soft-earthed garden). I attribute this to the fact that the final step of the brewing process was a hot urine-jet-stream of water poured into what could have been espresso. Also disappointing was that it produced a rather anemic, uninspired bit of crema, delivering a brew far closer to what my Italian fratelli would call "acqua nera" (black water). My personal Saeco super-automatic has nothing to fear from this complex behemoth.
So now, I'm off to Florida. Happy travels, wherever this day takes you!
Categories: April 2010, Coffee
/