Shopping Cart
Your Cart is Empty
There was an error with PayPal
Click here to try again
Thank you for your business!
You should be receiving an order confirmation from Paypal shortly.
Exit Shopping Cart
Features, Reviews and a Blog by John Sciacca
| | |
| --- | --- |
| Posted on October 29, 2013 at 2:10 PM | |
The other evening, as I was tip-toeing on top of a chair from our dining room, using a paper clip and the smallest screwdriver I could find trying to pry loose the grille of an older in-ceiling speaker I wanted to replace without totally destroying the grille or falling off the chair, I realized just how far architectural audio speaker technology had come. And I'm not talking about new Rohacell driver technology, and infinitely dense cabinetry bracing or super rare-earth Unobtanium magnets or any of those other technologies designed to make the speaker sound better, I'm talking about all of the design improvements that have made them easier to install!
Sometimes when I am installing something, I ask myself if the person who designed it has ever even bothered to try and install it in the real world. Say, atop a ladder…while trying to balance a level, tape measure, pair of wire strips and a drill. While cradling their product under your arm or balanced precariously amidst a pile of other falderal on the ladder's fold-out shelf thing. Usually the thought that goes through my mind is something like, "I swear to God! Whoever designed this thing is an idiot! I bet they've never even tried to try and put one of these things in!" There's also a lot of swearing. Feel free to fill in with your favorite words. You know you've been there.
But it seems that more and more speaker companies are finally putting their designers up on the ladder, so to speak, and they understand what makes a product easier to install in the field. In turn, this makes your installers more productive, able to get more installs done, and make the company more money. Or, if nothing else, these improved speaker designs decrease the likelihood of them falling off a ladder or dropping something that spirals to the ground only to land blade-down on new hardwood flooring. (I mean, so I've been told...)
For example, nearly every improvement in Paradigm's new CS v.3 speaker line launched at this past CEDIA EXPO was made so that the speaker was easier to install. That's pretty cool. For instance, the speakers have a deeper set-screw that makes it easier to hold the drill bit steady. It's the kind of thing you might not notice or appreciate until you are fully extended atop a 12-foot ladder. They also re-designed the dog-ear mounting system with an angle to better "bite" into the drywall.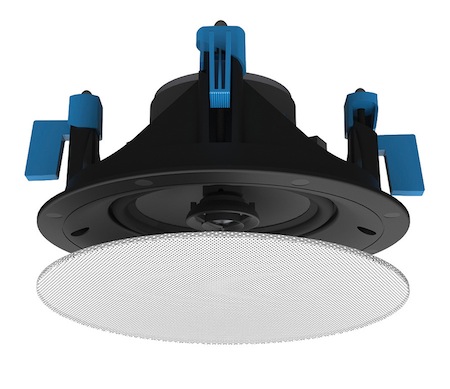 Here are a few other things I've noticed with improvements in in-wall/ceiling and outdoor speakers lately that have made installing them a much more pleasant experience.
Cut-Out Templates
Nearly every in-wall/ceiling speaker includes a template to cut out the speaker, but, as Morrissey would say, some templates are better than others. While some include a "bulls eye" in the middle of the template to poke a nail through to center the template, the Sonance Visual Performance speakers I installed the other day have center marks both top/bottom and left/right, making it easy to ensure that I was straight and level and dead on my mark. That's a simple thing. But it was appreciated.
Magnetic Grilles
Remember when grilles slipped into that micro-thin slot set into the speaker frame/bezel area? It looked like the grille would just slip right in there, and it came tantalizingly close to actually doing it. Except it didn't. We used to install these speakers that had these really flimsy grilles that you would literally have to fight every millimeter of the way to get set. It could take more than five minutes slowly working the speaker grille into place, pinching and bending and caressing and finessing, the whole time hoping that you weren't bending the middle out of round so it would be ruined. There were seriously times when we would have to swap out and take turns, letting someone else try their hands at the grill install mojo. And if you ever had to remove one of these grilles, well then you better hope the Force was with you that day, especially if the grilles were outside and likely rusted into place. Contrast that with magnetic grilles on many speakers today that literally snap right into place, no fuss, no muss and never any bending or damage. Not to mention that many of these grilles are micro-perf and just look a lot nicer.
Click here to continue reading other breakthru features that make installing speakers oh-so-much more lovely! 
Categories: October 2013, Electronics
/