Shopping Cart
Your Cart is Empty
There was an error with PayPal
Click here to try again
Thank you for your business!
You should be receiving an order confirmation from Paypal shortly.
Exit Shopping Cart
Features, Reviews and a Blog by John Sciacca
| | |
| --- | --- |
| Posted on December 12, 2013 at 12:50 AM | |
Bringing you up to speed…
Earlier this year, my custom installation company – Custom Theater and Audio – landed the biggest job in our 18 year history, both in the physical size of the home (21,500 square feet under roof on one floor sitting on 4 acres of property) and in financial scope of the job. I decided to chronicle the project over the course of our design and install, detailing the decisions I made in system design, proposal process, prewire, trim out and installation.
Back in April I posted Part 1 of this saga where I discussed The Spec Out. If you missed that, I went over my thought process on coming up with the system for this job; how I tackled the size of the job and figured out the best way to handle audio/video distribution and control as well as my choices on selecting the system components.
In May I posted part 2, where I discussed The Setup, detailing how I presented the items I was planning on using to the husband and wife builder team running the project. Prior to giving them the proposal, I wanted them to understand what each component was, why I selected it for the install, how it worked and fit into the overall scope of the job.
In October I posted part 3, The Pitch, where I went over creating and presenting the proposal to the builders to (hopefully) secure the job. (Spoiler: we got it!)
So now we come to the part where our company was actually ready to begin doing some work on the job. (In real world time, this would have been the middle of April of this year.) Typically, we view prewires as a sprint; we fall out on them with a full crew, drop into our rolls of putting up speaker brackets, nailing up wall boxes, determining and then drilling holes for wiring routes, and then pulling wiring in earnest. And I'd say that our company finishes about 80% of the prewires we do in a single day, and rare is the prewire that lasts more than three days.
Obviously this job was more a marathon race than a sprint, so before we started on the job I met with all of my techs and we came up with a gameplan on how we would tackle the wiring on this project. The first thing I did was mark up three different sets of blueprints: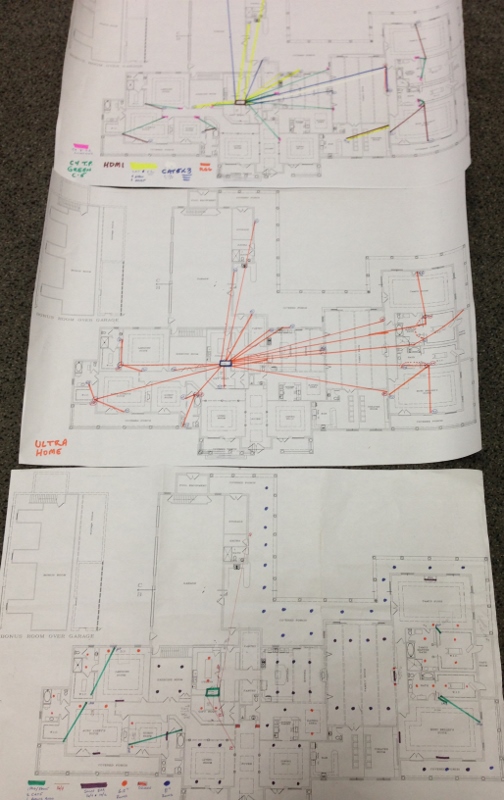 Not only did this help me to visualize what needed to be done and to see the distribution of signals around the house, it also made it much easier to have wiring teams focus on specific tasks, and to be able to cross them off as they were completed. As this job spanned multiple weeks, keeping up with what we had done and what still needed to be done – especially as the bundle of wiring and trunk lines grew and grew – became something we really needed to manage.
One set of prints had the cabling going to each TV and electronics' home run area, another showed all the speaker sizes, types and locations and local in room HDMI and A/V runs, another had all the dual and triple runs of Cat6 and Control4 touchscreen locations. When the security system grew to 32 external video cameras, another plan showed each camera location and the field of view it would cover. My business partner, Allen, was handling all the Lutron HomeWorks wiring and he had separate plans marked up for our techs to pull wiring to the Vareo locations and for the electrician to pull to each of the power panels.
Nearly every TV in the home has a combination of dual RG6 coax cabling and between 3-4 Cat rated wires. TV's that are getting HDBaseT baluns for video distribution have Cat6 – along with the network runs between the main Pakedge router/switch in the rack and the smaller switches in each sub-system – with Cat5 being used for controlling the TV via the Control4 system.
The day of the prewire looked like we were establishing a mini Liberty wire distribution warehouse in the garage as we brought in spool after spool of cabling.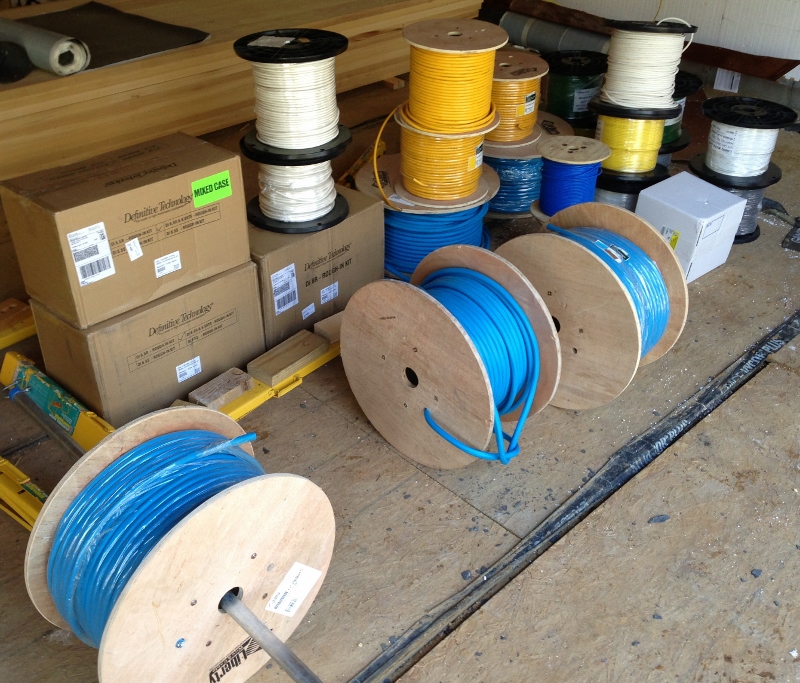 Please click here to continue reading - and lots more pics! - at Residential Systems.
Categories: December 2013, CTA
/