Shopping Cart
Your Cart is Empty
There was an error with PayPal
Click here to try again
Thank you for your business!
You should be receiving an order confirmation from Paypal shortly.
Exit Shopping Cart
Features, Reviews and a Blog by John Sciacca
| | |
| --- | --- |
| Posted on January 16, 2014 at 11:00 AM | |
If you've never made it out to Vegas for CES, then it is hard to imagine the immensity of the booths that the major video manufacturers build. Samsung, Sony, LG, Panasonic, Sharp…these are giant, walled fortresses in the midst of the convention center all showing the latest technologies that will be gracing the world in the coming months/years.
I combed the Las Vegas Convention Center's Central Hall and visited each of the big booths and took photos of the displays and technologies that stood out to me. Enjoy!
LG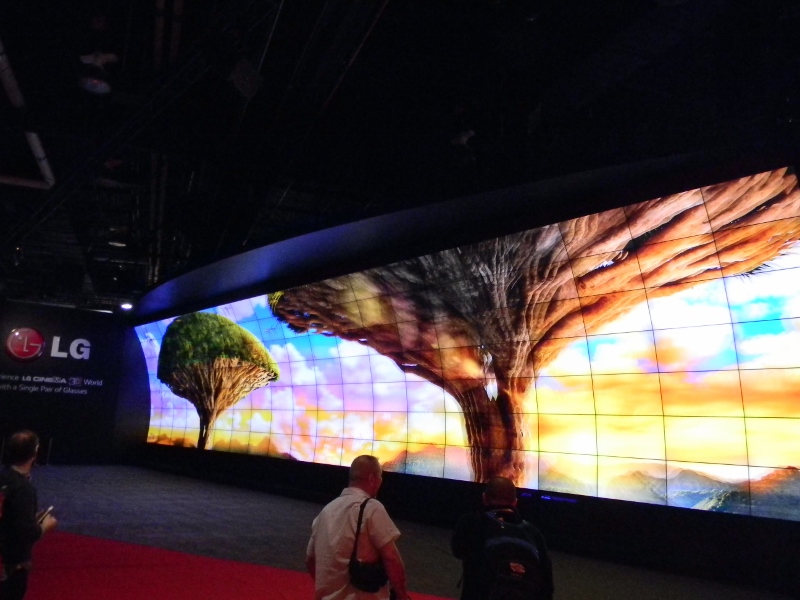 You are welcomed to LG's booth by just a mammoth wall of flat panel TVs, 140 of them all together, all seamless synched to display one gigantic 3D image. The flat panels are in a 20 x 7 array and produce a pretty awesome 3D image that is incredible bright ant immersive.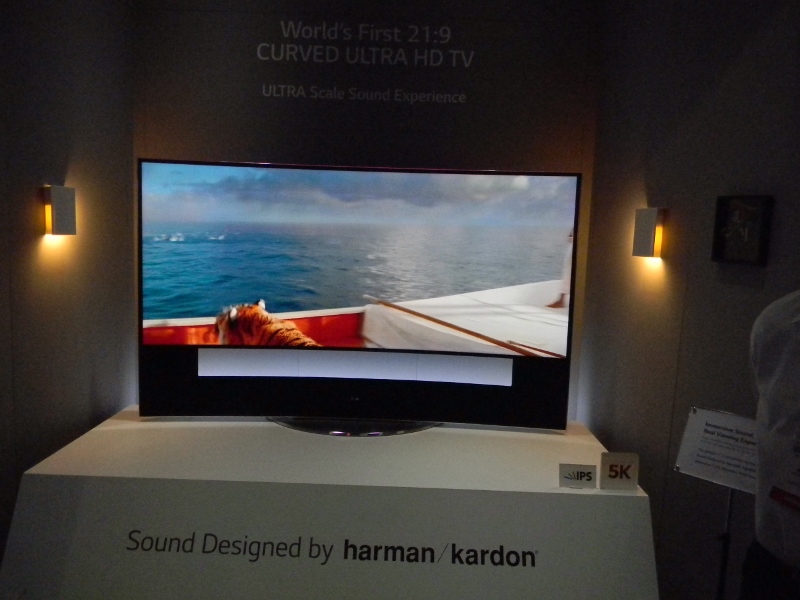 LG calls this the "world's first 21:9 curved Ultra HDTV" which means that I guess Samsung's is the world's second… What I liked about this set was the industrial design of the pedestal base and the attention to sound with the included Harman/Kardon audio system.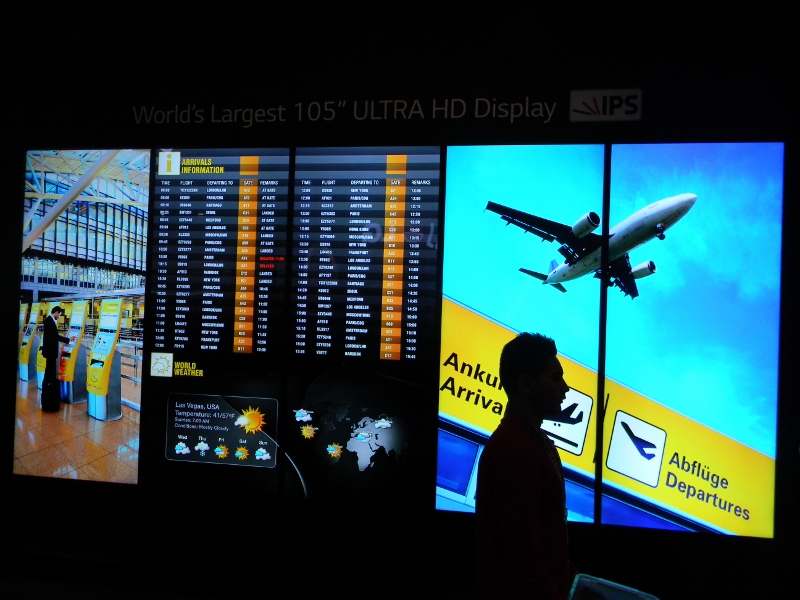 What's cooler than one 105-inch UHDTV? How about five of them arrayed vertically to produce one massive display. This is digital signage to the max!
Toshiba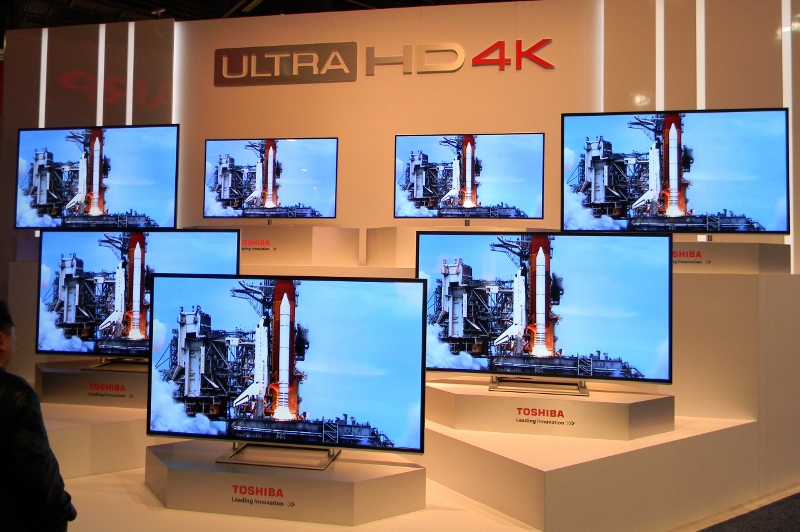 You are greeted outside Toshiba's booth by an array of the company's UHD offerings, letting you know that the coming is serious about size and performance offerings in 4K.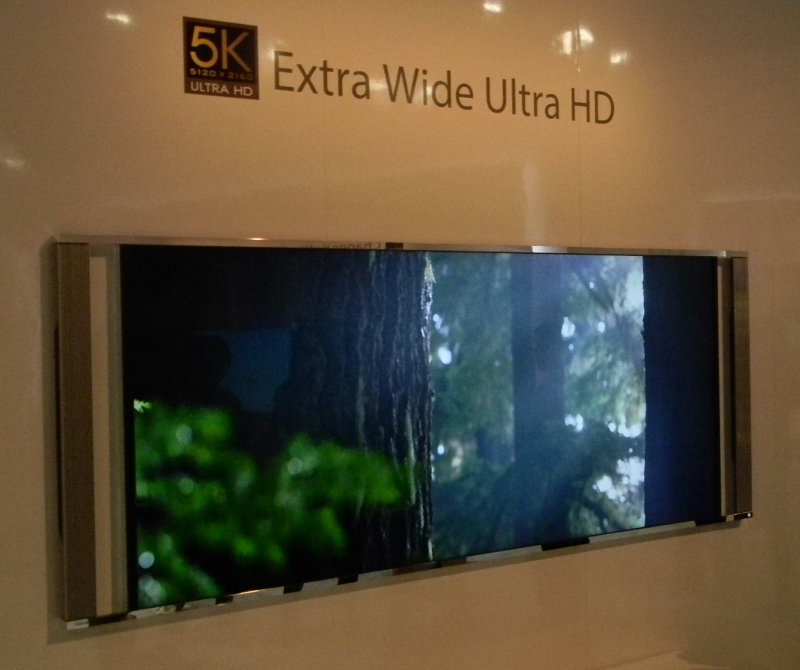 Think 4K is good? How about adding one more k. This extra wide Ultra HD set by Toshiba is 5K, or 5120 x 2160 resolution. However, I attended a panel given by Joe Kane where he mentioned that this format isn't supported by HDMI 2.0, so, ummm, whoops…?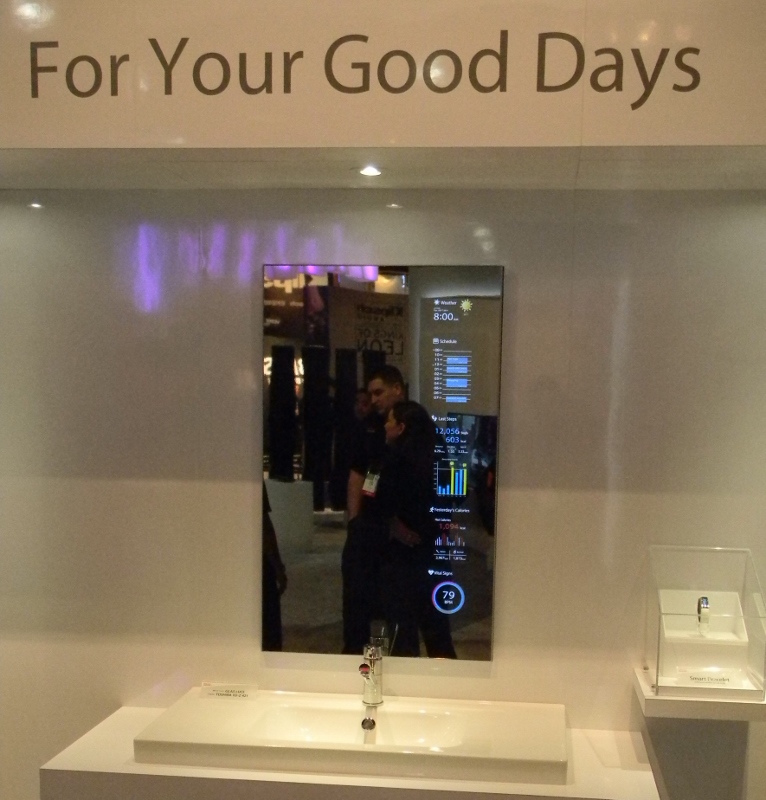 Toshiba displayed quite a few "video behind mirror" displays and I felt this was the coolest. How often are you getting ready in the morning when you'd love to know the latest news, weather or Twitter update? Now, you can! I'm not sure what happens on your bad days though....

Panasonic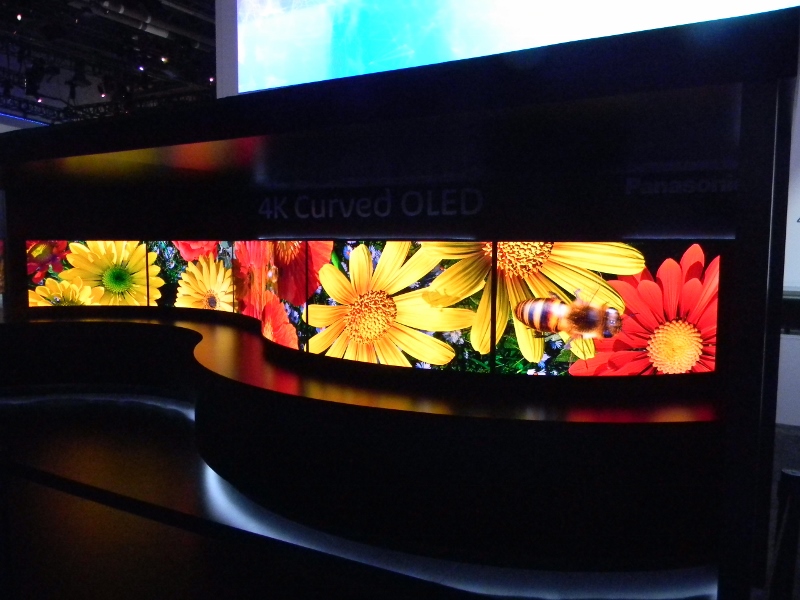 Panasonic mentioned this during its press conference and I told you I'd be getting a picture of it! So, as a man of my word, here it is! While this has no real residential application, it would make for an awesome commercial display.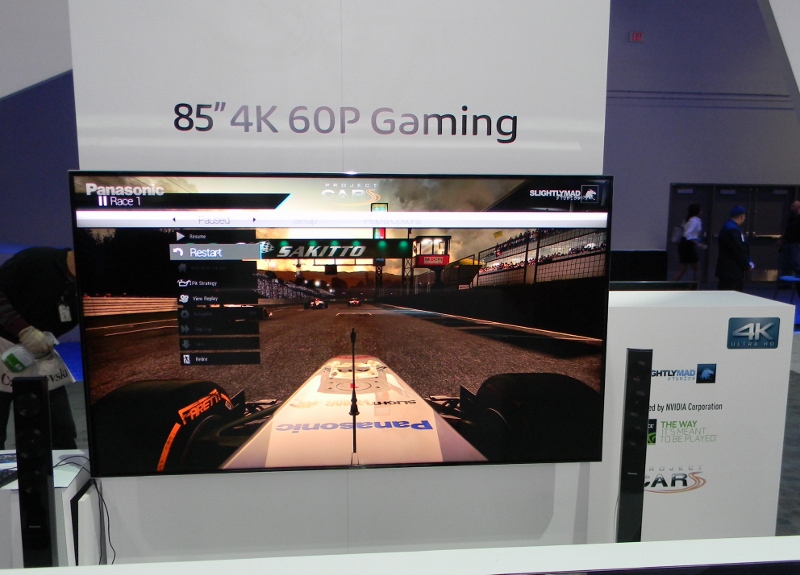 Gaming had a lot of presence in the video booths, and this was a cool demo that Panasonic put on of 4K, 60P gaming on an 85-inch screen. The motion was terrific during the racing game.  
There has been much wailing and teeth gnashing over the fact that Panasonic decided to cancel its Plasma line-up. But to prove they haven't given up on picture quality, there was a  dark room, no cameras demo comparing last year's flagship ZT-series Plasma panel to the company's next generation LED sets. While I think the Plasma was still the clear winner, the LED wasn't as far behind as you'd think.
Please click here to continue reading about the S-Boys... Sony, Sharp and Samsung!

Categories: 3D TV, CES/CEDIA, January 2014
/