Shopping Cart
Your Cart is Empty
There was an error with PayPal
Click here to try again
Thank you for your business!
You should be receiving an order confirmation from Paypal shortly.
Exit Shopping Cart
Features, Reviews and a Blog by John Sciacca
| | |
| --- | --- |
| Posted on May 1, 2014 at 10:40 AM | |
If you've ever taken a cross-country flight in coach, then you know the almost inhuman, Geneva-Convention-straining state of a truly uncomfortable seat. The anemic cushion causes lower back pain, the narrow width confines the hips and thighs, the rigid, mercilessly limited recline locks the spine into a preternaturally upright position, and leg movement is restricted to the subtlest of ankle rotation barely capable of staving off deep vein thrombosis. Sure, these Torquemada-esque contraptions might not have been designed with torture explicitly in mind, and might even slightly increase your odds of survival in the event of an emergency—and, don't forget that your seat cushion can be used as a flotation device in the event of a water landing—but comfort and ergonomics certainly take a back seat to, "How many of these things will the FAA legally let us cram into the cabin?!"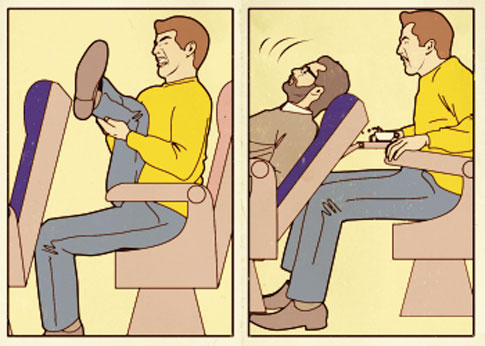 When you think about it, our clients can easily spend as much time as a cross-country flight watching an evening of movies or binge watching on their favorite TV series. Usually we are so focused on the design, installation, and integration of the audio, video, and control systems that we forget the part of the system that the client's body actually interacts with: the seating.
A nice theater seat can be the finishing touch on a theater design, completing the room not only visually, but also the use and enjoyment of the system. A well-made chair cradles the body in comfort, swaddling you in a loving embrace of supple leather or fabric, perhaps even giving a massage, a bit of heat and a place to set your Spieglau IPA glass. Conversely, a bad seat can mar the experience, even if only on a subconscious level. Something as simple as how the footrest hits you wrong in the ankle or calf or how the back is too high and cuts down on surround channel information, or a rogue spring that feels like it is eager to perform an impromptu - and likely unwelcome - proctologic screening, can ruin your experience.
While many customers may opt to use a sofa or something less formal than dedicated seating, having an upscale option to what can be found at the La-Z-Boy will not only set you apart but also provide another sales opportunity. You wouldn't show flat panels and speakers that you don't sell, so why have seating taking up valuable floor real estate that you don't offer for sale?
Please click here to continue reading and to see the seats I used on my Mega Install job!

Categories: April 2014, CTA, Movies
/