Shopping Cart
Your Cart is Empty
There was an error with PayPal
Click here to try again
Thank you for your business!
You should be receiving an order confirmation from Paypal shortly.
Exit Shopping Cart
Features, Reviews and a Blog by John Sciacca
| | |
| --- | --- |
| Posted on September 20, 2010 at 4:12 PM | |
We're at the library today, bulking up on materials for our upcoming trip to CEDIA; me on books with things like "rogue military sniper," "overthrow Black Shadow-ops plot" and "submarine trapped under the arctic" in the descriptions and Dana getting books-on-CD with things like "from the author who brought you 'Everything your man says is wrong!' and 'Puppies, unicorns and rainbows – you DO deserve it all!'" Also as part of my library routing, I like to thoroughly peruse the CD rack.
Now, for those unawares, the library CD rack is a wonderful place to legally stock up on totally free music. I can't tell you how many CDs I have checked out from the library, brought home, ripped into iTunes and then returned. As a tax payer, I feel that renting-ripping-returning is part of my civic duty. And you'd be surprised how much great music you can find at the library.The following is a sampling of artists whose music I have added to my collection from library visits: John Mayer, The Beatles, R.E.M., Rod Stewart, Miles Davis, Madonna, Diana Krall, Michael Buble, John Coltrane, Beck, Oasis… I mean, if you are into hardcore, parental-warning label music, you'll probably be disappointed, but for everyone else, you can definitely add 10, 15, 20+ albums to your collection. Not a bad use of the ole library card.
So, I'm spinning through the racks of discs looking for some new music to Bogart, err, add to my collection in a total legal manner. (In the interest of total honesty and transparency, I will cop to checking out a new Enya CD, Amarantine. I don't know what it is about the Crazy Celtic Crooner, but I haven't been able to let her reach, let her beach far beyond the Yellow Sea. From Bali to Cali, far beneath the Coral Sea. Sail away, Sail AWAY! Ba-BUM! Though for someone who's music is supposed to be so soothing and New Agey and flowing like an Orinoco, it tends to make Dana riled and agitatey and more like the angry and muddy Mississippi.) So I'm in the classical section looking to see if there is anything interesting to add and I see the title genre "Piano" – one of my favorites – and the title "Sensual Classics Too." Now I missed out on the original Sensual Classics (if there indeed is one), but hey, I'm always looking for some new mood music, so I whip out the disc and see this: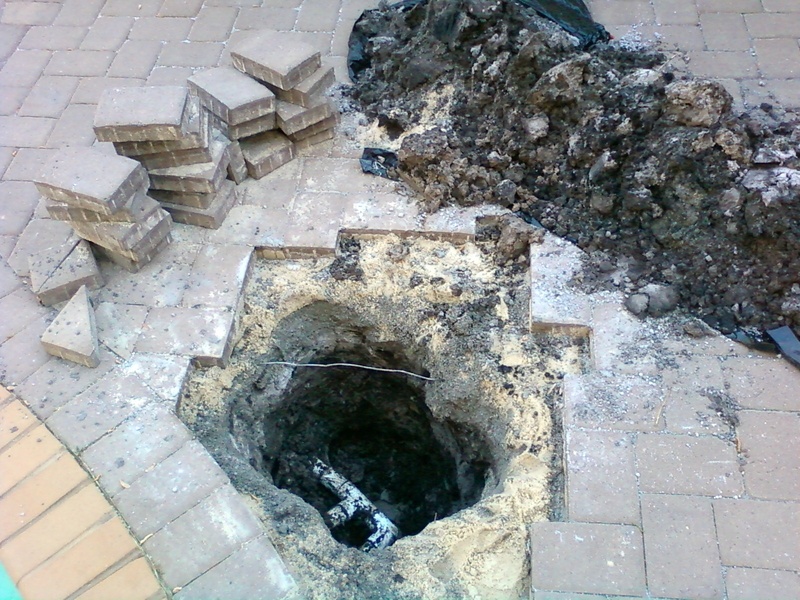 What the?! Is that two dudes? Or just a very manly looking woman giving a sly, small-boobed nipple flash? Nope, it's definitely two dudes. Totally all caught up in a sensual embrace. I'm confused. I turn the disc around, and look for anything that says, "This is the perfect music for when you – a dude – want to make sweet dude-love to your man. Yet he -- also a dude -- needs some encouragement to, uh, you know..." Despite what Lady Phone would have you believe, I'm not the least bit bi-curious, but I am this-disc curious, so I open the CD jacket and spy this even gayer-than-gay photo: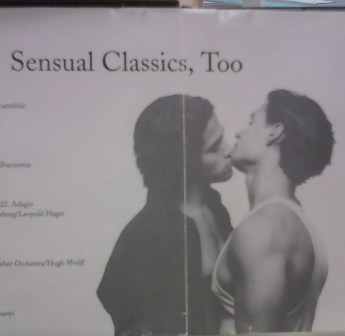 Library?! I did NOT come here for even the softest of soft-core guy-on-guy action. Warn a hetero brother before just sticking this booby-trap on the shelves! Seriously though, I'm sure there are pumped up and sensitive gay men out there looking for some sensual piano tunes, but how about a more, I don't know, LESS gay CD cover? How about a piano with some candles and roses and champagne flutes on it? Or just a single, really good looking guy that could, I don't know, represent all mankind. Couldn't that appeal to both sides? (I showed these pictures to Dana and her answer was, "Eww! Get that thing away from me!" Sadly, that has also been her go-to answer to me on totally non-gay encounters as well.)
All in all, the music doesn't look any gayer than just straight up Classical. There is Beethoven who seemed extremely UN-gay, Mozart who as portrayed in Amadeus looked like he would have been up for anything, then Brams, Chopin and Schubert. One of the reviews of the CD at Amazon says, "Who really cares if there are two men holding each other on the cover? That's not the important thing. This CD contains some of the best romantic music by some of the world's greatest composers." Well, honestly, I care. And if that makes me shallow, well not checking out a gay CD is going to have to get in line behind the MANY other things that make me even shallower. But there is just NO way that I am going to go and check this thing out. I don't want to have to defend my sexual orientation to the library check-out lady, but when you walk up with this disc, an armful of tough-guy military action books and – let's be honest – an Enya CD, she is going to pink-flag your account.
Categories: September 2010, Music, Books
/