Shopping Cart
Your Cart is Empty
There was an error with PayPal
Click here to try again
Thank you for your business!
You should be receiving an order confirmation from Paypal shortly.
Exit Shopping Cart
Features, Reviews and a Blog by John Sciacca
| | |
| --- | --- |
| Posted on October 14, 2010 at 11:50 AM | |
Received a letter in the mail today from Panamax, a company that we purchase surge protection products from. Now, I like Panamax. I think they make great products. In fact I've just finished a review of their new BlueBOLT enabled surge protector which lets you access your surge protector remotely via the Interwebs -- awesome for power cycling outlets for ALL those times that a cable box fails and a customer just flat out refuses to try and power cycle it on their own. "Ma'am, I'm almost 100% positive it is your cable box. If I can get just get you to unplug it, we'll reboot it and..."
"I can't."
"I'm sorry?"
"I can't. I can't do it."
"You 'can't' or you won't?"
"I just can't."

"Ma'am, I am trying to save you a $60 service call, and all you need to do is unplug the box and plug it back in."
"No. I can't do it."
So, for times like these -- which, if you want your faith in your fellow man to be completely decimated, happen far more often than you might believe -- it is SO awesome to be able to just log into the surge protector, press the power cycle button, and then voila!  Problem solved! I have it at home right now, and it works just that easy. (Due to the high reliability of cable boxes, I've been able to remotely reboot mine THRICE! during my review period.) Also it has some really cool energy management features. But, you'll have to wait for the review to come out in Resi to see the whole story...

Anyhow, I like Panamax. They're a good company and they make good products. So, this morning I was pretty bummed, leading to peeved crescendoing to pissed to get the following letter: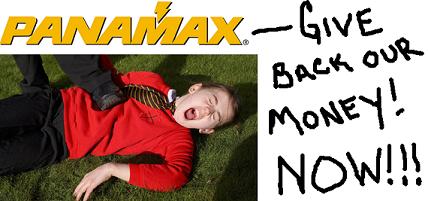 "Dear HES Member,




About four weeks ago a credit memo describes as 'Q1/Q2 Coop 1%' was issued to your account in error. Attached is a debit note reversing the original inappropriate credit memo... These funds are considered due to Panamax. If you have any questions...please contact..."




OK. This is lame. Granted, it was a small ($14.49) amount of money, but I have gone to battle over less then this. WAY less. (Holding up a Wal-Mart shopping line for like 10 minutes over what turned out to be like a $.23 difference on some mis-marked asparagus comes to mind.) I can't help it. It's who I am. The bubbling cauldron of ass just below the surface is the secret sauce that makes up the John many know and some love.




So I fire off an e-mail to the two people listed:

"I don't understand the letter I received today.

 

You issued me a credit.

 

I used the credit.

 

Now you're telling me I OWE you for the credit?

 

This doesn't make any sense.

 

Sounds like your mistake, not mine.

John Sciacca

Custom Theater & Audio"




Not many minutes go by and I get a call from Panamax's Director of CI Sales. Apologizing for the credit confusion. I offered that there was no confusion on my end; I received the credit and I applied the credit. Essentially, YOU sent me money -- unrequested -- and I spent the money. Now you want the money back? He explained that the credit was applied mistakenly to all HES members accounts.

"But I'm not an HES (Home Entertainment Specialist buying group) member. So sounds like you made two mistakes."

"Well, actually one mistake that caused the other..."

"Which sounds like two mistakes to me."




Blah, blah long story short  they have some new person doing the accounting or something, something was encoded in error, credits were issued, credits were applied, now Panamax is being all Fat Tony on the subject of the credit moneys. "I'm afraid I must insist. You see, my wife, she has been most vocal on the subject of the pretzel monies. 'Where's the money?' 'When are you going to get the money?' 'Why aren't you getting the money now?' And so on and so forth."




So, memo to companies: In the future, BEFORE you issue and mail out a system wide credit to your customers, make sure it is correct. And if someone on your end effs-up and issues a credit in error, make THEM pay for the mistake, not me.


Categories: October 2010, Rants, CTA

0

/