Shopping Cart
Your Cart is Empty
There was an error with PayPal
Click here to try again
Thank you for your business!
You should be receiving an order confirmation from Paypal shortly.
Exit Shopping Cart
Features, Reviews and a Blog by John Sciacca
| | |
| --- | --- |
| Posted on October 15, 2010 at 2:30 PM | |
When I started this day, I had absolutely no idea just what magical promises might await. Sure I was feeling a little downhearted to start. And spirits weren't exactly soaring after working up a 1500+ word missive on my outlook for the future of the custom installation industry (spoiler: it's not good, but look for it on Monday). And then my left eye kind of went all stroke-eye with these weird muscle twitches and fluid leakage. And sure it isn't very comforting every time I look over at that Machiavellian piece of paper sitting next to me on the desk with the totally unreassuring giant header, "THIS IS NOT A TAX BILL" from the County Assessor's Office with some mysterious and uncomprehendable and still-too-scared-to-call-about ominous $10,960 "Assessment Of Real Estate." And I shall now read off the entire contents of my lunch today in alphabetical order: One ounce bag of Fritos. That is all. And, PS, I've already eaten them.
So, with all of that as the backdrop, what I really needed was a little cheer-me-up. What I didn't expect was that it would come in my AOL in-box from freebizmag.com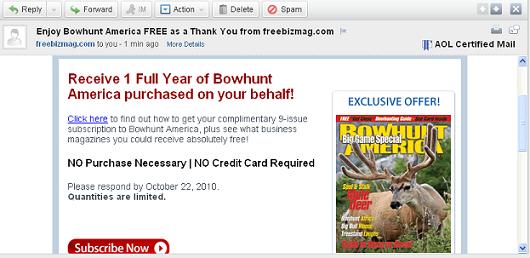 Wow! An EXCLUSIVE OFFER! For me! Consisting of One Full Year of Bowhunt America! Purchased on my behalf! I don't know who to thank or what to say. I mean, I *really* don't know what to say. These guys must have scoured through my reading habits -- Sound & Vision, Home Theater, The Absolute Sound, TWICE, Entertainment Weekly, SkyMall, swiped copies of Dana's Cosmo -- and seen that I just had a gaping hole in my reading selection. Because if you know me AT ALL, you know that there are few things in life I love more than pulling myself a double latte, swimming through my collection of modal expressionist jazz on the Sooloos and then curling up with a copy of Bowhunt America. What with those close-up, grisly shots of lolling-tongued deer with broadtipped arrows cleaving livers in-twain. Or when a cammy wearing photog captures that special bonding moment between father-and-son; them smiling, arms around shoulders with a freshly killed deer corpse with a massive subconjunctival hemorrhage lying between them. Of course, I'm one of those guys that REALLY does get the magazine for the insightful articles and biting journalism. Nothing gets me more riled up than a good compound or reflex technology discussion or graphite versus composite. And if there is a topic that is any hotter than forest camo versus bright orange neon camo, then brother, I don't know it! Plus, I alwyas save the best for last,  those oh-so funny "Treestand Laughs" stories from the field, where hunters recant their wish-you-were-here tales of dousing themselves in deer urine to disguise their scent only to find out it was actually BEAR URINE that scared the deer away! You just can't make this stuff up!
I've got a full week to respond, but seriously, Quantities are limited, and like I'm gonna wait even another single second to get in on this Bowhunt animal killing action!
Categories: October 2010, Books
/