Shopping Cart
Your Cart is Empty
There was an error with PayPal
Click here to try again
Thank you for your business!
You should be receiving an order confirmation from Paypal shortly.
Exit Shopping Cart
Features, Reviews and a Blog by John Sciacca
| | |
| --- | --- |
| Posted on October 24, 2010 at 9:59 AM | |
Brown is not cool. Chances are good that you'll never run across anyone who will claim that brown is their favorite color. Well, maybe Mr. Hankey. If you ever run across him, he would like brown. (Howdy-ho, children!) For the rest of us, brown is not a color that we associate with good times and niceness. (Except maybe shoes and belts. They can be brown I guess.) In fact, "Really? Brown is your *favorite* color?" might actually be an early pre-screening question for weeding out potential serial killer behavior.
We don't ship many packages at Custom Theater but when we do, we use Brown. Not really out of any specialty loyalty or particular high-shipping success rate, more so that the Brown truck shows up more often and it's just easier to hand the packages to the driver. So, that's usually what Brown can do for me on any given day. So, when a friend of mine in California wanted to buy some new Def Tech surround speakers I offered to help him out. So when the speakers arrived and I packed them up and printed the shipping label I noticed a new check box for the first time: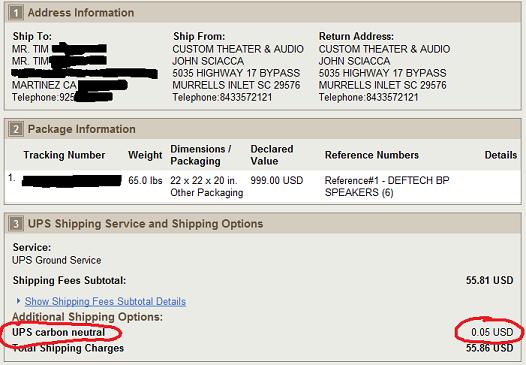 UPS carbon neutral? What's this? Well turns out that for over a YEAR now, UPS has apparently been asking customers the question, "Would you like to spend an extra nickel to help save the planet or are you such a heartless corporate automaton that even a single nickel is too much to offset your Matrix-loving ways?"
Now, my carbon-positive black heart usually never checks any of those "do you want to donate $X to help…" boxes but for a nickel – which, PS: I billed anyhow to Tim; you're welcome, Tim! – I'm willing to do my part. Or facilitate Tim in doing his part. The thing is, I've been shipping packages with UPS for YEARS – definitely since they issued this press release on October 6, 2009 – and I was never aware of the program. This seems like the kind of thing that they should make sure all of their shippers are aware of.
So, with my world-encircles-John POV, I figured since I didn't know about this, none of you did either. So I am going to further offset my carbon footprint – hopefully at least to the extent that I offset the energy required to power my laptop as I write this. And my stereo that is playing now. And the Google TV and router and modem that are providing the Pandora music I'm listening to. And the slideshow that is playing on my Plasma TV. And the computer that is supplying the slideshow images. Oh, God. I feel a hole in the ozone layer forming over my home right now! – by paying the UPS program forward and telling all of you about. In turn, go forth and spread the message.
When you ship a package with UPS you can elect to check the "Yes! I DO love the planet! And PS: Save the whales too!" box and pay an extra $.05 for ground and $.20 for air (cause, you know, the big Brown Jet kills the planet more expensive-er than the small Brown truck). UPS will then match these moneys up to $1 MM (see McDonald's…THAT is how you do a charity matching program!)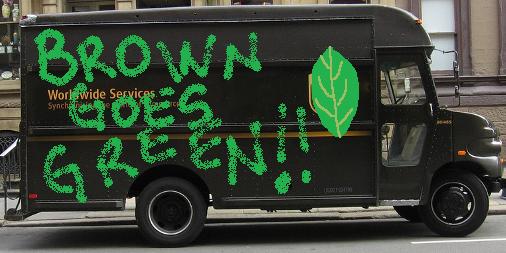 Now, I didn't really know what "purchase high-quality certified carbon offsets" really means. I kind of figured that UPS would be out there planting $2 million worth of trees or maybe engreenening the planet in some other way. So I read UPS description of what a carbon offset was: A carbon offset is a certified financial instrument aimed at a reduction in greenhouse gas emissions. When another organization's project yields less carbon dioxide or other greenhouse gases than would otherwise occur, offsets are available for purchase. UPS purchases these carbon credits to give customers a way to offset the emissions produced by the transportation of their shipments. UPS purchases offsets as required and will retire them in accordance with industry standards. UPS retires offsets directly related to the reduction of carbon for all carbon neutral shipments. Retiring an offset means removing it from the offset marketplace so it cannot be used again.

And, well, I still wasn't really sure what the heck it meant. So I Googled "What does purchasing a carbon offset mean exactly" (Google doesn't get all bogged down with punctuation like question marks) and I got 134,000 results. So I headed over to Wiki "What does 'Carbon offset' mean?

 

My takeaway is that megalo-companies are basically told how much poisoney-bad carbon pollution they are "allowed" to spew into the planet. (Because, clearly a little carbon is actually good for the planet. Showing it some tough whatever-doesn't-kill-you love and ultimately helping to strengthen the planet's immune system. Think of tons of carbon as like a giant planetary vaccination. Note, there might be some faulty science here. My area of expertise diminishes quickly once we branch out beyond TVs and stereos.) And when companies that are being "good" – aka healthy and planet-responsible or all Willy Wonka – spew less than they are allowed they get credit for this. Except instead of the credit being good will and maybe a fancy letter with a Gold Seal and the knowledge that they have helped to stave off another day when we must all live underground wearing oxygen rebreathers – they get ACTUAL credits. And then they can sell these credits to cash-in on their greeny-green ways to offset the work being done by the Empire in its Death Star building efforts. Or China. Or, you know, six of one...

 

This is from the Wiki article, and sums it up with a nice little bow: Carbon offsets are analogous to the indulgences sold by the Catholic church in the 15th century. It allows rich people to pay for their "sins" rather than actually changing their lifestyle. For example, Al Gore's mansion in Tennessee uses 20 times more electricity than an average person's home (without even considering his other house or place in Washington DC). Instead of actually practicing what he preaches and reducing his electricity usage, he just buys carbon credits (or offsets) so he doesn't have to feel guilty about his extravagant, carbon-heavy lifestyle. (Not to mention that he buys the carbon credits from a company he founded and owns. In other words, he's paying himself.)

But, seriously, what were you expecting for a nickel? Or from the guy that invented the Internet...

Categories: October 2010, CTA

0

/