Shopping Cart
Your Cart is Empty
There was an error with PayPal
Click here to try again
Thank you for your business!
You should be receiving an order confirmation from Paypal shortly.
Exit Shopping Cart
Features, Reviews and a Blog by John Sciacca
| | |
| --- | --- |
| Posted on November 14, 2010 at 9:35 PM | |
This post – this ONE; the one you're reading right here -- is my 300th. Which I figured was milestone enough to, well, at least mention. And then make a blog of it.
And since several of you – principally my dad who never misses an opportunity to comment about my stories being long, WAY too long; some guy named Ted who wrote that I write "an oftentimes long-winded blog"; Jeremy G, the atypically "good guy" who in his calm, straight-forward manner declared that all of my posts have like 500 extra words; ouchey! And, of course, Darryl W whom I can't quite decide if he is the Lex Luther to my Superman or if I am the Flanders to his Homer or more likely perhaps we're both the Kato to the world's Clouseau. In any event, Darryl actually went so far as to run a poll on his new "Darryl Writes More Better Than John" blog about whether my blog was "too wordy" (I'd like to thank all of you that voted in the poll. Zero. Which I believe is also the number of people that are reading Darryl's blog. Which is sad; because the guy is *very* funny. Even when the apparent raison d'être of his blog is to torment me. But I know these barbs come from a place of love. So I accept them like far-away electronic hugs.) – have commented that my posts are SO long, with most averaging around 1000 words, I'm thinking that with 300 under my belt, I can estimate that I've put up around 300,000 words worth of Johnosity out onto these Interwebs.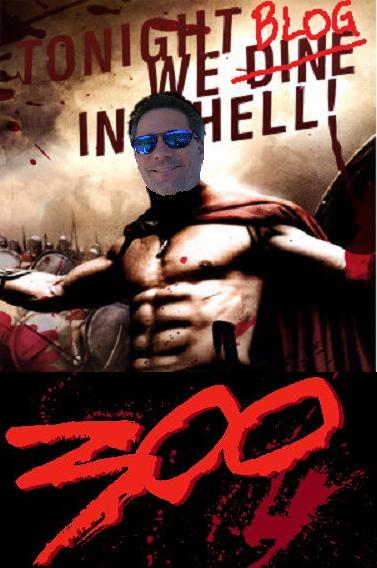 I started this back in February – with a totally random first post about retrieving a dead something from my pool filter – and at the time wondered just how much time and effort I was going to be able to devote to it. And also wondered/worried that maybe after a week or so the ideas would dry up and run out. Like there were only so many things that I could find to talk about before I started going all Farley with, "Hey, you remember that time that, uh, I said that thing? Yeah. That was cool." As my favorite band, They Might Be Giants, so poignantly said on their first album, "There's only two songs in me and I just wrote the third. Don't know where I got the inspiration or how I wrote the words..."




But, like TMBG, who are now on the 14th album, I have managed to find the inspiration for new stuff. And most days I feel that I could actually put up 3 or 4 posts but have to reign myself in in the interest of completing actual, real *paying* work.




It's like Stephen King once wrote: A writer writes. And by exercising the writing muscle, it gets stronger, more flexible and more powerful. I totally noticed this recently while working on my latest S+V column. I wasn't initially inspired by the topic, but after months of writing every day and turning little thoughts into lengthy posts, stringing often random, non-sequitors together, I soon found a groove in the road that I could set my wheels into and let the writing muscle loose on cruise control.




So, for everyone that has read and continues to read, I say a sincere Thank You. It's an honor to have blogged – and lived – at your side. The writing has been a ton of fun, but honestly, if no one is reading, I could just as easily keep all the words cooped up in my head, where they would keep all the other voices company. To borrow once again from 300:




Oh, I've chosen my words carefully, Persian. This...is...SCIACCA!

Categories: November 2010, Best Of..., On Writing

0

/