Shopping Cart
Your Cart is Empty
There was an error with PayPal
Click here to try again
Thank you for your business!
You should be receiving an order confirmation from Paypal shortly.
Exit Shopping Cart
Features, Reviews and a Blog by John Sciacca
| | |
| --- | --- |
| Posted on January 27, 2011 at 5:44 PM | |
Minutes after opening the store today, I get a phone call. It is the helper/lackey/errand boy for this wealthy older gentleman. (I'm not implying any kind of "The Special Relationship" thing going on here. And not "Special" in the Tony Blair, GW Bush kind of "Special" either; What I'm not talking about is the OTHER kind of "Special." But, no, I'm not implying that...nothing special. Special-special or regular special.) The old guy used to run an adult club (Myrtle Beach has tons of these things; there is this one street called Enterprise that is like totally dedicated to tattoo-ing and piercing and adult clubs; we've got both kinds here, topless or full nude. Something for everyone! This one strip mall has -- I kid you not -- like a dozen tattoo and piercing parlours. Like one right after another, store upon store upon store ALL doing exactly the same thing. And there are always cars in the parking lot. Seriously, people of Myrtle Beach, how much tattoo-ing and piercing do you need? Do you all hate your dadies that much? And the motto, "If you can pinch it, we can pierce it!" is really just too horrible to consider. With the obesity situation here, there is a LOT of skin flaps capable of being pinched...) where he would sit at home and remotely watch the dancers and the bar and everything. Thankfully, I never had to go to his house, but I heard it was really really creepy; like "don't touch anything, and wash your hands when you leave!" creepy. But one day the old man got religion and sold his club and whatever. So, the guy has a Crestron system. And occasionally he'll need programming help for his Crestron so he'll call us. It is a super simple, IR only job built around an old ST-1550C color touchpanel, so it's no big deal.
But the thing is, this guy keeps breaking these panels. Like we have redone like 4 or 5 of them for him. Then the helper – let's call him Bill – then Bill will go out to eBay, find a used panel, buy it, and then bring it down to us to program. So, today he calls me up.
"John, this is Bill. Mr. Jerry needs to have his Crestron panel reprogrammed."
"OK. Did he get a new piece or something?"
"No. He broke the old panel and I had to get him a new one."
OK, THIS is the point where I should have just minded ma own, said nothing, and set up a time to just program the new panel. But instead what I do is blurt out, "Jesus! What the hell is he doing with those things? I mean, it seems like he's always breaking them. Does he get pissed and chuck them against the wall or something?"
Which is immediately followed up by the part where I get to feel about 2-inches tall. Ready...?
"No. Mr. Jerry has a debilitating disease. He is confined to a wheelchair and his muscles are deteriorating. He is losing his fine motor control and he can't always control his hands that well. So he goes to use the panel and sometimes he will drop it."
Pow! And there it is!
After a stammering, "Oh! Uh...wow! Gee, I'm really sorry..." I, of course, tell the guy to *immediately* bring the remote down to the store and I'll get to work on dumping the program into it for him. You know, anything to kind of kick start the conversation away from the dead-end, shame-de-sac I have driven it into and then completely stalled out. Oh, and sorry! But I think I might have run over your cat there at the end...
 So he brings in this box FULL of Crestron stuff.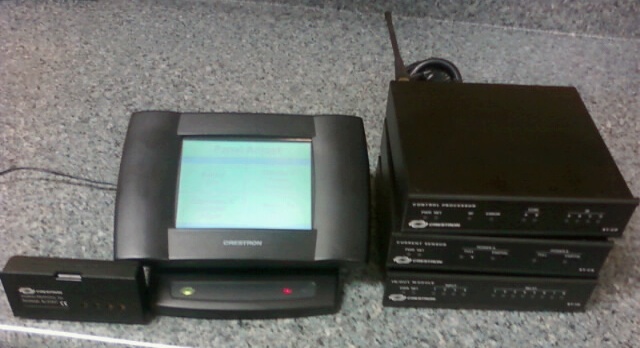 A new ST-1550C color touchpanel, a charging base, two ST-BP rechargeable batteries, an ST-CP control processor, an ST-CS current sensor, an ST-IO input/output relay module. All of it bought in one lump from eBay. This thing used to be the Bees Knees of automation control. I mean, it was inducted into the CEDIA Hall of Fame for Pete's sake! (I should know; I did a blog on it.) We buy Crestron ST-BP replacement batteries all the time; they retail for $150. Each. (And, bonus, $10 in shipping charges.) So, just in batteries alone, he has $300. (Though, to be fair, Crestron batteries often seem to have a lifespan nearer to that of a housefly, so having two used Crestron batteries might very well be akin to have no Crestron batteries, or some barely useful fractional quantity of Crestron batteries. Or not. It's a battery. Who can know?) Anyhow he bought this entire kit for $100! Including shipping! That is CRAZY! If I bought all that from Crestron, it would have been A) a HELL of a lot more and B) it wouldn't have included shipping. (We placed a $20,000 order with Crestron recently that didn't qualify. Well, it qualified for $250 in freight charges. It qualified for that just fine. Apparently Crestron's pre-paid freight terms are "Don't ask" and "Don't tell." )

So, the moral of the story is two-fold; 1) Don't ask unnecessary questions. If someone wants you to do some work, just do it. 2) Purchase your used Crestron gear from eBay.
Categories: January 2011, CTA, Rants
/