Shopping Cart
Your Cart is Empty
There was an error with PayPal
Click here to try again
Thank you for your business!
You should be receiving an order confirmation from Paypal shortly.
Exit Shopping Cart
Features, Reviews and a Blog by John Sciacca
| | |
| --- | --- |
| Posted on January 29, 2011 at 2:46 PM | |
I've mentioned before my fascination with A/V product placement in movies and TV shows. Generally some kind of A/V gear makes up the set dressing and can help to flesh out the lifestyle of a character. For instance, the movie "Dinner for Schmucks" had several shots of a Meridian speaker and audio system in the lux townhouse of Paul Rudd's character. Granted this probably went totally unnoticed by like 99% of the viewing population and elicited a mostly indifferent, "Oh, really? That's interesting," from Dana. (Until I reminded her that it was the SAME Meridian that got her and Lauryn into the Atlanta aquarium when they visited me in CEDIA this past year to which she immediately perked up with a, "Oh, yeah? The aquarium was nice.") But for me, it's always a little thrill to spot something, like finding a little hidden A/V Easter egg.
We watched Despicable Me the other night. And by "we" I meant ALL of "we" including Lauryn. She saw a commercial with those little yellow minions running around, and then got it into her head that it was something that she just HAD to see. And then when the Blu-ray arrived in the mail from Netflix, she started planning "a big day" around it...a big day that included me taking us all to lunch followed by all of us watching Despicable Me on the big screen.

Now, the movie overall was pretty decent. Certainly not Pixar-level, but an entertaining way to pass 90 minutes or so. Some really good animation, and some funny gags, and some terrific sound, especially during the rocket launch scene. Kind of an animated, super pumped-up Apollo 13 launch sequence. I was kind of pulled out of the story a bit by the voicing of the guy – Jason Segel from How I Met Your Mother and Knocked Up –  that does the obviously Bill Gates inspired character, Vector. Choosing the *perfect* voice for every character is just another area where Pixar rocks it, and when you keep hearing the "wrong" voice for a principal character, it's distracting. (Toss another penny into the "petty complaints" jar...that is if it isn't already full!)
But, there was just a TON of tech spread throughout the movie. And not just fancy tech like moon-shrinking rays, or piranha launching guns, or squid launching guns, or rocket cars or whatever. I'm talking fancy, home theater tech stuff. There were SO many nods to cool HT tech that I figured I'd point 'em out. Interestingly, in a movie that was released in 3D and that features all manner of tech, even Gru doesn't seem interested in 3D. Maybe he read my rant…
Below are some pictures of Despicable tech and -- where applicable -- their real life tech counterparts...

One of the first evil-genius, mastermind, super-criminal robberies that we see that Gru has pulled off is to steal the Jumbotron out of Times Square.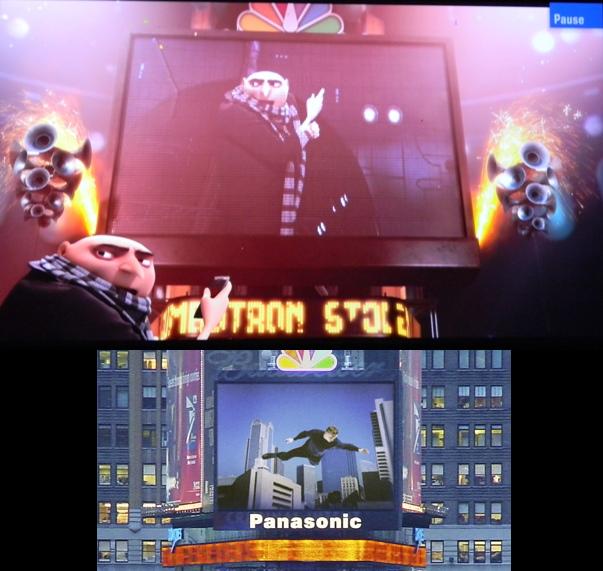 Later on in the movie, one of the minions videotapes a performance by the orphans. And in the lower right hand corner of the viewfinder...1920 x 1080. We can only presume that they are shooting progressive and looks like they're framing for anamorphic widescreen...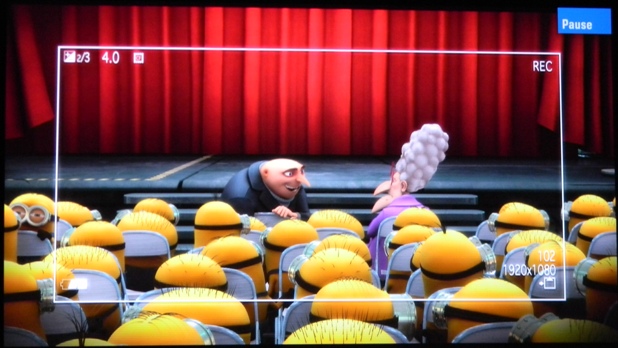 Vector's house has all manner of tech. Giant glass floor with swimming great white shark? Check. Front door laser, missile security system? Check. Awesome wall spanning, multi-screened, probably using LG-Philips LCD ePaper, display technology? Check. Also, a Nintendo Wii gaming system, which is decidedly UNtech, but till fun to play.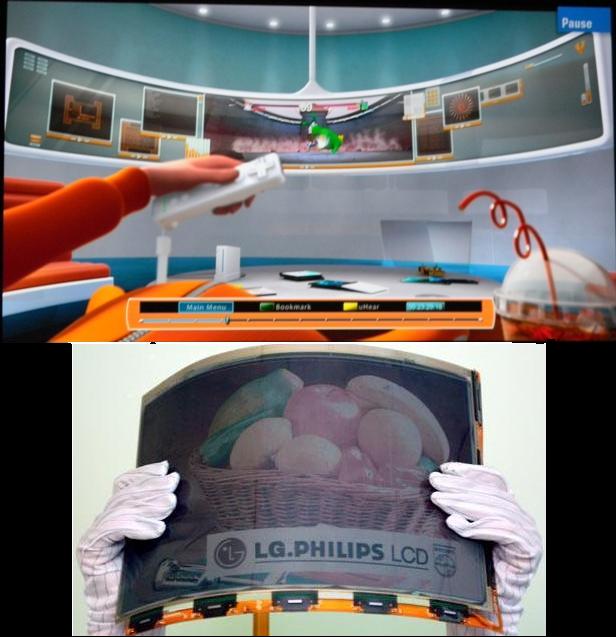 Later on a minion is playing DJ at the final party and has an awfully familiar logo on his Gru-ray Disc mix console.
And in the best bit of home theater tech homage, Gru's personal system features a curved screen and some kind of horn driver speaker array. Or he could be running some new DolbyIIz+ processing three front height channels. Here's some real tech; the Avantegarde Acoustics Trio horn speaker system and Screen Innovations Curve projection screen.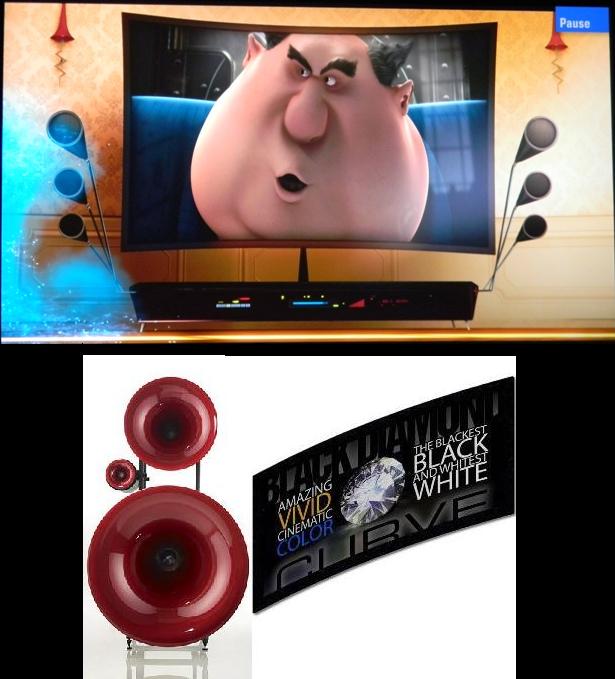 See any cool tech in movies? Let me know in the comments section!
Categories: January 2011, Movies
/