Shopping Cart
Your Cart is Empty
There was an error with PayPal
Click here to try again
Thank you for your business!
You should be receiving an order confirmation from Paypal shortly.
Exit Shopping Cart
Features, Reviews and a Blog by John Sciacca
| | |
| --- | --- |
| Posted on February 11, 2011 at 12:50 PM | |
Blog reader/member/PR Tour de Force, Amanda (aka "PR Buddha"), took on the associate publisher role over at Rhode Island Home & Design a few months ago where she handles "all things related to sales, marketing, editorial, layout and design, trade shows in New England." And from the start she was dangling the carrot of writing possibilities, assuring that there would, one day, be a tech section in RIHD and that they would need someone to write for said tech section. Then, when said new tech section finally materialized, she asked if I would be willing to please-please, extra-special-please contribute a column on technology for her pub.
So, here's my first column entitled, "Technological White Wizardry" featured in the February 2011 issue of RIHD.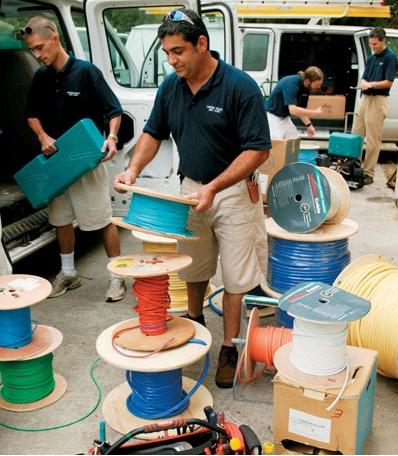 (Photo by Jim Raycroft) - My guys gearing up for a prewire. Look at me in the background checking stuff off on my clipboard! I'm so thorough!





With a column about home theater and audio/video and automation technology you are probably expecting me to dazzle you with amazing tales of technologies gone wild. Video screens as big as the side of your house; TVs that rise magically out of the floor; multiple speakers that cocoon you in a warm bosom of surround sound; automation systems that respond to your every whim, even when you aren't sure what that whim is. And yes. These things will all come. I have plenty of tales of technological white wizardry that will make your home – new, existing or as yet to be decided – far more enjoyable to live in.But for now, we shall start where all great tales start:  At the beginning. And with most technologies in the home, the beginning is wire.

 

Yes, wire. Not the sexiest thing to be sure, but necessary none-the-less. The wiring is the infrastructure behind the scenes that carries all of those magical signals around the home. Whether that is high-speed Internet, connected network devices, high definition cable TV or satellite, audio signals to speakers, control signals to touch screens, or 1080p images to your new flat panel TV, there is wiring involved.

 

Think of wiring as your home's arterial system. Sure, when we look at the beautiful people – let's say Keira Knightley – we just see the outside. We never think, "Damn! Keira probably has some gorgeous veins!" That would be weird and probably just a step away from shouting, "It puts the lotion on!" to someone stuck in your "keeping hole." But the A/V equivalent of Keira's face is the actual picture and sound we enjoy at the end of the day. We don't think about all those veins and arteries and other stuff on the inside. But without them, there's no Keira. And without wires, there's no A/V either.

 

Granted, advances are being made in wireless technologies every day, and WiFi is a perfect example. WiFi is at the point where it is reliable and fast – though still not as fast or secure as a wired signal, and not offering the bandwidth for streaming high-def video. But wireless audio and video transmission still has a ways to go, and to my knowledge no one is working on any kind of wireless cable TV or satellite distribution. Further those wireless systems that are available don't offer anywhere near the amount of purchasing or performance options as traditional, hard-wired system.

 

So what do we end up with? Wire. And doing a house right means lots of it. You'll hear terms like RG6 coax cabling for cable and satellite and video signals, and Cat5 or Cat6 cabling which is incredibly versatile and able to handle things from multiple telephone lines, computer networking, to data and high-definition video. And HDMI – High Definition Multimedia Interface – for carrying digital audio and video signals. Not to mention the speaker wiring to all of those speakers you plan on having out by the pool and in the wine room.

 

If technology is in your home's future, you'll be starting with wiring. And next time, we'll start talking about some of the things you can do with all of that wire.

 

John Sciacca has been a custom installer and audio/video equipment reviewer and journalist for over 13 years. He loves movies, single malt scotch and music that is often described as "depressing." He lives in Myrtle Beach, South Carolina with his wife, Dana, and highly-tech-capable 4 year old daughter, Lauryn. His blog has been described as "awesome" and he'd love to have you read it. 

Categories: February 2011

0

/