Shopping Cart
Your Cart is Empty
There was an error with PayPal
Click here to try again
Thank you for your business!
You should be receiving an order confirmation from Paypal shortly.
Exit Shopping Cart
Features, Reviews and a Blog by John Sciacca
| | |
| --- | --- |
| Posted on February 11, 2011 at 4:55 PM | |
As I mentioned previously, one of my Super Bowl guilty pleasures is grabbing some French Onion dip, a bag of Ruffles and some beer. And since the whole game, commercials, half-time, wrap-up routine is a long endeavor that means a lot of beer. So, prior to the game I headed over to Lowe's Food where they have a generous selection of singles that you can purchase for $8.99 per mixed 6-pack. This is actually quite a deal since all of these beers cost at least $8.99 when purchased in a full sixer. I got these bad girls to chilling, prepared my Riedel beer steins and set about to tasting. Below is a description of the beers from the bottle itself and my thoughts. Enjoy!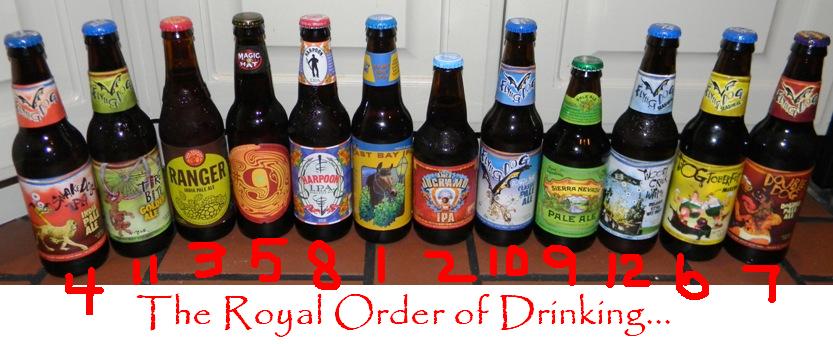 Charleston Brewing Company, East Bay IPA. "While respectfully following the guidelines of this traditional British ale, we added a truly American twist. Using 100% U.S. grown hops throughout the brew, a complex variety of imported and domestic malts, and a truly unique British yeast, the result is a well balanced India Pale Ale. One that exemplifies the classic style, yet brings with it the flavors and aromas of our American hop innovations without forgetting the barley." 6.3% alcohol. With the motto, "Where the beer knows how to have fun," I thought this would be a good beer to start off with. Plus, it is definitely the most "home team" brew and you've got to root for the home team. The horse head on the label with a surprised expression on its face immediately produced images of The Godfather, and that is not a good horse head image to have when setting out to enjoy your first beer. Plus we had just watched Secretariat. Nice rich golden color and good head in the glass, but a little laid back and underhopped for what I was looking for. However, definitely not a bad start.

 

Abita, Jockamo IPA. ""Abita Jocamo is crafted the traditional way to create a bold and flavorful India Pale Ale that stomps and shouts. When you hear the drums, join in the song, Iko! Iko! Joakamo fen an e'." 6.5% alcohol, 52 IBU. Dark golden color, but produced a relatively thin head. Had a good hoppy aroma, and initial flavor, but had a thin, disappointing finish. After some time in the glass, it started tasting a little watery and flavorless.

 

New Belgium Brewing Co, Ranger India Pale Ale. "Are you a hopinista? Thank our Beer Rangers for inspiring (and begging for) this well balanced Simcoe, Cascade and Chinook hopped IPA." 6.5% alcohol, 70 IBU. I'm not sure if I am a hopinista or not, but clearly this was the way to find out. This beer is lighter in color in the glass than either of the first two, but produced a good head and had a nice flavor and finish. Not overwhelmingly hoppy, but enjoyable, all the way through to the last sip in the glass.

 

Flying Dog, Snake Dog IPA. "Tired of those annoying 3 AM hang-ups from your crazy, stalking ex? Turns out the same qualities that make your ex so damn annoying make our snake Dog IPA so attractive. Chock full of bitterness, bite and attitude, it slaps you in the face with flavor. Just like your psycho ex did a the bar last weekend." 7.1 % alcohol, 60 IBU. Full, rich head in the glass. Medium golden color, and nice hoppy smell and a flavor. This beer is really approaching the bullseye IPA taste I'm looking for and is highly recommended and the first beer that I'm wishing I had a full 6-pack of.

 

Magic Hat #9, Not Quite Pale Ale. No clever slogan or bottle advertorial. 5.1% alcohol, 20 IBU. Medium gold color, decent head. Nice nose of dried apricots, followed by a subtle taste of dried apricots. Which, since I like dried apricots, was a nice bonus. If you like raspberry and peach ales, you'll love this. It's not an overwhelmingly fruity beer, but delivers a slightly sweet, just-more-than-a-hint of fruit flavor. But not at all perfumey or overpowering. But if you think fruit and beer should have a church and state relationship, the magic in this hat isn't for you. A nice mid-way stopover on my beer drinking journey, like a palate cleansing beer sorbet. Which, seriously, is a pretty awesome idea.

 

Flying Dog, Dogtoberfest Marzen. "If you put back as many steins as the Germans do in October, lederhosen and polka dancing would seem like a good idea to you, too. Our Dogtoberfest Marzen has a caramel finish and was crafted by a guy who studied brewing in Deutschland. And yes, he does like to strap on some lederhosen when he's feeling saucy." 5.6% alcohol, 30 IBU. Deep, coppery-mahogany color and nice head with a rich malty flavor. The kind of brew that makes you long to find this on draft. Very close in flavor to the Marzen that I love at Gordon Biersch, which is ultra-high praise indeed. This was a great beer.

 

Flying Dog, Double Dog Double Pale Ale. "Most version of a Double Pale Ale are full-frontal, power-hopped, bitter bombs that leave you feeling a bit short-changed on the back end. Our Double Dog is brewed with copious amounts of hops for an unrelenting hop bitterness and aroma. We just have the common courtesy to finish you off with a well-balanced, rich and fully body, complete with a hint of sweetness." 11.5% alcohol, 85 IBU. Thick frothy head, medium golden-brown color and an intense hoppy, Christmas-tree aroma.  You can really taste – and feel – the 11.5% alcohol content which makes this one a tad too sweet for my liking. Really potent flavors though, and this could be called Hoppy Gilmore. Plus, that 11.5% lets you know it's there when you finish, giving you a 2-beer-for-1 kick.

 

Harpoon Brewery, I.P.A. "In the tradition of IPAs, our lightly-hopped, copper-colored ale features a floral aroma and a crisp, refreshing finish." 5.9% alcohol, 42 IBU. This was close in color to the Dogtoberfest but smelled a bit skunky like BO and tasted far more like a Pilsner; and I don't mean either of those statements in a positive way. It could just be because this was following up a monster of an ale, but BO smell is pretty much BO smell and this was thin on flavor and made me glad that I didn't have any more of these in the fridge.

 

Sierra Nevada, Pale Ale. "A completely natural ale.  There are no additives, only the finest malted barley, whole hops, brewer's yeast and crystal clear water. The fine later of yeast in each bottle is a result of the traditional bottle-conditioning process that produces carbonation naturally." 5.6% alcohol, 37 IBU. Light to medium gold color with a thin head.  Sierra is probably the quintessential commercially successful Pale Ale, and has grown to the point where it hovers between the no longer a girl, not yet a woman microbrew/macrobrew status. Sierra delivers a consistently delicious hoppy flavor and good finish, which makes this beer like coming home to a familiar lover.

 

Flying Dog, Doggie Style Classic Pale Ale. "Dogs have it figured out. They sleep all day, lick themselves and eat everything but veggies. Be like the more enlightened species in your house by sipping this classic Pale Ale with its perfect balance of smooth malt and crisp hops. Everyone likes to finish their day with a little Doggie Style." 5.5% alcohol, 35 IBU. This beer is "pale" in name only as it has a rich, light-coppery color and thin head. I purposefully saved this Pale Ale to follow-up the Sierra Nevada to compare the two. It is definitely darker in color and has a less malty flavor, but a really terrific hoppy aroma with a stronger flavor profile than Sierra. Tough to say which I like better, like being asked to choose between driving the Ferrari or the Lambo. You're gonna be happy one either one.

 

Flying Dog, Tire Bite Golden Ale. "Know how to spot a stupid dog? Just look for the one biting the tire of the car that's running over it. Know how to spot a smart one? He'll be lapping up our refreshing Golden Ale. This perfect warm-weather beer goes down so easy, you'll  be lifting your leg all over town. Smart dog." 5.1% alcohol, 16.5 IBU. Compared to the other beers which I described as "Golden" in color, this was more golden the way that Rapunzel's hair was golden; more of a blonde gold than a rich, amber gold. So, I guess more the way that gold is actually colored. Nice refreshing taste that has a lot more malt especially compared with the beers that proceeded it.  This is the kind of brew that you could pop on a hot day and just sit back and drink. And drink. And drink…

 

Flying Dog, Woody Creek White, Belgian Style Wit Beer. "Flying Dog brewery founder George Stranahan is widely considered to be the unofficial mayor of Woody Creek, Colorado. George and his collection of social misfits known as "woody creatures" are the reason this mountain community has morphed into Gonzo Ground Zero. This unfiltered and traditionally spiced Wit Beer pays tribute to this hotbed of progressive thought." 4.1% alcohol, 18 IBU. Definitely a shade lighter in color than the Golden, and with immediate notes of orange and coriander. This is a light and easy drinker, and would be another great beer for sitting around by a pool and getting a medium-to-serious drink on. If you're the type that likes a beer garnish, this would go well with a slice of orange, and would be the logical flavor evolution for those who enjoy brews like Shock Top but are looking for something a little less Anheuser-ey.

Categories: February 2011, Reviews, Beer/Liquor/Wine

0

/