Shopping Cart
Your Cart is Empty
There was an error with PayPal
Click here to try again
Thank you for your business!
You should be receiving an order confirmation from Paypal shortly.
Exit Shopping Cart
Features, Reviews and a Blog by John Sciacca
| | |
| --- | --- |
| Posted on February 16, 2011 at 10:47 AM | |
At the risk of handing over the billows to help stoke what seems to be a near eternal, roaring flame war topic, I will start by saying that I am both THX and ISF video calibration certified. And regardless of what you may think about these services – with lines pretty clearly formed on the sides of "Your TV is unwatchable without it!" and "Biggest waste of money ever!" – there are many people that feel a calibrated display produces a much more natural, film-like and pleasing to watch image.
So, right before Christmas – like on December 24 – I got a phone call inquiring about performing a calibration. Now, the guy calling was in his mid-30s, really zealous about movies and technology and said that he wanted to purchase a gift certificate from me to perform a color calibration on a TV. So, I start asking him some qualifying questions and it turns out that the set he wants calibrated is his parents. And that the TV sold for around $900.
I ask him if he's sure that he wants to spend $350 to calibrate a $900 TV – "Oh, yeah! Absolutely!" – and then I explain that in my experience, I've found that older people often don't like the way a calibrated set looks because it is usually so much dimmer.
"Oh, no!" he assured me. "They'll love it!"
"OK, but, just to be clear, when I accurately adjust the grayscale and the contrast and brightness, it is going to be dimmer."
"Yeah. But way more accurate. Totally! Let's do it!"
So, despite my quasi efforts to dissuade him, he was insistent, so I sold him the cal.
Well, today I performed the calibration. When I showed up, the room was like a textbook example of worse-case scenario for performing a calibration. There are tons of windows with no shades or drapes, a lot of natural light that can't be controlled. So I ask if there is any way to darken the room and they both say no. Fine, I say, I'll just make do the best I can.
So, as I'm setting up – opening my laptop, getting out my notes, loading AVIA into the Blu-ray, unboxing my meter – I'm trying to engage the customers. One of the things that they teach you when you are getting certified to perform calibrations is that you should try and get the customers involved. Educate them about what you are doing and why you are doing it. Explain what a calibrated set looks like and why it is important and that it might take some getting used to, etc. You know things like that. So that when you're done they don't just immediately say, "Oh my gosh! What have you done?! It's so dim! Put it back!"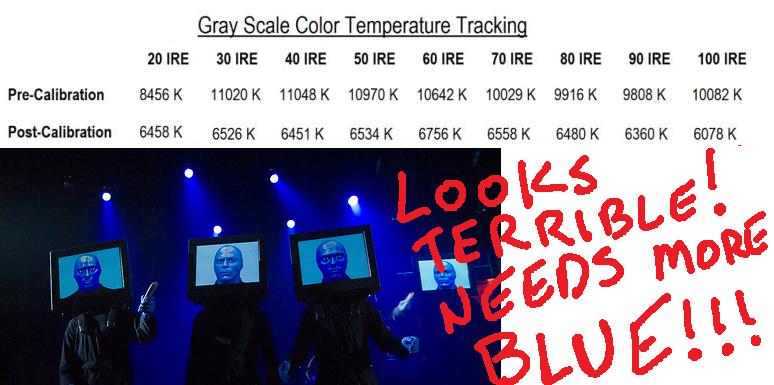 But, these folks aren't at all interested in the how, what, why of the educational portion of our calibration agenda. In fact, as I'm getting started, they both leave. So I jump into the service menu and activate the "Cal Day" and "Cal Night" settings (and special big-up props to Samsung for making it SO easy to get to the needed calibration settings. Whatever you think about calibration, one thing we can all agree on is that it is great to not have to hunt around through nebulous and bizarrely coded titles looking for the setting you need while simultaneously trying to avoid activating any "Press this secret button to instantly brick the TV!" landmines. I give some of this credit to Mike Wood, Samsung's Senior CE Products Test Manager. Mike used to work alongside Joel Silver at ISF and we actually went to high school together. Who knew that Acalanes class of '88 would be such a fertile ground for A/V talent?) and start about performing the calibration. What should have been pretty straight-forward is greatly exacerbated by the fact that my calibration software kept crashing; letting me get about 14 out of 18 readings done before it would go all (Not Responding) on me and then require a reboot where I would have to start all over.

 

So I finally get my adjustments completed, take all of my measurements for the before and after charts, look at some video clips to confirm image quality, make some nip-and-tucks, and then load up my kit and head out the door. I get back to my store and e-mail the PDF calibration reports to the son and then commence with the rest of my day.

 

That is until I see this car come barreling into our lot. It pulls in all askew, taking up like three spaces and the guy jumps out in such a hurry he leaves the car running. He comes storming into the showroom and just makes this beeline towards our offices. I go out to meet him and before I can even say, "Hi," he starts off talking with so much anger that both my partner and I thought for a brief second that he was going to go, "Ahhh! I'm just kidding! I love it! Great job!" You know like when someone is SO over-the-top angry that you think it has to almost be a put on or something? But no. This guy is just so mad that he is literally on the verge of shaking and probably taxing the outer limits of his blood pressure meds.

 

"I don't know what you think you did, but you broke my TV! You totally ruined it and now you're either gonna come back to my house – RIGHT NOW! – and fix it back to how it was or you're gonna give me a new TV!"




Head over to Residential Systems to read the conclusion to this painful saga as well as the lessons learned from this calibration gone bad...


Categories: February 2011, TV, CTA

0

/