Shopping Cart
Your Cart is Empty
There was an error with PayPal
Click here to try again
Thank you for your business!
You should be receiving an order confirmation from Paypal shortly.
Exit Shopping Cart
Features, Reviews and a Blog by John Sciacca
| | |
| --- | --- |
| Posted on May 29, 2011 at 9:26 PM | |
I'll have you know that as I write this, I am approaching five – FIVE!!! – full twenty-four hour persiods where I have not watched one single, RGB pixel or frame droplet of television goodness. Since around 11 PM on Tuesday night in Myrtle Beach, I have been so on the go, that there hasn't been even a moment to sit down and veg. This proves that it is possible to not only survive, but thrive without a steady stream of scripted and reality programming.
Yesterday we got up and headed over to my friend Dan's house for breakfast. Before arriving we swung into a grocery store to pick up some OJ and it gave me a chance to peruse the local beer, wine and liquor selections. Yes. Liquor selection. In the grocery store.  California adds to its mystique and allure by allowing you to actually pick up your weekly ration of bananas, toilet paper, and scotch all in one fell swoop. If there were ever an excuse for Darryl to move to California, this is it. (However, the store clerk, who was SO morbidly obese that he literally resembled a sphereoid when he bent down to pick something up, looked at me sideways when I asked about their absinthe selection. Definitely a Wilkinson deal breaker.) Beer pricing is roughly the same as in Myrtle, wine is obviously less and liquor ranges from slightly more expensive to way less. A 750ml bottle of Absolute was running about $11.99.
We make it to Dan's -- only about an hour late -- and he wows us with some cappuccino art. You might recall from WAY back that Dan was contemplating purchasing a really high-end, quasi-professional cappuccino maker. Well, he bought it and now he's progressed past merely making himself coffees into trying to turn them into hot, delicious, coffee-flavored masterpieces. Here is an example of his edible art. I assure you it is every bit as delicious as it is beautiful.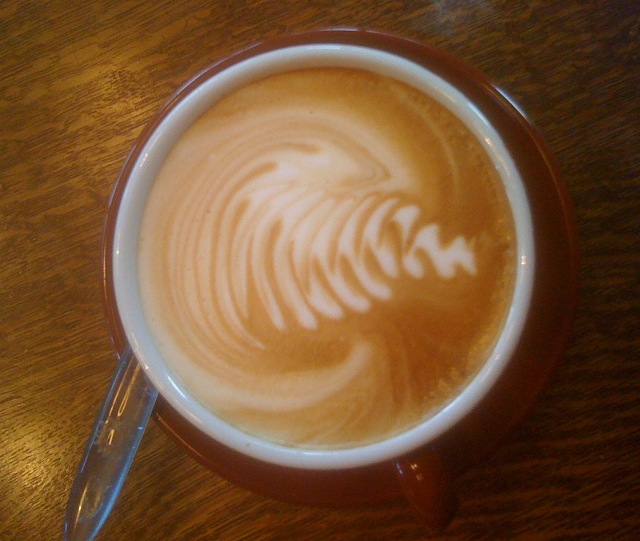 So we finish up breakfast and at Colleen's (Dan's wife) suggestion, decide to jump in the car and follow Dan and family lemming style to some unknown state park hiking location located "somewhere near Fairfax." We have no idea where we're going, so we just follow. And we drive. And drive. And we drive some more. And the weather is clearly getting less and less hiking friendly with each passing mile, and at some point after like almost an hour of driving I turn to Adam and say, "What would you do if we just got a text from Dan and he said, 'Good news! We're almost halfway there now!'?" Turned out the joke was on us, because that WAS about the halfway point. We passed San Quentin penitentiary, which, despite the fact that Adam thought it would have a terrific view, did NOT look like the kind of place you'd like to visit.
We finally make it to the state park and they fortunately accept credit cards for admission because the combined sum total of cash between Adam, his wife Lisa and I is exactly $0.00. (I think it is some trait my dad instilled in us. Probably something along the lines of, "Son! If you aren't carrying any money, then you can't SPEND any money!") So we make it to the park and even though it is starting to round the bend from misting, into sprinkling, and looking like it is going to make the break into full-on raining, we've come this far and by God! We ARE going to do that two-mile trail hike! So, this is what a bunch of idiots look like after hiking around in 60 degree, raining weather for like an hour. (Sadly, there was no suitable tripod for Lady Phone, so not pictured is Lisa who volunteered to man the camera. Dan asked some random Asian man to take a picture of us all in the parking lot, but the man must have suffered some petit mal event during the picture because it is totally blurry and unusable. Lady Phone cam has a push-delay-snap attitude towards picture takin' that, admittedly, can take a bit of practice to master the push-between-heartbeats for optimum clarity and focus.)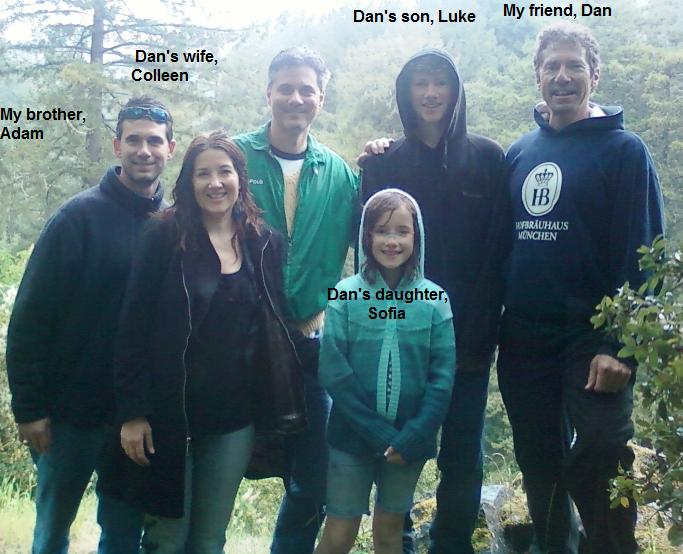 It was really beautiful, though, even in the rain, and California foresty areas have this smell that just takes me back to my childhood and end-of-summer vacations in Big Sur. Also, despite some near slip-and-falls, no one went down for the big muddy, so while we were all pretty cold and soaked at the end, it wasn't nearly as bad as it could have been. Which was good because the whole time, my brother was *totally* stressing the fact that we would be getting back into his nice, clean, multi-floormat-protected, Jetta. After a rigorous napkin shoe wipe down and quick inspection, Adam deems that Lisa and I are fit to ride in the car, so we head back to Concord. And then...Hello, slow and rainy California traffic! You, I don't miss!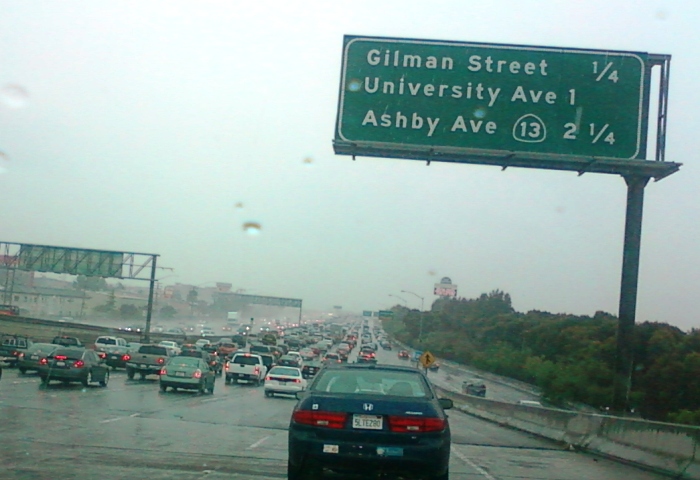 Seriously bumper to bumper as long as the eye can see in multiple lanes. MULTIPLE. Like six! We finally make it back to Adam's, change out of the wet hiking clothes, open a bottle of Furthermore Pinot Noir that Shanan gave me (initial impressions... "Has this turned? Here. Adam. Smell this. Has this turned?" "No. But it's close. Very close.") that opened up and got WAY better in the glass after some breathing time, and definitely went well with the hard cheese and crackers Adam and Lisa had on hand. So, we make plans to meet up with Pierre, one of my oldest friends from high school, in Walnut Creek for Thai food and beers. But before dinner Adam wants to make a quick stop at the Apple store in Walnut Creek. His iPad battery performance is anemic bordering on the totally unacceptable. At some points it loses a percentage of power every minute. Adam doesn't like my postulation that some iPad batteries are good and some are just inherently bad; you win some you lose some. He wants his to be a win some. So we go to the Apple store and they do some diagnosing and close like 100 background running apps, but ultimately say if this doesn't seem to fix it, you'll need to make a Genius Bar appointment. Actually that's such a brilliant sluff off option for the staff. "When I feel like I've helped you as much as I can handle, then I'll just pass you on to the Genius Bar and let them deal with you." I also hit my man with some iPad related questions about my WiFi performance that are met with the same Genius Barring.
So good Thai dinner with Pierre who informs me that his wife is pregnant and due with a son in July. They are naming the baby after his dad, so I can only assume that the new baby's name will be "Dr. Yap Jr." as I have know Pierre for over 25 years and been to his house dozens of times but still only know his parents as Dr. and Mrs. Yap. After dinner we went to a local brewery, Pyramid Ale, and hung out for a while. Dan had the knack of ordering the absolute WORST beers on the menu. Seriously, you wouldn't think a beer at a microbrewery could be so bad that a table of 5 would find it undrinkable, but, well, Dan found two of them that were. One tasted like colored water. The waitress offered, "Yeah, well, that's made with nitrogen and some people do find it to be lacking flavor." Unbelievably she didn't take it off the bill. Very believably, Adam took it off her tip.
So, another late nighter, where I didn't make it into bed until approaching 3:30 AM Eastern time, but this was my last day with friends in the big Cali, so I wanted to make the most of it. Fortunately, not too early a start tomorrow, err, today, so I was able to get a full eight in and still easily make my flights home.
Categories: May 2011, Family, Coffee
/