Shopping Cart
Your Cart is Empty
There was an error with PayPal
Click here to try again
Thank you for your business!
You should be receiving an order confirmation from Paypal shortly.
Exit Shopping Cart
Features, Reviews and a Blog by John Sciacca
| | |
| --- | --- |
| Posted on June 6, 2011 at 1:43 PM | |
Checks in the mail with lots of commas and zeroes,
Watching good TV, like Season 1 of Heroes.
The joy that free scotch and airline upgrades can bring,
These are a few of MY favorite things…
I was out in San Jose last week having dinner with new PR pal, Shanan,from Control 4, and while we were walking through the ritzy Santana Row the discussion turned – as it inevitably does – to my blog. I'd coerced Shanan to start reading it, likely under duress that she would want to keep up with anything I *might* say about her. So I mentioned that I had another (ex) PR pal, Amanda aka "PR Buddha" that was doing a Guest Blog for me on her real-life experience on Kitchen Nightmares.
Shanan dutifully said that sounded interesting – because A) it totally DOES and B) because she is semi-paid to feign interest when out entertaining curmudgeoningly members of the press elite. I mentioned that I'm always interested in hearing good, unique stories that I can put up as a Guest Blog. (Note: This is your invitation to pitch me! You got a good story that you think the readers would enjoy? Pitch away! And...begin!) Shanan said that if I wanted a good story, I should talk to her friend, Tracy, about her experience. Turns out Tracy was a guest for one of the final Oprah episodes. But not ANY Oprah episode. No crazy Tom Cruise rant or walk down Gayle memory lane. No. She was on one of THE episodes; one of Oprah's Favorite Things show where she makes it RAIN gifts and prizes on the audience!
Now, I've never been an Oprah fan. In fact, I'm not sure that I've *ever* seen an entire episode of the show. But I've definitely heard of the Favorite Things – "You get a car! You get a car! You get a car! You ALL get a car!!!" – show and was fascinated to know more about what this experience was like and what it took to get a seat in that audience. So, I reached out to Tracy and she graciously agreed to share her experience. Even as intimidating as her signature line was, with "Writer, Social Media Consultant, Philanthropist & Filmmaker" listed after her name. (Note to self: Pump up signature line! "Sent from my iPad2" just not cutting it anymore!)
My first question was: Were you an Oprah fan prior to this experience and rate your level of fanness, from 1 being how most white men – including myself -- would feel about Oprah to 9 being Steadman and 10 being a full-on Gayle. Here is what she had to say...
I was always a big Oprah fan. I find her inspiring and empowering for women. If I had to rate my level of fan-ness I would have to say that it was not as high as her BFF Gayle's but definitely higher than say the average white male. I have watched her since I was 16 years old when she came on air in 1986. So when the call for submissions came on her website asking her Ultimate Fans to write in about a show that changed their life, that was easy.
I wrote about her show on Build-A-Bear. I know, it sounds silly right? How could Build-A-Bear change my life? Well, around eight or so years ago when Build-A-Bear was becoming a phenomenon, she had the creator of Build-A-Bear on her show. On the stage was a whole B-A-B station that showed you how it works. At the end of the demonstration the woman also said that you could insert a little chip of a recording of your voice into the paw of the bear. How cool! This would be a great gift for my niece and nephews who were very much into Build-A-Bear at that time.
As the years passed by I kind of forgotten about that idea until my mom was diagnosed with terminal lung cancer. (Note: this may make you tear up, so go get a Kleenex). For my 35th birthday I asked my mom for a Build-A-Bear with her singing Happy Birthday. Her response was, "Don't you think you're a little old for that?" But I knew she was aware of the significance. You see, every year, no matter where I am in the world, my mother would wake me up on my birthday by singing the infamous, catchy tune. I just couldn't imagine waking up on my birthday and not hearing her sing to me. So, to make a long story shorter, she got me the bear.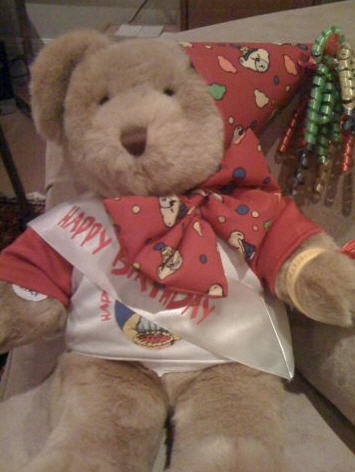 Her name is Tess (a private joke between my mother and I) and she equipped her with a Lance Armstrong bracelet, birthday sash and hat. I play her every year on my birthday.
On my most recent birthday (40th) I pressed the paw and was delighted that on such a big milestone birthday that I could hear my mother's voice. A few days later I got a call from a field rep at the Oprah Winfrey Show. I was still a little emotional from playing the bear so I bawled like a baby retelling that same story above to the woman on the phone, Shelly. Admittedly she said that she cried when she read my essay a month ago, and just re-read it and cried again before calling me. Shelly interviewed me for an hour or so asking me all sorts of questions. Through the interview she found out that I started a nonprofit in honor of my mother named the Beverly Fund. Yep, as sappy as it sounds, I turned my grief into goodness to help educate others about lung cancer. I had also mentioned that I had an article published on Oprah's Angel Network which told the story about how I channeled my grief into helping others. And those two things are what I think were the clincher. The Oprah show had inspired me to not only receive a priceless Build-A-Bear from my mother that I will treasure for years to come, but also to become a philanthropist.
When I asked Shelly what the next steps were she said that she was going to pitch my story to the producers and if they liked it they would call me. They could call me in two days or six months, but if they didn't call me by June, I was probably not going to hear from them.
Approximately 5 weeks later I got an email that said that there was availability for a taping on November 16th and did I want to go. I had to respond within 24 hours. So I deliberated for half a second and um, Hell yes I am available!
I was allowed to bring one guest and the staff member said to make sure that the person I brought was an Ultimate Fan because Oprah was all about rewarding her Ultimate Fans this year in her last season. I was told I had to pay my own way to the show, which I found odd but didn't care. I was going! And I knew of the perfect person to take with me, my friend, LeeAnn Carbajal. I had no idea of what the show was going to be about and when I had asked I was told that they had not finalized the details of the show yet. Everything was very vague. But I didn't care; I was going to the show which I had wanted to go to for 25 years!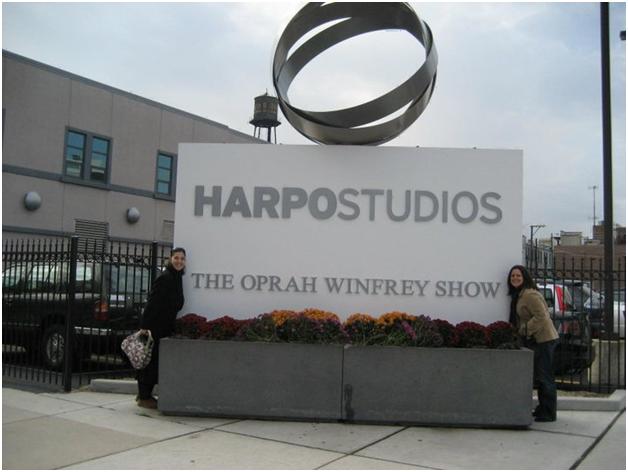 (That's Tracy on the right and LeeAnn on the left)
The audience was handpicked and consisted of all philanthropists or heroes. But we had no idea that it was going to be THAT show. All of us thought we were there to tell our philanthropy stories. The taping was approximately 3 hrs. We arrived at 7, went through security, got funneled into a seating area, waited while everyone else got through and seated, and then we were funneled into the small studio theater. You were directed which way to go so your seat totally depended on where you were in line. We were lucky in getting the first row of a balcony. A camera man was right there so LeeAnn said to him, "You better not block our view; I've been waiting my whole life to see this!" And he said, "Don't worry, I promise I'll get you on camera" -- and he did! About 7 times!
They warmed us up and asked some of us to share a few sentences about why we were there. They were quite sly. So when Oprah came out in some ugly black dress and said that she believed that the best part about giving back is to be able to receive and we should meditate on that for a minute, everyone kind of bowed their heads in preparation for meditation! Then the jingle bells sounded and the stage lifted up and WOW! It was amazing!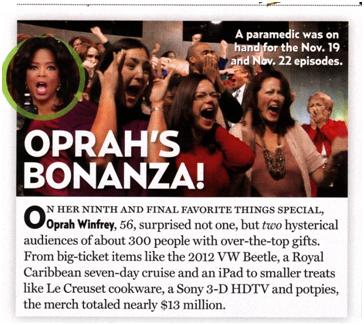 As you can see by the photo above, it was no ordinary Oprah Winfrey Show taping, it was the Golden Ticket in television - her final "Oprah's Favorite Things" show!!!! I felt like Charlie in Willy Wonka and that I had just gotten the last Golden Ticket! (JS: One of my top 10 films, I'll have you know!) And as you can see by this photo, LeeAnn and I, along with the rest of the audience, were freaking out!! Now, if you watch Oprah then you know she had not one but two Favorite Things episodes in her last season. It was the first time she had ever done two Favorite Things shows in a season and it was going to be the last. I was a part of showcase #1 where she gave away the Caribbean Cruise on Allure of the Seas (the largest cruise ship in the world), a 52" Sony 3-D television, a digital SLR camera, a Philip Stein diamond watch (my favorite!), earrings, books, cookware and so much more, plus the BlackEyed Peas performed! I had just one encounter with Oprah. She had mentioned that she hadn't really gotten much sleep and I said to her that my mom would make sure she slept like a baby tonight. She smiled and said thank you and that was it.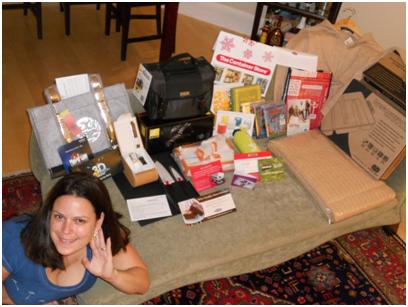 The second audience was standing in line waiting to get into the show as we were coming out with our bags of goodies. We had three giant bags plus gift certificates to redeem the larger items. (For example, it's not like you can carry a TV on your back through airport security. Each gift certificate had its own contact phone number or instructions for how to redeem. For example, we called Sony to redeem for the TV and DVD player, but Nike and Lulu Lemon were just gift cards that we went into the store to redeem.) Oprah wanted to see the looks on their faces as we walked out with all of our stuff (kind of mean and sick on her part, but fun in hindsight). Some people were happy and clapping for us, others were disappointed or green with envy. Little did they know...they wound up getting a car! For the record, I have been asked many times do I wish I was on the second show – No. I love everything that I got and I didn't need a car so it was perfect for me. I've even given some of it away via my nonprofit on Facebook and still have a few items left that I will probably give away this year.
The show taped on a Tuesday and aired on a Friday so we were not able to talk about the show details or the "list" until after it aired. Ironically, the photo of me with all of my swag (above) was the publicity still sent out to all of the media outlets and has been used twice in Us Weekly, OK! Magazine and various others. However, all of our friends saw this photo on Thursday on TV and in the magazines and were like "You are SO busted!" I pled the fifth and said I knew nothing and that they would have to watch on Friday – including my husband. Well sort of. I handed him the 3D glasses and he was ecstatic and I told him there was one more thing that he was going to participate in but he had to wait and watch the show. I could not have done the cruise justice as Oprah had with it popping out of a Jack-in-the-Box. You were able to redeem the cruise for up to one year and we just got back from ours. LeeAnn scheduled her cruise at the same time so we hung out. I only bonded with one other woman from the show who I keep in touch with, but she is taking the cruise in July.
As for the taxes, you may recall that some reporter back in 2008 called Oprah out about giving an audience full of teachers new cars and claiming that it was a tax burden on them. So to avoid that PR mess she paid our taxes for us. Thank you Oprah!
All the best and thanks for letting me participate. I had fun walking down memory lane.
Thank, YOU, Tracy! Tracy Sestili works full-time as a social media consultant, and I can tell you that she is Tracy-on-the-spot for getting back to you with ANY question -- even when you have told her up front that she could take her time, no rush, whenever is best for you. And if you have any social media consulting needs, I'd recommend reaching out to her.  You can follow her on Twitter at @tracysestili or by clicking here. Are you a Sciacca-esque non-Twitter luddite? You can still follow her by texting 'Follow tracysestili' to 40404 (see how social network dialed-in she is?). Or you can initiate the process of becoming her friend on Facebook at by clicking here.
According to Wikipedia, here is a complete list of Oprah's "Ultimate Favorite Things" from that episode:
•    A Course in Weight Loss: 21 Spiritual Lessons for Surrendering Your Weight Forever, a book by Marianne Williamson, published by Hay House
•    Hair care products from Andre Walker, Oprah's hairstylist
•    Baker's Edge lasagna and brownie trays with Ghiradelli brownie mix
•    Beecher's "World's Best" macaroni and cheese
•    Breville panini press from Williams-Sonoma
•    Decoded, a book by Jay-Z
•    Elfa Customizable Closet System from The Container Store
•    A five-year membership to Netflix
•    Judith Ripka Eclipse Earrings
•    $100 gift card for Kiva
•    Kyocera Advanced Ceramic knife 2 piece knife giftset
•    Lafco House and Home Collection Candle Set
•    Limited edition "25th Anniversary" Oprah watch by Philip Stein
•    Ralph Lauren Cashmere Sweater & Cashmere Blanket
•    Lululemon relaxed fit pants
•    Four pairs of Nike running shoes
•    Nikon D3100 digital camera
•    7-day cruise on the Allure of the Seas from Royal Caribbean International
•    Round-trip flight on United Airlines to and from the cruise
•    A "25th Anniversary" Oprah shirt
•    Sony Bravia 52-inch 3D television and Blu-ray player (that came with 3 3D Blu-rays according to Tracy: Cloudy With a Chance of Meatballs, Monster House, and Open Season.)

•    The Beginning, an album from The Black Eyed Peas
•    Tory Burch "Silver Anniversary" tote bag and flat shoes
Categories: June 2011, Guest Blog, TV
/