Shopping Cart
Your Cart is Empty
There was an error with PayPal
Click here to try again
Thank you for your business!
You should be receiving an order confirmation from Paypal shortly.
Exit Shopping Cart
Features, Reviews and a Blog by John Sciacca
| | |
| --- | --- |
| Posted on October 26, 2011 at 11:50 PM | |
The week away from blogging clearly left a pent up demand! This will be my final blog about the Disney Magic cruise bringing the total commentary on the trip to about 7000 words and meaning that you can either be A) sad that our magical journey is drawing to a close or B) happy that you will no longer have to read in seething, agonizing jealousy about all the great fun that I had.
To recap, part 1 covered nuts-and-bolts stuff like the state room and food while part 2 was about the on-board entertainment (the movies, shows, live acts, TV, etc.) This is going to wrap-up the rest of the stuff and will either convince you that I am super long-winded and have little better to do (possibly) or that maybe a cruise should be in your family's future (hopefully). Either way, the home port is in view, and it's time to set sail for part 3!
The Kid's Stuff
A+++. And then more plusses.
For a kid, the Disney Cruise SHOULD be one of the greatest places ever. There are so many activities and areas and staff dedicated to making sure that kids have an amazing time. I say "SHOULD be" because Lauryn wanted virtually nothing to do with it. We took her to the Oceaneer Lab once -- and only then because we happened to sit next to another family at breakfast who had a young boy that said he would go to the club with Lauryn -- where she stayed for about 3 hours and then had the staff call us to come and pick her up. When we got her, I asked if she had fun and wanted to go back later and she proclaimed, "You left me alone once, and now I am NEVER going back. NEVER!" And, true to her word, she didn't.
The kid's clubs should be a haven for parents. An oasis where children are turned over to have a great time all of their own while parents are free to then go on to pursue adult-type fun, but Lauryn could not be convinced, cajoled or coerced. (Fortunately my parents stepped in and filled the Disney Club's shoes.)
The ship has 54 dedicated staff whose sole responsibility is to take care of and entertain kids. It's really amazing. When you board, you are given a "Key to the World" card that gets you into your room and is used for charging stuff. (Notice the "NC" – no charge – on Lauryn's card. Didn't want her running amok in the gift shop! The big Q was our designated safety meeting area in case of some emergency.)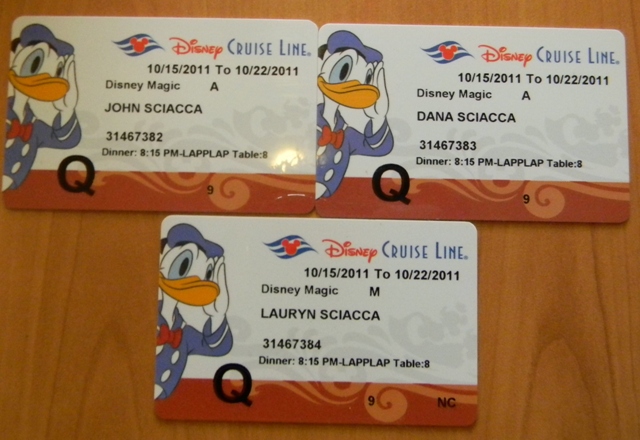 Each child is also given a wrist band that they wear for the entire cruise and then kids are logged in and out of the monitored areas with parent's key cards and passwords. You also have a phone you carry where you can be reached if the kids want to be picked up. Safety was never a concern. The kids in the 4-9 range have a couple of areas to play in. They have princess dress up, and movie time, and crafts and experiments and games. It all sounded amazingly fun and I think that Lauryn – or any OTHER kid – would have an amazing time. We kept hearing from parents, "They just want to go there and spend all day! They cry when I come to pick them up! I almost feel guilty leaving them there so much!" Oh, how totally GREAT for you! I'm SOOO glad your kids LOVE the club! Now...SHUT UP!
I did take Lauryn in one time and we made bracelets and colored a pillowcase and they even had make-up tables set up and a tattoo air-brush station, but when I suggested she stay and keep playing she said, "Nope! If you're leaving, I'm leaving!" Blarg!
There are also exclusive areas for Tween and Teens to go and hangout with activities geared more towards them; you know things like sock-hops and drinking malts and spirited games of Monopoly or whatever it is kids do these days. The Teens activities run every day until 1 AM, and the other areas are all open until midnight. There is a nursery area for kids under 3, but it costs $6 an hour. Though, if you wanted to take a 5 hour excursion and not tote your baby around under the broiling Mexican sun, $30 is a fairly small price to pay...
Seriously, if you have a family with kids from any age up to like 16-17, I can't think of a better family vacation experience than what Disney offers. That is unless your daughter is Lauryn, in which case you might as well just go to any random $39 a night hotel that has two beds in a room and all just hang out together and just let her have fun jumping back-and-forth on the beds because the Disney kid's zone will be totally wasted on them.
The Characters
I give this a B for "Belle."
You can't have a Disney experience without a character meet-and-greet, and the characters definitely mingle around the boat. Usually they are led to a pre-determined area where you have 15 minutes to queue up for a 1 minute or so opportunity to say hi, have a picture and a quick hug or high-five and then move on about your business. The main characters – Mickey, Minnie, Donald, Daisy, Goofy, Pluto – were all there, as were five of the princesses – Belle, Snow White, Aurora, Cinderella and Tiana. I was surprised that Ariel and Rapunzel (Lauryn's favorite from Tangled) weren't there. Also NOBODY from any of the Pixar movies. Come on, no Buzz and Woody? Maybe Mike and Sully? Perhaps a rolling Wall-E? No.
Lauryn lined up at every opportunity to get her picture taken, especially on the special Princess meet-up day where all of the princesses were gathered together for a limited engagement.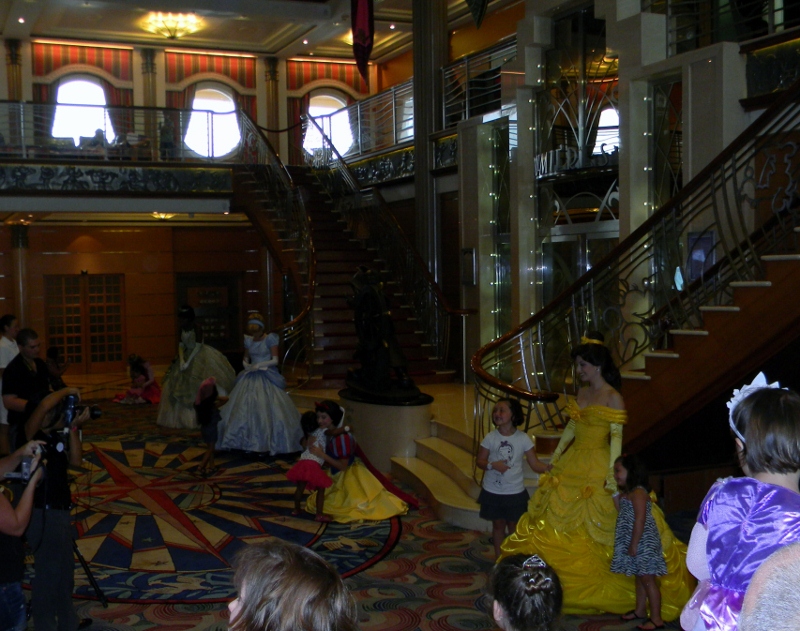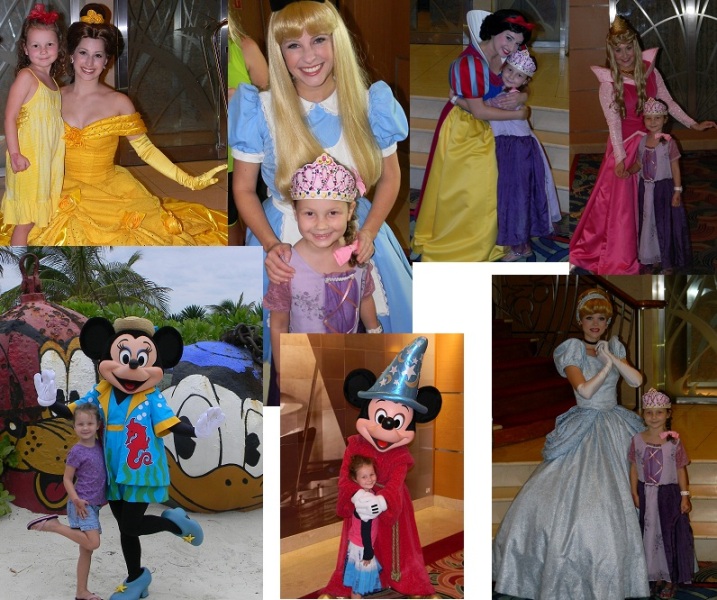 Every group is assigned a "character breakfast" once during the cruise where many of the characters come and mingle with you while you are eating. Unfortunately, ours was scheduled at 6:45 (or 7:45; really they're pretty much the same thing) and when it came time for ours, Lauryn would not get out of bed no matter who was there so we missed it.
Arrrgh! Thar be Pirates!
I'm not even gonna rate this, but you've got to hand it to Disney; they turned a 40+ year-old, 15-minute Disneyland attraction into a BILLION dollar entertainment vehicle. Whatever you think of the films – too long, overly confusing, meandering plot – they have definitely reinvigorated this attraction and returned a new generation's attention to pirates. And Disney is not one to miss out on a cross-promo opportunity, holding a Pirates IN The Caribbean night on the ship where people are encouraged to dress like pirates, there are pirate themed activities and dinner menu, and a pirate deck party.
They handed out red pirates bandanas to wear at dinner ("I keep a blue flag hanging out my backside, but only on the left side, yeah that's the Crip side." You know that's how Snoop and I roll!) and here's Lauryn wearing hers (you can also see her kid's club wrist band):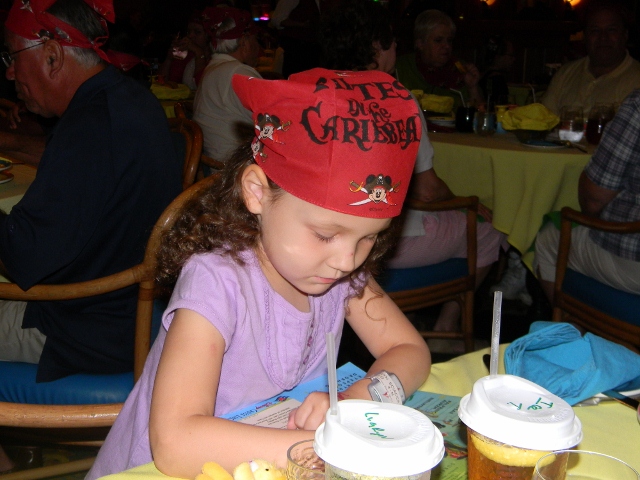 We went to a pirate's party after dinner where they had a spin-the-wheel kind of game with contests and things. One of the challenges was "Swab the Deck!" and Lauryn went up with some other kids and pushed a mop around the floor in a race.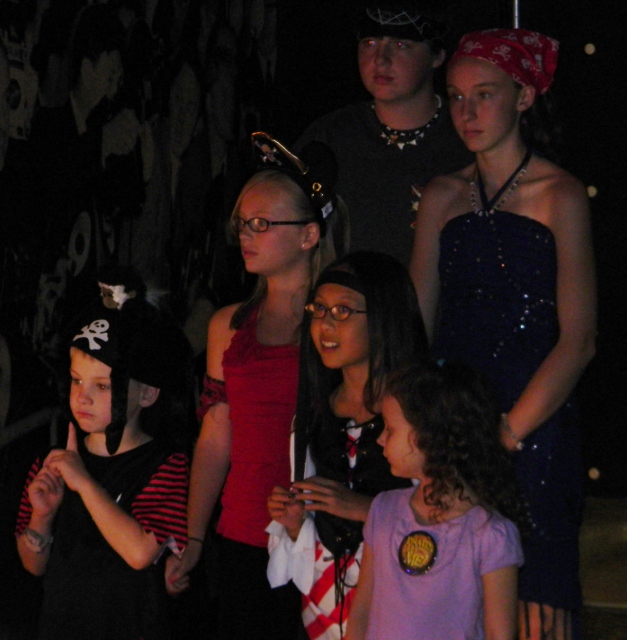 At night there was a dance party up on deck where they had a pirate themed buffet serving obscenely giant turkey legs and other massive hunks of flesh. Captain Hook, Mr. Smee and Jack Sparrow were all in attendance as well as a pirate Mickey who went sliding overhead on a cable zip-line. Then there was a firework show. A nice little diversion if you wanted to take part in the pirate action, but also easy to avoid if you prefer your pirate adventures to be a little more Navy SEAL Team 6 in style.
The Internets
Depending on your stance, this would either be an F or a C.
So there WAS Internet access available aboard the ship, and it could be purchased in either by-the-minute bites or in packaged chunks. By the minute it was $.75 (or $45 an hour) and you could buy up to 500 minutes for $125 or $150. However, there is a sign saying that because it is satellite based, that it is SLOW and that it wouldn't support things like Skype or video chat and to be sure to completely LOG-OFF or you might continue accruing charges or whatever.  WiFi apparently worked in certain common areas, but if the hardwired connection is slow, the WiFi part ain't gonna be any better!
On the one hand, I would have preferred something like $20 single day passes, or a full week's worth for $100. (OK, I would have really preferred totally free, but I've been to enough hotels to know that ain't gonna happen!) But, on the other hand, it was quite nice to be able to *completely* disconnect. No cell phone, no text message, no e-mail, no computer. Sure, I could have written or kept in touch or whatever, but with the availability of the access there is that slight *pressure* that you SHOULD be doing something. And ultimately I decided that I had told everyone I was away on vacation and what news would I possibly hear that would make my vacation any more pleasurable? (None, I tells ya. Absolutely none!) So, I didn't avail myself of the Internets.
I did overhear this one woman that was having some kind of pet veterinary emergency that she needed to place a ship-to-shore call and that it was $7 a minute! That makes them Internets seem cheap!
Port adventures
I give this a C for "Cozumel," "Costa Maya" and "Castaway Cay."
OK, before I took a cruise, my opinion was that I thought cruising would be lame because you would basically be spending the majority of your time GETTING to places instead of actually BEING in places. So, I figured that the port destinations would be a big deal and a large part of the experience. Now that I've been on the cruise, I have changed my opinion. There is SO much to do on the boat and the places where they let you off are usually kinda touristy and lame, that the ports are really only minor diversions in the big scheme. We hit 4 ports and here's a recap: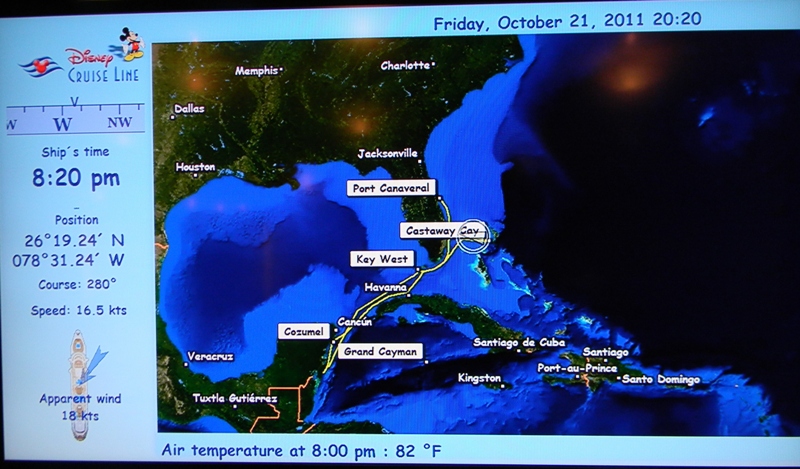 Cozumel: I'm sure that there are nicer, less "Hey, pretty lady! You buy dress! You buy jewelry! Senor! You smoke cigar! Cuban cigar! Best tequila! I make you special deal, my friend!" kinds of places in Cozumel, but where the ship lets you off is SO obviously into the heart of the city that cruising built. I thought that Myrtle Beach was filled with tourist crap but compared to Cozumel, I'm living in the height of restrained elegance and class. Tons of stores that are all selling the same shirts, dresses, hats, and – let's be honest – cheap crap. Also lots of gold and jewelry places, tequila stores, and bars, etc. I can't imagine a horrible alternate universe where I'm forced to have a job where I stand in front of a store all day trying to lure people inside by offers of "I make you special discount! Come, come! You, come inside! I no put you in ice tub and sell kidney on eBay!" Also, it was like a million degrees and 500% humidity in Cozumel. There were a bunch of excursions that you could book through the boat, but we didn't. I think the excursions would take you to parts of the city that might actually be fun and interesting, but just getting off the boat was lame, sticky and hot. I did sample some tequila though, so the day wasn't totally wasted.
Costa Maya: We were originally supposed to go to Grand Cayman. You know, where uber rich people go to stash their money and drive mega-yachts around while they have champagne and caviar fights, slap each other playfully with stacks of hundos, play bumper cars with Bentleys and leave Rolexes lying around just because it's the fashionable thing to do? Well, due to some inclement weather, we couldn't go to Grand Cayman. Instead the captain apparently Google-searched "lamest possible port to go to instead of Grand Cayman." Google thought for about a nano-second before suggesting Costa Maya. This place made Cozumel look like a Ritz Carlton. It was like wandering around a super hot and dusty Mexican ghost town. Except the ghosts wanted you to buy some cheap junk. There is like one long stretch of street you walk down. Amazingly, at the end of this road to nowhere was a Hard Rock Café. Remember when Hard Rocks were only in the coolest cities and were actually hip places to go and hang out? Yeah. This isn't one of those. On the excursion sheet EVERY description started off with "After a 50-90 minute bus ride you will..." And, call me a skeptic, but spending 50-90 minutes on a one-way Mexican bus ride did not sound like the makings of a fun and relaxing day. A more truthful description would probably have been something like, "After riding in the back of a horribly beaten-down Toyota pick-up, you'll arrive at your destination hot, dirty, angry, disoriented and ready to pick a fight. The remainder of your day will be overshadowed by a constant sense of dread and despair over knowing that a return ride in the truck awaits you, where the metal will have grown so hot that you'll soon grow immune to the smell of your own burning flesh." I did stop in and get 3 Dos Equis for $4 and here's a picture of us staying thirsty and sitting on some kind of skeleton zombie bench.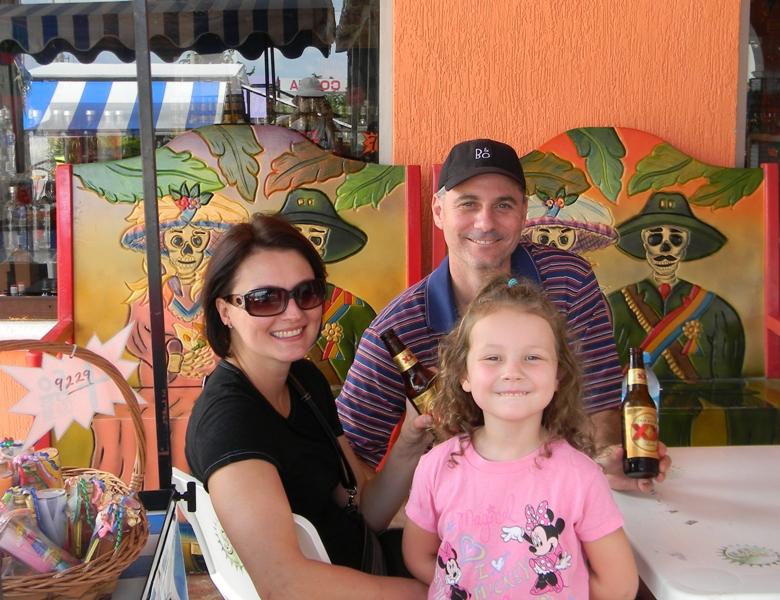 Key West: After the first two stops I was skeptical, but then my parents and Dana kept talking this up so I cautiously let my spirits rally. And I must say, Key West didn't disappoint! This was a really cool town that had a lot going on and was actually a place where you could spend a couple of days hanging out and exploring. We went to a butterfly pavilion which was cool but kind of overpriced for the amount of time you could really spend there. (Fortunately we found several $2 off coupons and my dad paid. So, that was a real bonus.) I was picturing an area where you would walk in and hold your arms out and be swarmed by butterflies that would then carry you off gently on the breezes, to wrap you up in a soothing, rejuvenating full body cocoon where you emerge with youthful vigor. So, perhaps my expectations were unrealistically high.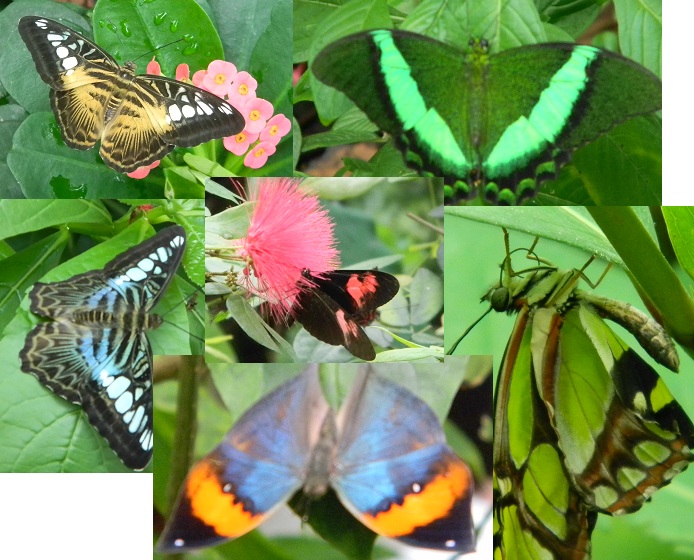 Besides having several T-shirt shops with some of the most creatively lewd and raunchy artwork I've ever seen and the most southerly point in the continental US – where I was at one point literally closer to Cuba than to the nearest Wal-Mart; a liberating experience unto itself – and the Mile 0 starting point of I-95, Key West is also the home to "Sloppy Joe's" a bar/restaurant where Ernest "Papa" Hemmingway was said to have hung out, drinking and writing. I thought this would be the perfect opportunity to enjoy a Death in the Afternoon in Darryl Wilkinson's honor; a cocktail made with equal parts champagne and absinthe. (I know, it sounds pretty rough; that just shows you how far I'm willing to go and how committed I am to the process of making some jab at Darryl.) Inexplicably they had NO absinthe on the menu and both the waitress and bartender looked at me like I had asked if I could take a leak in Hemmingway's skull. Kinda cool, they have a Web cam in the bar, and Scott Moody saw me, proving that yes, I was actually in Key West. Here's a pic:  
While the boat didn't set sail until 7PM, we were docked at a naval base of sorts – though I only saw a single Coast Guard ship and none of the typical military base security that I've seen at every other base I've ever been to – and everyone had to be shuttled from the ship across the base and into town. The sucky thing was that the final shuttle back to the boat left at 4 PM, and if you weren't on the shuttle you weren't gonna get back to the boat. (So they repeatedly threatened at least.) And obviously with such a threat looming, you knew that it wasn't gonna be in your best interest to gamble on waiting for the very last shuttle of the day. So, even though we were *technically* in Key West until 7 PM, we really had to leave around 3:30 in order to ensure passage back to the boat. Harumpf!

Castaway Cay: Other than the crystal clear, over saturated, magical-mystery turquoise blue waters of the Grand Cayman, this was the stop I was most looking forward to; Castaway Cay, Disney's own private island!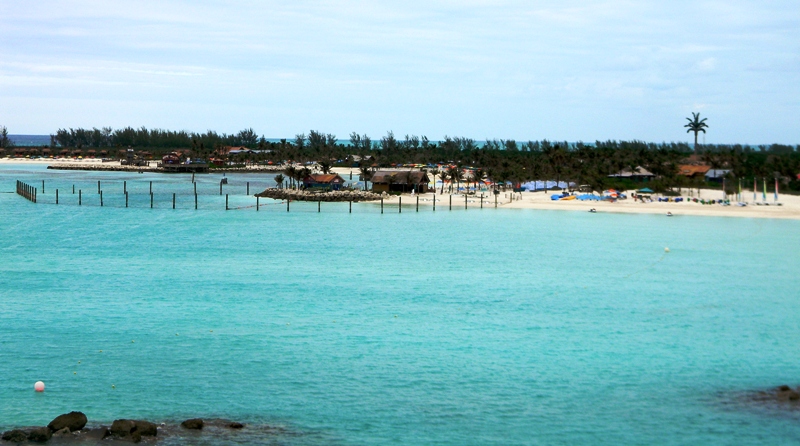 Private beaches, secluded bays, sunken boats to snorkel around, water slides... This sounded like my kind of place. So much so that I dropped $70 on snorkel gear before leaving. (Technically I dropped $140 on snorkel gear because I bought a matching set for Dana. But when she found out that I spent that much on stuff for her who has been snorkeling like exactly once during our 15+ years of marriage she asked me if I had plumb gone crazy and told me to take hers back. In truth, I didn't want to buy her $70 worth of snorkel gear but felt like I would look like a total douche if I showed up at home with a full set of stuff for me and a handful of nothing for her. That's what makes a marriage work, people!) So even though the water was a wee-bit chilly at first and the weather was only in the 70s, plan to snorkel I had, and so snorkel I did! Here's a pic of me and my dad geared up and ready to go: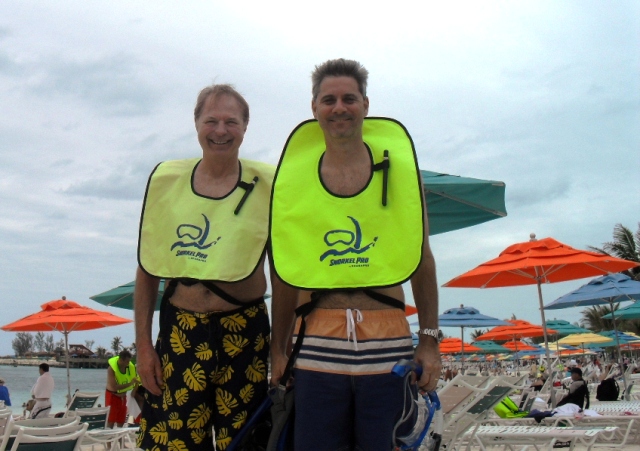 Before you say anything, I already know how UN-bad ass you look wearing a bright yellow vest. Nothing at all like this guy. But nothing says un-Disney like having a guest drown while on vacation, so they make you wear those awful yellow vests. And I have to say, those stupid vests make it VERY difficult to dive too deep or stay under water (for the record, I can hold my breath for around 2:30; it's one of my claims to fame) and the vest totally chafed me under the arm after swimming around for a while. But there were these cool things set up for you to explore like simulated wrecks and other things strewn around. In exploring I found a set of old dinner plates and what looked like the top of a metal bedpost or curtain rod or something. (The water was so clear that chances of finding anything accidentally dropped by other guests was sadly pretty slim. I've found several pairs of sunglasses and a ring and some other stuff, but my goal is to find a watch of any kind.) The two waterslides were cool and there were biking paths and areas to play volleyball or basketball or lay out and a whale bone dig area for kids. Unfortunately the weather was kinda coolish and overcast so it wasn't a great layout day, but I could have definitely used a second day here, as could Lauryn who found two things she loved on Castaway Cay: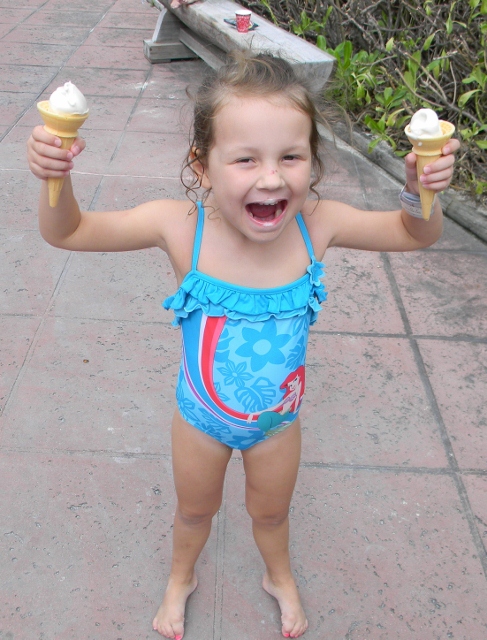 "For your convenience…"
This is that little IRS envelope that arrives several months after you thought you paid your 1040 bill in full. It's a nice little ass-punch that says, "Hope you enjoyed your trip! Now, here's the *rest* of your bill! Bwa-ha-ha!" Such a nasty/fun little surprise! It's all of the items that you "enjoyed" during your trip by just handing over your Key to the World card. I already mentioned the Internet charges that you can rack up. You can also have laundry done which is charged by the piece. And by the end of the trip, these little charges can really add up. I was petrified about getting one of those $2000 post-cruise surprises, and I can totally see how that could happen.
Even if you do absolutely nothing, you'll see a little card on your bed at the end of the trip that says, "For your convenience, we have added all of your gratuities to your charge account." For us, this was $36 a day ($12 a day for each person in our room) for each day. This money was divided between our dining room servers and the people that cleaned up our rooms. (Seriously, the room cleaning up guy should have gotten more. We made way more work for him than we did for the wait staff.) To be fair, you CAN decline these charges on your bill and elect to leave absolutely zero in gratuities if you wish, you Grinch!
While all of the food in all of the restaurants – save for the fancy schmancy Palo – is included in the cost of the trip, none of the drinks are. Oh sure, you can have tea, soda and juice till your kidneys burst, but if you plan on drinking any wine, beer or booze, plan on it adding up. We bought a "dinner wine plan" which included 5 bottles during the cruise for $160. Again "for your convenience," any booze that you buy incurs an automatic 20% gratuity. Oh, you're welcome! Also if you get a soda or juice from a bar, that's a paddlin'! The bars are pretty decently stocked (though, sorry Darryl, I never checked on any absinthe or green chartreuse availability) including some Johnny Blue at $35 a shot. Don't worry, they'll just put it on your room charge. And you'll say, "Thank you, sir! May I have another?" Think you'll just sneak by drinking espresso, cappuccinos and lattes? Not so fast, mister. Those aren't included either! Surprisingly, one of the first things they tried to upsell us was water, as in bottled water. I'm not sure if they were trying to imply that drinking water on the ship was bad – we drank it the whole time and never had a problem; and by "problem," I think you know what I mean... -- or what but they wanted us to buy like 24 bottles of water for $35. They also had a canned soda plan in case walking up to the free soda machine on Deck 9 was too much for you.
Port excursions are plentiful and costly. Most port excursions were like $59 – 129 per person depending on the activity. Depending on the number of people in your party and the number of stops, this can easily be $1000 in itself. Same with any on-board spa treatments. I can assure you, facial masks, massages, body wraps and toxin purges are no cheaper when performed on the high seas!
Also, have that pocketful of $1s ready, cause you're gonna need them. Room service is great, but if your wife is anything like Dana, then you can count on her guilting you into tipping the guy each time. Same with the guys carrying your bags. Just getting my luggage on and off the boat cost me $20. Also, you'll probably drive to the cruise ship and that will mean you'll have to leave your car somewhere. Most times that will mean paying for parking. At the cruise terminal it is $15 a day. I found a great deal on the Net that was only $5.99 a day and included rides to/from the ship. Your mileage may vary.

So, that's it. To sum up, a cruise is a pretty great vacation option, and a Disney cruise is tailor made for families. I can't see ever taking a cruise on a different line, at least if we go as a family. And if you can get your parents to pay for it, it's even better! Thanks again, mom and dad! A week we'll always remember!
Categories: October 2011, Family, Reviews
/