Shopping Cart
Your Cart is Empty
There was an error with PayPal
Click here to try again
Thank you for your business!
You should be receiving an order confirmation from Paypal shortly.
Exit Shopping Cart
Features, Reviews and a Blog by John Sciacca
| | |
| --- | --- |
| Posted on January 18, 2012 at 3:20 PM | |
Day two ended much like day one, with me at a wonderful dinner with some of my best-est press buddies. (Oh, Jeremy G and Glasses; that you could have been there as well...) The good folks at Paradigm – namely Mark Aling and Erin Phillips – are always great fun to hang out with (even when one of them -- OK, it was Erin -- may or may not admit to TOTALLY agreeing to do a Polar Bear Club dip for $50. And, no, Erin, I am *never* letting go of that...) and the restaurant included live entertainment consisting of Irish music played at roughly 5000 decibels and some real-life River Dancing. (I am strangely fascinated by this "my upper body has suffered complete stroke-paralysis" dance.)  We ate at a restaurant in New York called "Nine Fine Irishmen," and with a name like "Nine Fine Irishmen" you would probably assume that they would have a stellar beer and whisky selection. And you would be…completely wrong. They had like 6 beers and 1 cider on draft and like 8 whiskeys, none of them really unusual. (Also funny was that Darryl Wilkinson ordered this one drink that became like a drinking meme at the table and I SWEAR it came prepared differently each and every time.)

Highlights of the dinner included watching this old possibly Hawaiian/Asian woman Irish dancing with some kind of walker/cane that she had decorated with ribbons and streamers and the birth of the best inside joke ever, the Missy Elliot. Lowlights included me accidentally spilling an 80% full beer on Marc and Lindsey Adler's leather bag and me getting scolded by head-Caster-er, Kim Lancaster, for conduct inappropriate and unbecoming the "Secret Room." (Which she was totally against being in existence in the first place and which absolutely and under no circumstances were journalists to be admitted principally and primarily not one John Sciacca!) Apparently tweeting something with the hashtag #SecretRm – even when approved by three other people – was not to her amusement. Whoops! Sorry, Kim! Also, my interpretation of things like "secret," "private" and "confidential" seens to have a far looser and broad connotation and when the word "embargo" comes up, my name is the first thing that springs to Kim's mind. (Even lower for Marc was the waiter spilling ANOTHER beer on him like 30 minutes later.)
Was totally wiped out by the 12:30 AM – 3:30 east coast time – end of the dinner and had to wuss out on offers to meet up at another bar for more drinks. Note to self: It sucks getting old!
My third day in Vegas began with a visit to what will always be known as the Las Vegas Hilton in my mind (apparently it changed names/ownership like a couple of weeks ago, and now it is the uber-generically named, The Las Vegas Hotel) to see projector manufacturer, Benq. They were demonstrating the new GP2, a $549 LED model that is made for portable viewing and presentation. The little-larger-than-palm-sized device will blast out 200 lumens and has a port for direct-docking an iPod/Phone and comes with the breakout cabling needed to connect an iPad. (It also features a USB port if you happen to store your videos or presentations or what-have-yous in that format.) The GP2 produces 1280 x 800 native resolution, and could easily pump out a 60-80 inch image, especially in a dark environment. Throw a sheet up on the wall, turn out the lights and you've got an instant theater. It also includes a battery pack that will give you 3 hours of portable power (at 100 lumens), or enough to keep the kids quiet for most of the evening.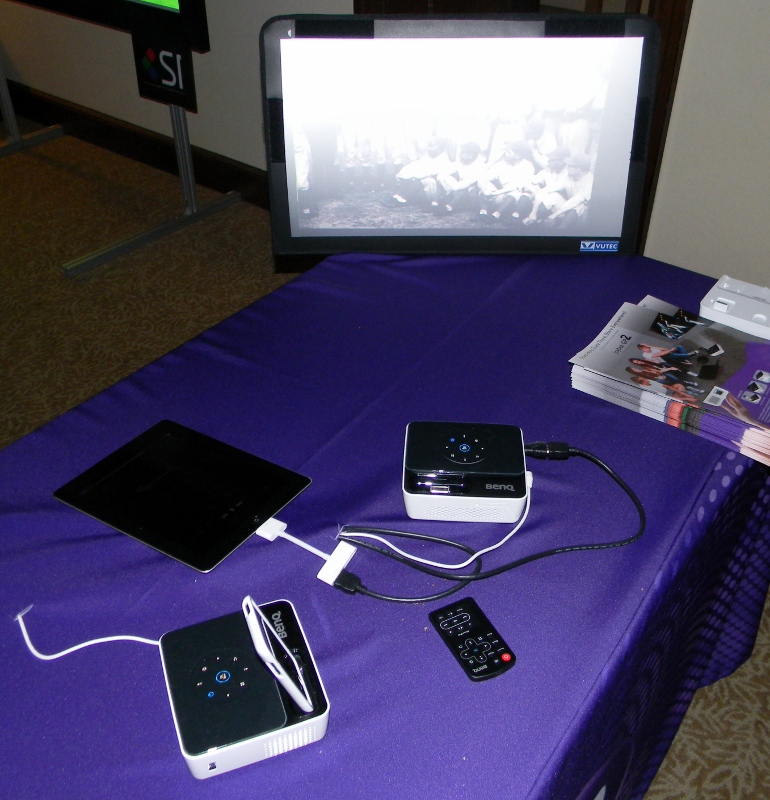 Following Benq, I headed back to the convention center's South Hall to check out Atlona. They were demonstrating the new LinkCast Wireless HD broadcasting system that features 3 Gbps video bandwidth up to 1080p resolution and 18 Mbps audio bandwidth including lossy audio formats and LPCM. The transmitter is a simple HDMI dongle that connects to a device – in this case a tablet and a Blu-ray player – that beams audio and video up to 40-feet to a receiver. Up to 5 sources can be connected simultaneously and multiple receivers are also capable, meaning that a housewide system is definitely feasible. The system will sell for $299 and I look forward to bringing in a sample for review. In the interim, please to enjoy this video of the system in action.
If you were to shoot an arrow as far as you could in ANY direction on the showfloor, there is like at least a 94% chance that – if it didn't kill one of the 153,000 bodies cramming the showfloor – the arrow would land smack into the middle of a giant pile of some company's new batch of headphones. Next year, they will probably need to change the name of the show to Consumer Earphone Show. You almost have to wonder if a company can still even consider itself part of the CE industry if they haven't released – or are about to release – a new line of "well, ours are really better" headphones. One pair that really caught my attention was from AfterShokz. These phones use bone conduction technology, something that has long been popular with Special Forces types. (My cousin is a SEAL; I can vouch for this.) I'd say that these phones free up your hands to do more important things -- like peeling potatoes or killing -- but then I remembered regular headphones pretty much do that too…
These phones don't go inside or over your ears, but rather press against the area just in front of your ears and use your bones to relay audio into your head. While I imagined this would be an in-head, voice of God-type sound, it was actually quite enjoyable. Because they aren't in your ears, they are far more healthy to use and share and are also WAY more comfortable to wear for extended periods. Another huge benefit is that since there is nothing on/in your ears, you can hear what is going on around you, meaning they are much safer for cyclists and runners. There's also no fear of any hearing damage, meaning they would be great for young children. (Though my daughter was a little scared of them at first when I approached her holding them out and saying, "They use your bones to make sound!" in a ghoulish voice. Note to After Shokz: That marketing idea does not appeal to the 5 year old demo.) And the phones are also surprisingly affordable, starting around $59. Sound is certainly not audiophile – or maybe it's just my lame bones – but I totally see the benefits of these for the right application and as you turn it up to louder volumes, you can *literally* feel the bass thumping you. (Note to self: Do not tap Dennis Burger repeatedly on the cheek bone while saying, "It's like a subwoofer, Dennis!")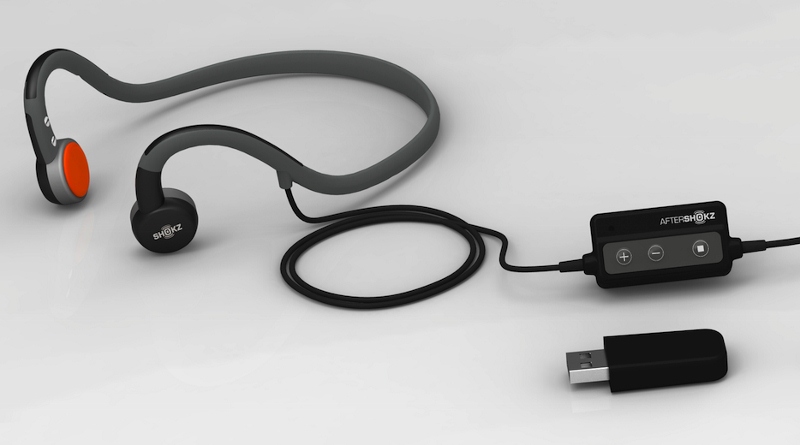 My next stop was to visit speaker manufacturer, Definitive Technology who had several exciting products to show. First was a new subwoofer in the SuperCube series, the 8000. This sub features a single powered 11-inch driver and two passive 12-inch drivers, powered by a 1500 watt digital amplifier with DSP control and 5 separate EQ curves. Naturally, I asked if the eventual SuperCube 16000 (two 8000s) would replace my beloved Trinity and they said that at this point, they aren't sure if A) there will be such a monster and B) if it would actually out-perform my Trinity. Also new is a smaller version of their ProCinema speakers, the ProCinema 400. This will be a complete 5.1 package retailing for $599 that has speakers little larger than a Coke can. The speakers feature the classic, high-gloss Definitive look along with 3-inch driver, 19 mm tweeter and a passive radiator on top for improved bass output. They also have a removable base for easy wall-mounting. (Not pictured, the Sierra Nevada Pale Ale I slammed down shortly after this image was taken.)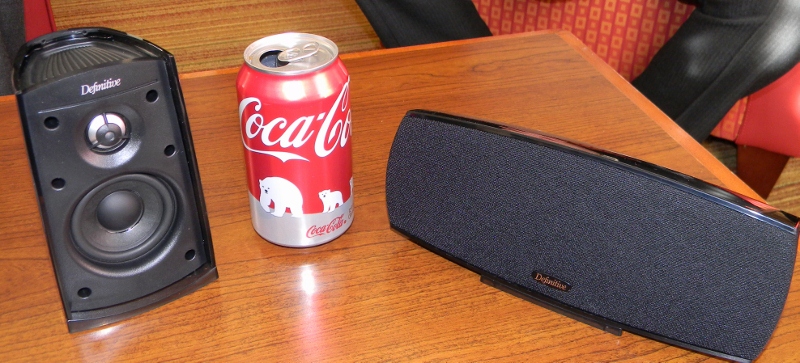 Definitive also demo'd the soon-to-be-shipping-we-promise-this-time bookshelf speaker, the SM45. This is a tremendous sounding speaker with a nice form-factor for sub $400/pair. Think it will be a big seller and can't wait to get them into our showroom. More big news from Definitive was the introduction of the Solo Cinema XTR soundbar. This is a fully powered bar with 200-watts going to 9 drivers and a true, 250-watt, 8-inch subwoofer that receives its signal wirelessly from the main unit. They speaker has the ultra-thin styling of the XTR line-up, matching the profile of current super-flat panel displays. The sub is also svelte enough to slide behind or underneath furniture, while still producing real punch and impact at the low-end. The bar will feature 3x1 HDMI 1.4 switching as well as 1 optical and 1 analog audio input. Definitive Technology's Senior VP of Marketing and all-around good-guy, Paul Dicomo, describes the new speaker here.
A day at CES is never complete without a trip to one of the video giants. Since I missed Sony yesterday, they were high on my list. Even more so since I attended the press event on press day in what already feels like a previous life and was looking forward to checking out some of the promised tech. First on my list of "must see" items in the Sony village was a new 46-inch Glasses-Free 3DTV. Also impressive was that this set was gaming 4K resolution. While still not a convert, I will say that the glasses-less 3D effect on the Sony set was far more impressive in my opinion than the Toshiba set I viewed yesterday. (Dennis Burger, who was with me, said that this set looked better because it was less 3D-ey.) It just looks like a lenticular postcard to me, with all the accompanying distortion and weirdness. Seriously, people, are we this hard-up for 3D that we have to ruin what would probably otherwise be a stunning picture? Blarg, says I! For you non-believer, here's a video of the set in action.
Now for the product that I am calling the most impressive looking video display at the show, the Sony Crystal. The Crystal is a technology statement piece with no announced delivery or pricing, but it is a TRUE LED set, in that it has a separate red, green and blue LED for every pixel. For you non-math types, at 1920x1080p resolution, that means more than 6 million individual LEDs in the 55-inch set. This set produced the most amazing, eye-popping color, and deep, pure blacks and unbelievably smooth and natural motion of any set that I have yet to see. If any set can say that it is truly the heir apparent to the Pioneer Elite Kuro throne, it is the Crystal. Also, it proves that you don't need 4K – or even 8K – to produce stunning video when you do everything else correctly. According to Sony's numbers, "the 55-inch prototype exhibited at CES is boasting approximately 3.5 times higher contrast in light environment, approximately 1.4 times wider color gamut, and approximately 10 times faster video image response time." Dennis felt that the resolution wasn't as sharp or detailed as the other LED set it was sitting next to, but I think that probably has something to do with fine-details on the special-magic scaling chip the Crystal must use. Whatever. I'll still take it. Here's the set in action being described by a Sony product specialist.
There were lots of kangaroo logos and stuffed animals floating around the hall with Dish Network logos on them, so I figured I'd head over and see what all the fuss was. (And, because Darryl Wilkinson told me that it was one of the coolest things he'd seen at the show. Hey, I'm always down for a good tip. This show is huge, and if you see something that you think I should cover, tweet me at @SciaccaTweets and I'll try and check it out.) (Also, extra-special-gooey thanks to Darryl for giving me his Hopper and Joey stuffed toy animals. They were Lauryn's favorite bring home gift, even over the Samsung Angry Bird. She likes that "the momma has a baby.")
Turns out that Dish is taking whole-home DVR to the next level by introducing a new system they are calling Hopper (the main unit) and Joey (the clients). This is likely the most advanced HD DVR system in the history of ever, including a 2 Terabyte hard drive for storing up to 2000 hours of recording, the ability to record up to six HD programs simultaneously including a feature called PrimeTime Anytime for capturing every primetime network show and storing it for a full week, and the ability to watch and control DVR content in four rooms, all over existing coax cable lines. To be honest, even after reading the specs and press release, I'm STILL not sure how it does all of that with the number of tuners on board, but who am I to question science and technology? Here's of video of the system in action.
To be honest, I didn't really know much of anything about this next company before the show. Here is what I did know: they were calling their press event "The Cage of Death." Best...demo...by...FAR! And, the company has a killer story to boot. Data storage and protection is becoming an even bigger issue than ever. Between photos, videos, music and documents, we all have possibly Terabytes of irreplaceable data. And if you've ever experienced a drive loss – either though failure or some disaster – then you know the anguish and overwhelming stabby feelings that can result. ioSafe is a company that all but promises to safely store and retrieve your data in the event of…well, in the event of just about anything. In fact, to date the company has a 99.9904% data recovery rate for clients. And its rugged portable drives come with back-ups that sound like a challenge: fireproof to 1550-degrees Fahrenheit, waterproof for up to 3 days at 10-feet in sea or salt water (or diesel or gas), shock/drop rated to 10-feet and crush rated to 2500 pounds. Included with the drives is a 1 year data recovery service (extendable) that includes ioSafe paying to have your drive forensically reconstructed, a process they claim can cost up to $2500. To prove just how bad-ass-tough their drives are, they stage a variety of torture tests each CES. Past events have included shotgun blasting drives and dropping a 35,000 pound excavator on them. This year they hired Dr. Megavolt who brought his 1-million volt Tesla coil to zap the living crap out of the drive to see if it would survive. (Spoiler: It did!) Enjoy the video, probably the closest thing to seeing Force Lightning that you'll ever get! I was SO impressed with this product and demo and story that I'm hoping I can get a review sample to torture for a bit and then write about. Fingers crossed… (Sorry about the audio quality; this thing was SO loud it kinda fried the poor iPad's mic at times.)

Categories: January 2012, CES/CEDIA, Electronics
/