Shopping Cart
Your Cart is Empty
There was an error with PayPal
Click here to try again
Thank you for your business!
You should be receiving an order confirmation from Paypal shortly.
Exit Shopping Cart
Features, Reviews and a Blog by John Sciacca
| | |
| --- | --- |
| Posted on February 25, 2014 at 4:25 PM | |
Perhaps other than Sports Illustrated or Hooters, no industry is as proud of their racks as ours. (OK, that will be the only rack double-entendre, I promise!) (Also, as a word of caution, "rate my rack" is NOT a site where you go to submit your best A/V rack pics…just sayin'.) The delivery and trimming of the A/V rack often indicates nearing the job's completion, and a clean, tight rack is a mark of pride for many installers.
Racking in gear is one of our industry's art forms, and while I'm by no means a maestro, I recently spent two full days trimming out the house rack for my Mega Job (#protip: Bring something to kneel, sit, stand on! I used an old Tempur Pedic pillow and my knees and butt were ever so thankful!) and thought I'd share some of the things that helped us manage a 7-foot tall rack crammed to the hilt with gear.
Think Premade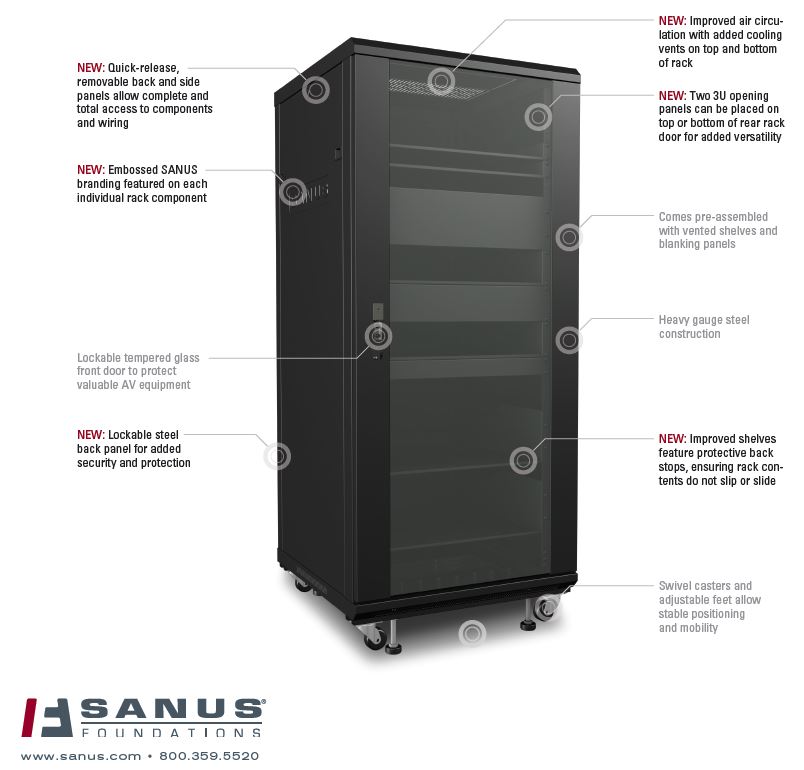 It used to be that you had to build your rack to order from scratch, and then assemble the behemoth once it arrived in its many boxes and pieces. While this certainly lets you get the "perfect," bespoke design for your system, it is usually more expensive and time consuming. As an alternative, consider that the major rack manufacturers – Middle Atlantic, OmniMount, Sanus – all offer pre-made racks in various sizes that will save you both time and money. The racks come wonderfully pre-built, include a locking front and rear door, removable side panels, a fan system for ventilation, multiple shelves and blanks and casters.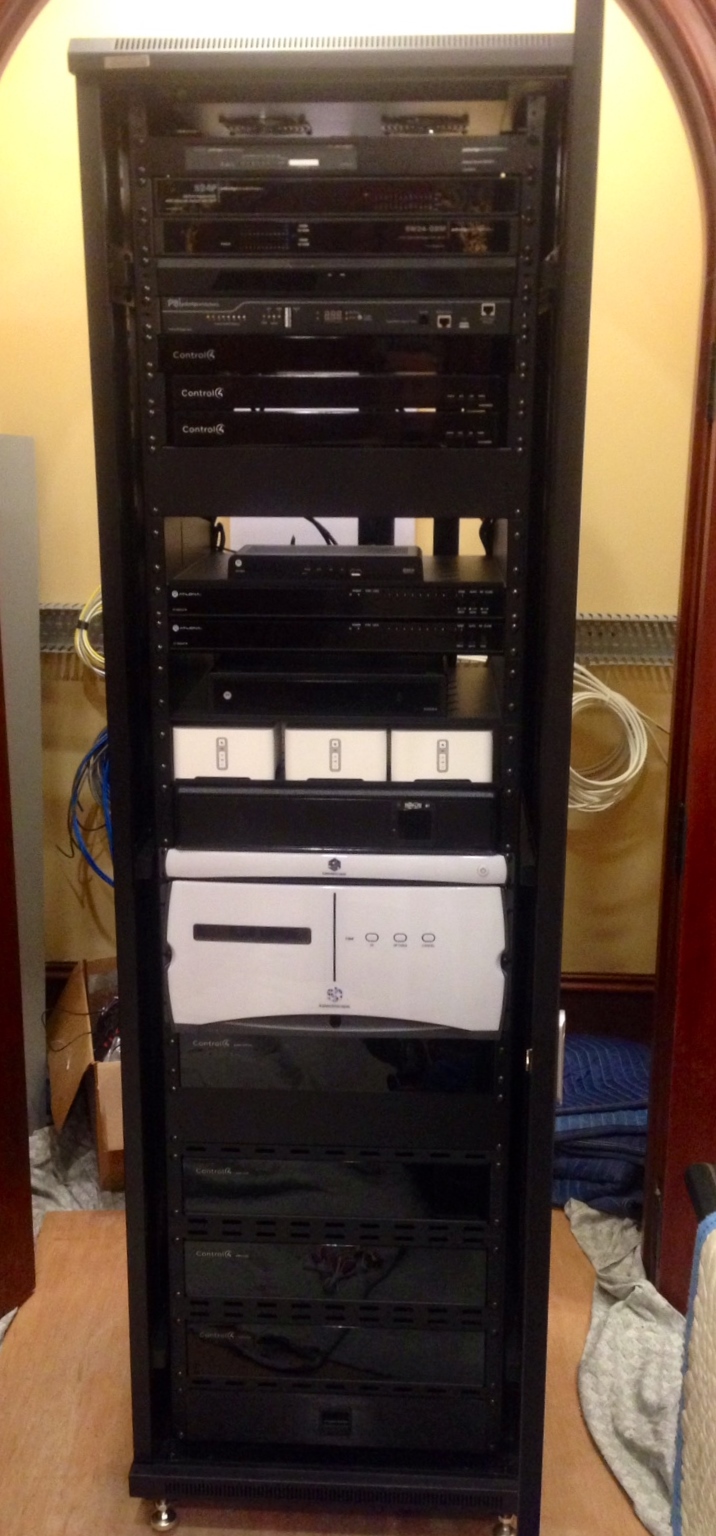 Behold my rack!

For my large project, I used five of OmniMount's RE18 (18-rack space) for the bedroom suites and one RE42 (42-rack space, shown above) for the main rack. Because the pre-made racks from all manufacturers use standard spacing, you can still use any of the accessories you would like – custom faceplates, temperature controls, lighting, shelving, etc. – to finish out the rack exactly as you would like. Be advised, however, that the RE42 is one heavy mutha, and took four of us to lug it around.
RackTools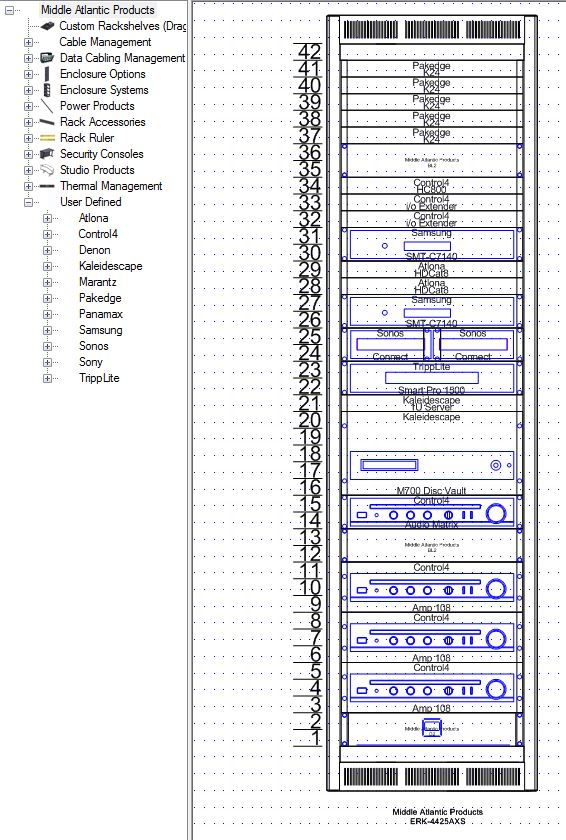 There is a reason why so many custom installers and pro sound guys use Middle Atlantic products. They are not only wonderfully well-made, but the company offers practically any accessory and part you can imagine to made the rack as perfect as possible. Another thing that Middle Atlantic offers that you should be using on every rack job is RackTools. RackTools is a free software tool provided by Middle Atlantic that offers a simple-to-use, drag-and-drop interface for designing and laying out a rack. Simple select a rack, and then drag in equipment and it will lock into place. You can even edit/create your own components if they aren't already in Middle Atlantics large library. This is great tool for seeing how gear will fit into the rack and how much space you will need. Further, when you finish with the design, you can print a parts list to easily order your design with all the parts you used. Also, I just handed the above CAD layout to my installers and they knew exactly how I wanted the gear to be racked in, saving them additional time on the job trying to figure out how things should go.
Please click here and continue reading at Residential Systems. The very fate of your rack may depend on it!

Categories: February 2014, CTA, Electronics
/