Shopping Cart
Your Cart is Empty
There was an error with PayPal
Click here to try again
Thank you for your business!
You should be receiving an order confirmation from Paypal shortly.
Exit Shopping Cart
Features, Reviews and a Blog by John Sciacca
| | |
| --- | --- |
| Posted on April 10, 2012 at 5:50 PM | |
With the recent news that Bond will be drinking a (ugh!) Heineken in the upcoming film,  and since I've been on a beer terror lately, I've come up with a list of 10 beers that I could imagine Bond actually drinking.
Not always ordering, mind you, because I can't really picture too many moments where Bond orders himself a beer over another option. But beers that are sent to him, sending a subtle – or not so subtle – message.
So, here's the beers I've selected for Bond and the scenarios I see them being used.
#9 Left Hand Brewing - The Stranger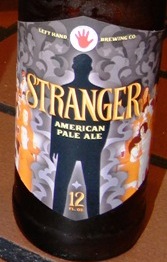 The rapping on the door caused Bond to cut his shower ritual short. He cut off the water and grabbed a large white towel, dried off vigorously, and wrapped the towel around his waist.
"One moment," he called to the door. He looked at his holster and the Walther and debated grabbing it, but decided against. Men that come to kill you in your hotel room rarely have the decency to knock or wait to be invited it.
Bond crossed to the door in three quick strides and opened it. Standing there was the woman he had caught glimpses of around town. It was impossible to be discreet with a face that beautiful, he thought. Even with a hat or glasses, she had a face that caused people to stop and stare. 
And remember.
She was holding two bottles and two glasses. She proffered one to James.
The label showed a dark, shadowy figure and read, "Stranger."
"You're a difficult man to get a read on, Mr. Boldman." She eased her way past Bond, causing the swell of her breast to brush tantalizingly against his bare arm as she walked into the room.
Bond noted immediately that her perfume was light but feminine and sensual and her hair smelled clean and fresh. She'd cleaned up before coming over. A sign?
"Universal Import and Export? Traveling businessman in town scouting new opportunities? I think not." She sat at the edge of Bond's bed. She opened her bottle and poured the contents into her glass, taking a drink, and then retrieving an errant drop of foam with a quick flick of her pink tongue.
"My employer has asked me to find out more about you. And you are proving to be a most unknowable stranger for sure."
"Well then," Bond said, setting the beer and glass down and turning towards her, aware that the towel was loosening at his waist. "We'll just have to think of some way for you to learn more about me."
Categories: April 2012, Books, Beer/Liquor/Wine
/