Shopping Cart
Your Cart is Empty
There was an error with PayPal
Click here to try again
Thank you for your business!
You should be receiving an order confirmation from Paypal shortly.
Exit Shopping Cart
Features, Reviews and a Blog by John Sciacca
| | |
| --- | --- |
| Posted on May 19, 2012 at 2:45 PM | |
Fast Facts:
Day's Big Event(s): Lauryn's first Disney experience; Lauryn's first Disney ride
First Ride: Kilimanjaro Safaris
Most Ridden: Expedition Everest (3 times)
Ride with longest wait: Kali Rapids (90 minutes)
Closed Attraction: Petting Zoo
Lauryn's Souvenir: Baby Panda
Random fact: Lauryn turned 5 ½ the day we went
After deciding that it was indeed TIME to go to Disney, we did a little research and determined that The week of May 6 was one of the best weeks of the entire year to go. Not too hot; school still in session; not around any major holidays; no crazy Star Wars or Food and Wine celebrations going on, just typical off-season business as usual at Disney.
Originally we were going to go to Epcot on Day 1 of our trip, but after checking the park times guide, I noticed that Animal Kingdom (AK) was open an extra hour on Sunday, so we made a switcheroo and decided that AK would be our first stop. Dana and I had previously been to Animal Kingdom *years* ago; it was in March of '99 to be exact. I know this because they were just in the final stages of beta testing the Kali River Rapids ride and we got to ride it. I remember being pretty disappointed in AK because there wasn't much to do, and I hoped that 13 years would give Disney a chance to add some more.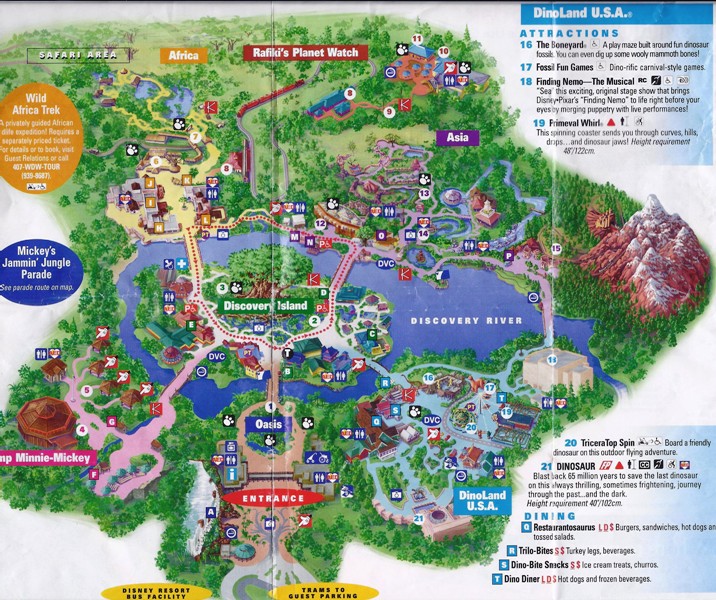 We got to the park right when it opened and took a pic out front (careful not to block the "IM" in "Animal" as I've heard some have accidentally (?) done).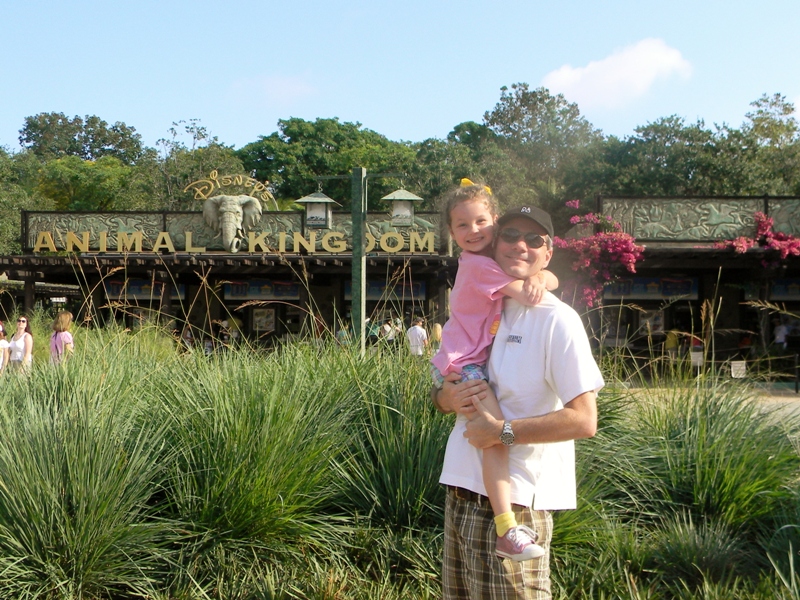 Once in the park we headed to Guest Services and informed them that this was Lauryn's very first visit to Disney. They all welcomed her and gave her a pin to wear: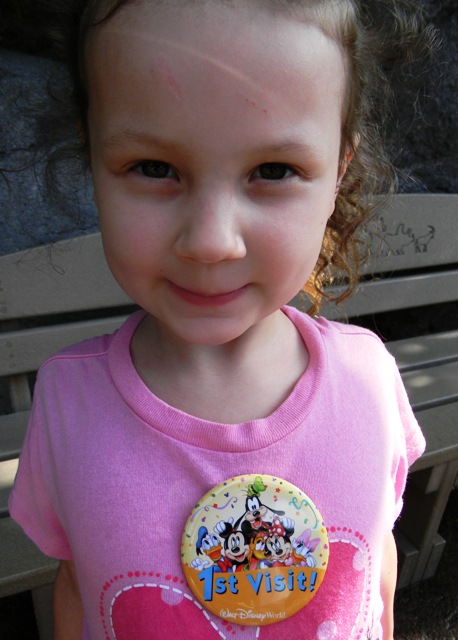 Throughout the rest of our visit she wore the pin and cast members would say, "Oh, this is your first visit to Disney, Princess? I hope you're enjoying it!" PS: Lauryn loves being called Princess.
I thought that the Kilimanjaro Safari would be a good first ride to hit because A) It gets pretty crowded B) My dad sad the animals are usually more visible in the morning and C) I thought it would be a nice first ride to break Lauryn in. So we head over and the line is only like 15 minutes. We whisk through the queue and get on our jeep and head off to the ride. We saw a bunch of animals along the way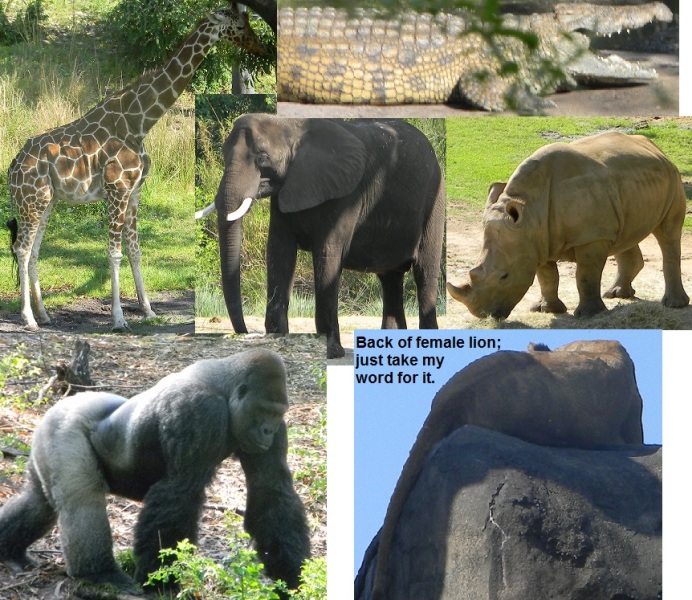 but Lauryn wasn't really impressed. I remember from my first time on the Safari that it ends with a climatic attic/chase as you track down and stop some poachers and when we get to the bridge at the end there is a sign that says something like, "BEWARE! POACHERS!" and I'm thinking, "OK, let's see how she likes this!" but then the jeep turns a corner and the ride is over. What the?! Apparently they are adding a new section that is going to have zebras in the area where the poacher chase was. This "ride" is now just like taking a jeep through a zoo and kind of disappointing.
We next jump on this train and head over to Rafiki's Planet Watch where they have some exhibits and a petting zoo. Except, the petting zoo is closed. And Lauryn is not really in the looking at exhibits mood. In fact, she's acting pretty rotten. She saw some stuffed toy animals when we got off the Safari and now all she can talk about is getting one of those and going home. This belly-aching continues with lots of crying and not-walking and whatnot so I take her aside and tell her, "Look. We're at Disneyland! I've waiting a long time to bring you here. Please don't ruin this day. I do NOT want to spank you at Disneyland, OK? Let's have a great day and we'll get you a toy later."
We decide that a ride is in order to break her spirit so we head over to the Kali River Rapids. It has like a 30 minute wait, so I decide to leave the girls and hustle over to Everest to get us some Fast Passes for later.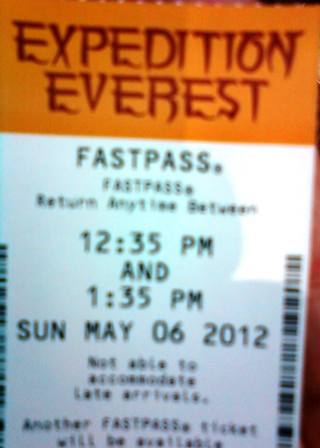 Let me just say that I think Fast Passes have *revolutionized* the Disney experience. I can remember going to Disney and waiting 3+ hours for Space Mountain. You would just stand there…doing nothing…waiting. And on a crowded day, you might get to only do 4 or 5 attractions. I've had days at Disney were it was so crowded you were just miserable; unmotivated to wait 2+ hours for any ride so you just sit and sulk. With some strategic Fast Passing, you can almost constantly be riding something, and I played our Fast Passes like a Stradi-frickin'-varius! We *always* had one ready and waiting to go, so we could step off one thing, and walk over to another. Brilliant.  So, Fast Passes in hand, I hustle back and we get in line for the Los Rapidos.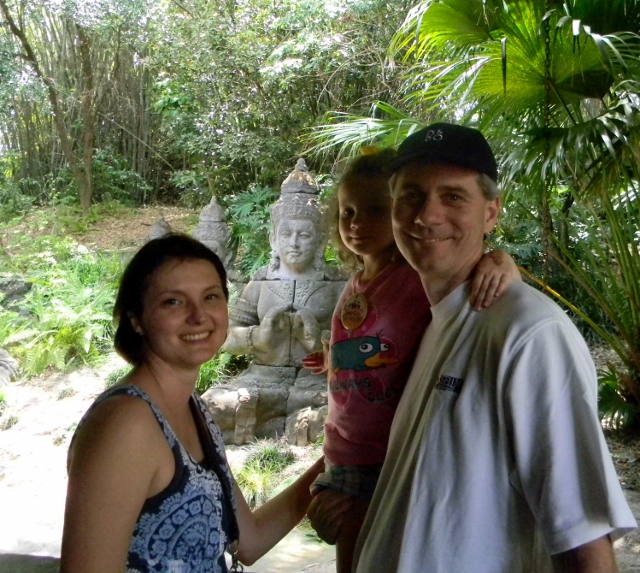 The backstory of the ride is that there is a bunch of slash-and-burn illegal tree cutting going on. This works ON the ride, but while you're in line all you hear the entire time is the constant "BWWRAAAAAAAHHH!!!" of chainsaws running and trees falling. We finally get into the raft and you can see that Lauryn is kind of apprehensive. The raft is totally soaked, people are walking off drenched, she doesn't know what's going on. So we're going and almost immediately a geyser goes off that drenches me. Lauryn thinks that is the height of hilarity and just like that, Disney has won her over!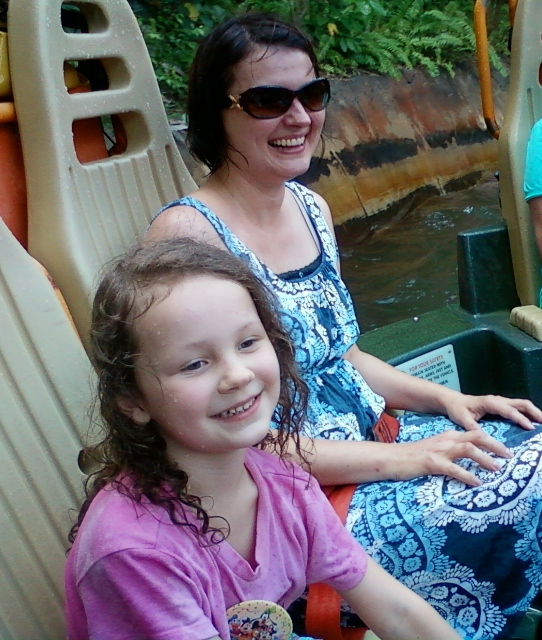 We go down the big drop and take a huge wave and Lauryn loves it. "THAT WAS TOTALLY AWESOME!!!" We get off and she says, "Dad! I understand about Disney now! Can we do that again?!"
I tell her of course we can so I immediately Fast Pass us some more tix for later.
But for now we've got MORE rides to do first! Since she loved "the big dropper" on the rapids, I'm thinking that *maybe* she can handle Everest. I've never been on it, but she says that she's not scared and that she wants to do a fast ride. We cruise over to Everest and the first thing I do is to take Lauryn to the "are you tall enough to ride" sign. She just makes it but standing next to the sign is a father and his crying son.
The little boy is too short to ride. Heartbreaker. For them.

"Here, would you like these? He's not tall enough to ride so we're not gonna use them…" And just like that he hands me THREE Fast Passes for Everest. Boosh! For us.

So we get up to the ride and Lauryn is still hopped up on rapids juice and very excited for this ride.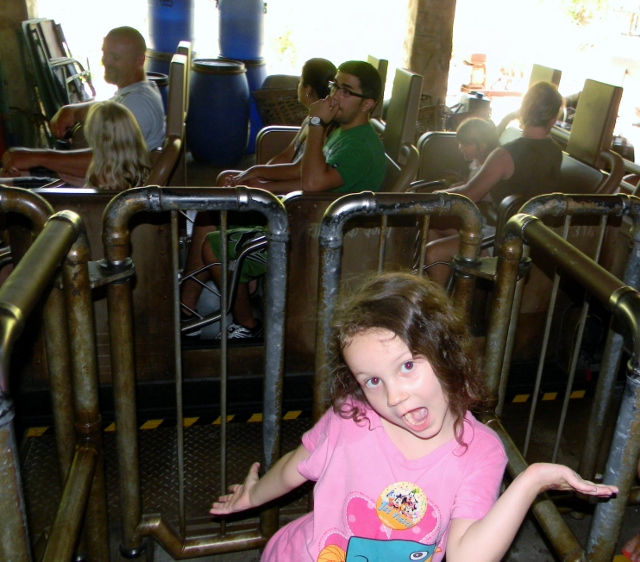 We get in and I tell her that if she gets scared she can grab on to my arm and I'll make sure that she's OK.
"Dad, can I close my eyes if I get scared?"
"Of course, honey."
"And can I scream if I want?"
"You go ahead and scream as loud as you want."
The ride starts off at a decent clip, has a couple of dips and twists and then starts climbing this tall hill to the summit. Here's a look down at the big drop and twist: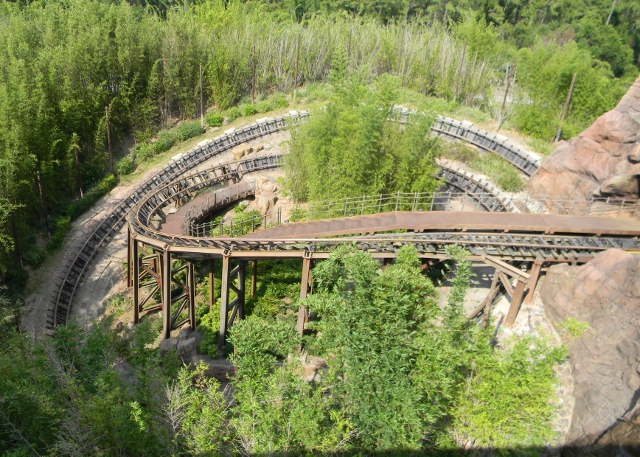 We get to the top of the hill and I look over and Lauryn has her eyes tightly shut and one hand death gripping the lap bar and the other locked onto my arm. I say, "Are you doing OK?" And she says, "Yeah! This is awesome! Totally awesome!" The ride is pretty fast, spends about 1/4 of the time going backwards and has some nice drops and turns. When we get to the end Lauryn is beaming.
"I rode Everest! Not many other kids my age could do that! Let's do it again, that was totally awesome!" Good news! We've got a Fast Pass! So we jump right back on Everest again, this time sitting in the very front car.
I ask Lauryn if she's going to keep her eyes open this time and she says no. She likes it better with eyes closed. We get off from the second ride and she says, "That was totally awesome! It was like, I thought we were going to DIE, but we didn't and it was awesome!" Here's a pic of Lauryn after conquering Everest for the second time.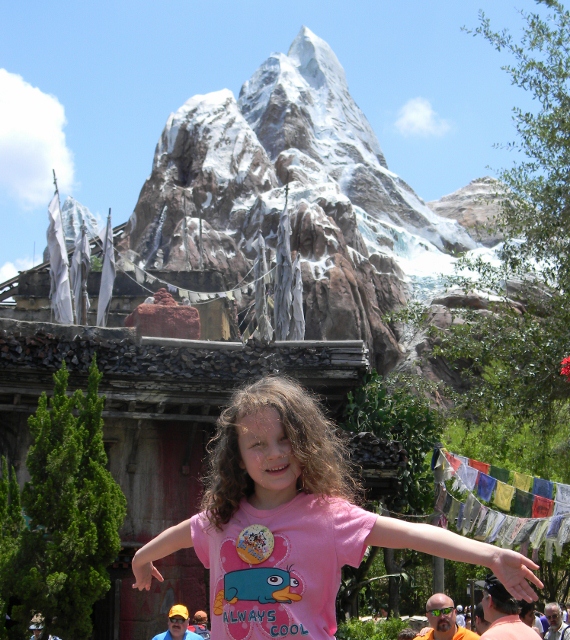 I ask Lauryn if she's ready for the rapids again and she says of course she is! So we head back over and do the rapids – it is SO sweet to take the Fast Pass stroll past the 90 minute wait right to the HEAD of the line! – and then on the way back I grab us some more tix to Everest…you know, just in case. (Who am I kidding?! Of course we're gonna do it again!)
The troops are starting to get woozy from all this Sciacca marathoning and Florida sun and cries of, "You need to feed us!" start erupting. So we boogie over and do the Fast Pass thing and then we head over to DinoLand for lunch; zip-zap, three lunches and $30 later we're ready for the next adventure.
I had been telling Lauryn about the Dinosaur Back in Time ride and she thought that sounded cool. I remember this ride as being pretty fun from our first visit to AK. It only had like a 10 minute wait which was awesome so we charged in. Before you get onto the ride there is this staging area that is very Jurassic Park with a large T-Rex skeleton.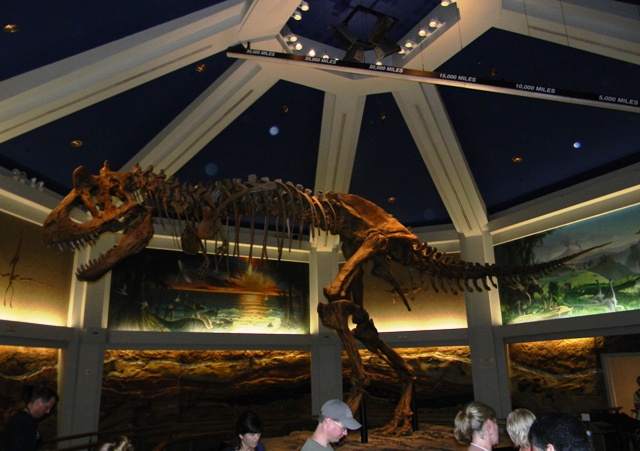 There is a story going on about how an asteroid came and smashed into the earth and that's what wiped out all the dinos and there is dramatic lighting and atmospheric sound effects Lauryn is really listening to the story and the line moves so fast we don't get to hear the finish – much to Lauryn's chagrin. So we get into our car and while this ride is supposedly "identical" to the Indiana Jones right at Disneyland, let me assure you that the Indy ride is hands down WAY better. Everything about it, but especially that the Indy ride changes every time and that you can see what's going on the entire time, unlike Dino which is pitch black for maybe a third of the ride.
Lauryn liked the dinos though, was glad that none of them ate us and thought it was exciting at the end when the Iguanodon is holding the tree up for us to be able to make it back alive.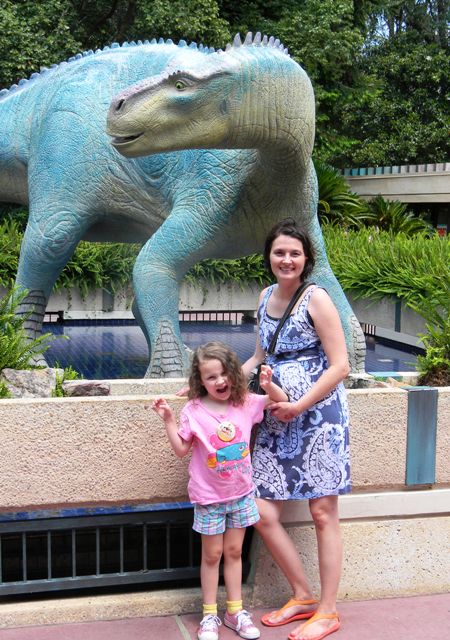 DinoLand has a nice climb-and-slide play area for kids so we let Lauryn to that for a bit and then it is time for some serious Sciacca time management. Certain things at the park only happen at certain times of the day; primarily the Lion King and the Finding Nemo shows. I wanted to see both of them – plus I had a rapids Fast Pass I wasn't about to let burn up – so this required some strategery.
We first hustle over to the Lion King show which should probably really be called the Timone Show as he seems to be the main attraction. It's a big stage show with a lot of singing and dancing and some acrobating in a theater that holds a TON of people.
When that's over, we have just enough time before the Nemo show for our Fast Pass at Everest. I get Lauryn to peak for just a bit at the top of the mountain where the Yeti has torn up the tracks but then we start going backwards and it is *immediately* eyes closed again.
The Nemo show was incredibly cool. It is like a live, 45-minute retelling of the entire movie with people carrying around giant fish puppets.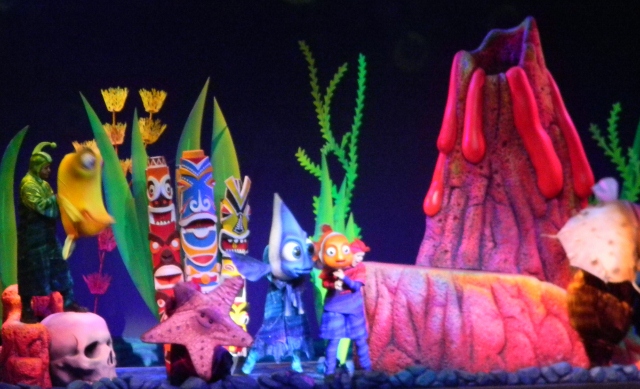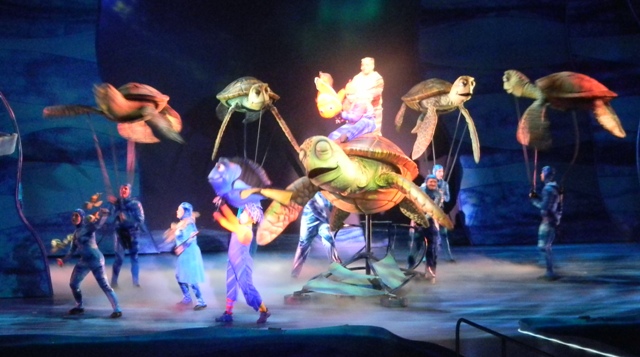 They hit all the key scenes, had all the characters and this is really an incredibly well-done show and should definitely not be missed!
After Nemo we were just SO close to the Dino ride that I asked Lauryn if she'd like to do it again. "Awesome!" Seriously, a 5 ½ year old Lauryn is the like *best* Disney partner EVER! So we jump on that and then they have a ride called TriceraTop Spin that is like the Dumbo ride. We jumped on it and I let Lauryn take the up/down controls and I have a total flashback, world-in-full-circle moment…

We got off the ride and who was there taking pics? Goof. Lauryn ran up to him and said, "Goofy! Goofy! Do you remember me from the Disney Cruise?!" He smiled and then pointed at me…he remembered ME from the cruise. Probably all that eating I did.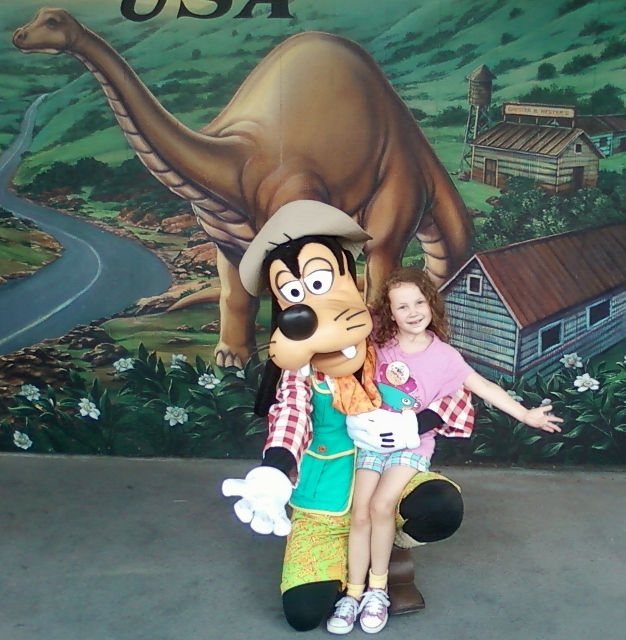 Last up was the Bug's Life movie inside of the Tree of Life. The Tree of Life is this massive structure that stands on Discover Island in the middle of the park, so you are walking around it all day long.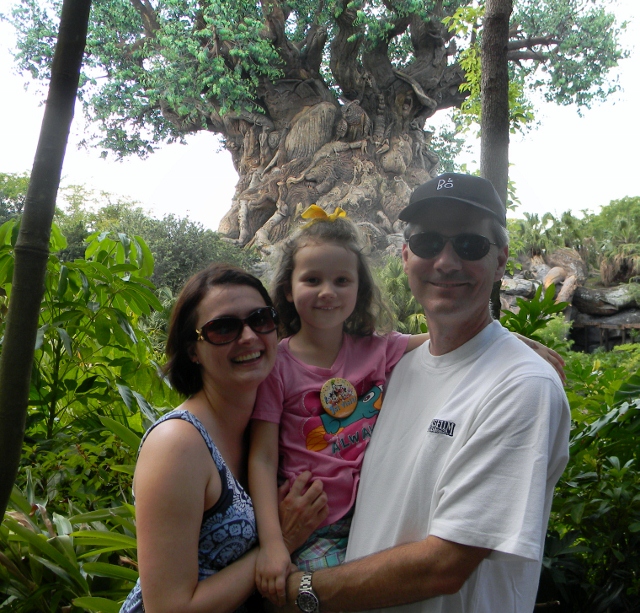 The first time we came to AK, the line to get into this think was like 2 hours long. So we just stood there staring at it. It is a pretty amazing structure with hundreds of animals carved into it and if you HAVE to look at something for a couple of hours, it can provide you a lot of, "Who can find the…" game time.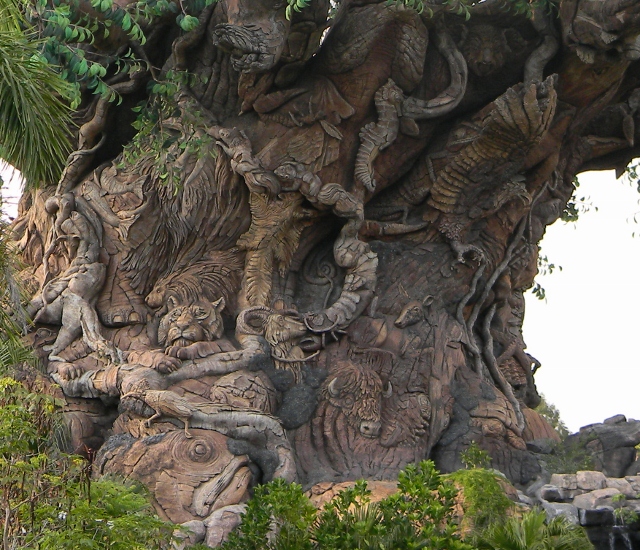 Fortunately there was no line for the "It's Tough to be a Bug" show so we walked right in. This was Lauryn's first 3D movie and I thought maybe she'd be apprehensive about putting on the glasses, but as soon as Flick said, "It's time to put on your Bug Eyes" she popped 'em right on.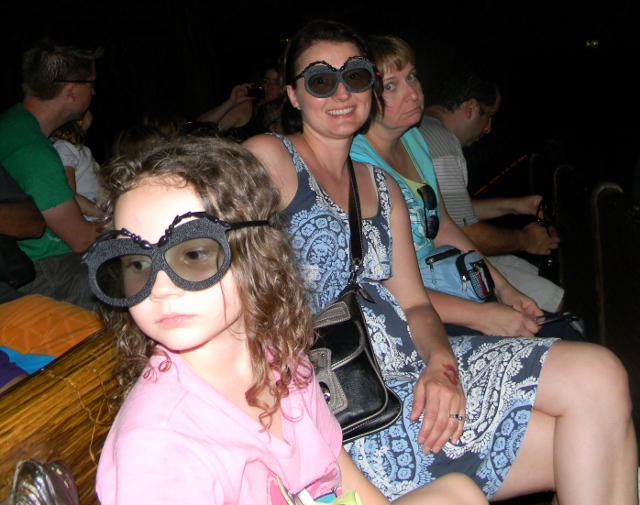 I remember the 3D being so amazing from before, but it seems really dim, soft, and dated at this point. I think they need to do a massive overhaul on the projection system, but that's just the jaded A/V professional in me. Lauryn loved the stink bug blasting smell and asked if that hornet stung us on the back and if we felt the beetles crawling under out seats.
And with that, Animal Kingdom closed and thus ended Day 1 of our Disney adventure…
/