Shopping Cart
Your Cart is Empty
There was an error with PayPal
Click here to try again
Thank you for your business!
You should be receiving an order confirmation from Paypal shortly.
Exit Shopping Cart
Features, Reviews and a Blog by John Sciacca
| | |
| --- | --- |
| Posted on January 14, 2013 at 6:15 PM | |
I'm going to assume that if you're reading this it means that you aren't actually in Las Vegas attending CES 2013 right now (or rather didn't make it to the show last week). So, I'm going to share with you what it's like to be here, on the first pre-day of the show and through the week.

Sunday at CES is about arriving and getting settled. Last year I discovered Harrah's and couldn't believe how great the location was; short walking distance to the Venetian which is home to hundreds of exhibitors including the high-end audio suites in the Towers, and also a direct stop on the Monorail line with a just a short ride to/from the Las Vegas Convention Center. You can spend hours and hundreds of dollars at CES waiting in cab lines, so Harrah's location makes it a terrific central point for the show and I was fortunate enough to book my room there again this year. This is what you are greeted by when entering the Las Vegas Airport, the first sign that the show is about to begin...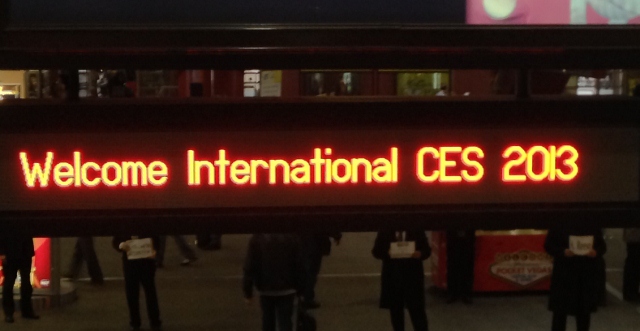 Another big part of Sunday at CES is meeting up with old acquaintances who are also finding their way into town. A large part of our industry is about camaraderie; we all share a deep passion for the same things and it makes it easy to develop quick friendships.
On Sunday I met up with Residential System's blogger Heather Sidorowicz, and Residential System's reviewer Dennis Burger, Home Theater's Darryl Wilkinson, Big Picture Big Sound's Chris "Copper Nob" Boylan, Mashable's Pete Pachal, Sound + Vision's Brent Butterworth, Ken Pohlmann and Leslie Shapiro, and Electronic House's Grant Clauser.
(Saw, but did not get to talk to, Cali Lewis. And yes, she is every bit as cute and perky in person.)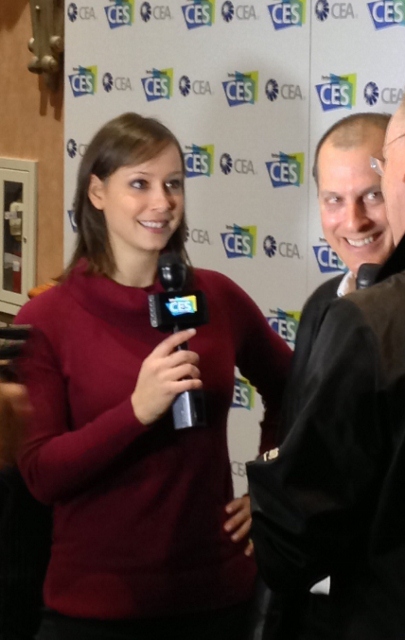 Sunday at CES is a bit like a class reunion, and it's great to have a catch-up before things start getting crazy during the show.
After checking into Harrah's, I headed over to the Venetian and spent a few minutes (ie: had a wonderful double-oaked Woodford Reserve bourbon) with Kaleidescape's Product Evangelist, Eric Larsen. I was blown away by the company's shared demo last year with Stewart, D-BOX, ADA, Digital Projection and others and I suggested a couple of possible demo scenes for the show (the hallway "weightless" scene in Inception and the airplane/shuttle rescue in Superman Returns are both awesome in D-BOX!). We also chatted about how the download store was doing and other plans the company may have going forward.
The big event on Sunday is CES Unveiled and I headed over there – inconveniently located at the Mandalay Bay this year, the furthest hotel away on the strip and totally inaccessible via Monorail. Why, CES?! Why?!? My impressions of Unveiled were there weren't nearly as many companies in attendance this year. Where in the past the room felt packed, this year there were large gaps of open space and only 74 companies in attendance...
To read more about Unveiled, click here for the rest of the story at Residential Systems...

Categories: January 2013, CES/CEDIA, Electronics
/