| | |
| --- | --- |
| Posted on March 17, 2013 at 1:50 PM | |
For a site that bears Theo Kalomirakis's name — a man who whose multiyear love affair with cinema could be considered borderline obsessive — you wouldn't think there would be so much bashing about the cinematic experience. Or, maybe because the site does have Theo's name on it — the man who invented the concept of home theater and whose name graces some of the very finest, posh, private movie rooms around the world — you would expect that very thing. Comme ci, comme ça . . .
Either way, I'm going to pile on a bit more here, exploring one of the reasons why I feel the proliferation of multiscreen cineplexes has killed the movie-going experience. This post actually dovetails nicely with two other posts I've written here: "6  Reasons Why Your Multiplex Deserves to Die," which concerned itself with things like pricing and performance and the "quality" of the other movie-going patrons—and "Does Instant Gratification Kill Desire?"
Jump into the Way-Back Machine with me for a moment, will you, and let's remember what going to the movies used to be like. I was born in 1970, so certainly long after the glamorous halcyon days of the epic movie palaces and the era of 1,000-plus-seat megaplexes like the Roxy, but I can still recall the theaters of my youth. I recall them having wonderful artwork and sculptures and beautiful, ornate decorations.
The closest I came to a Roxy-esque experience was the Grauman's Egyptian and Chinese Theaters. (The latter now stripped of its romantic link to the past and soullessly renamed the TCL Chinese Theater after TCL Corp bought the naming rights for $5 million.) I can remember walking through the lobby to the auditorium and being just overwhelmed by the experience. Even as a child, going to the movies was special because the theaters made the experience special. There was a vibe, energy, and excitement that surrounded the place that is just lost today.
Going to the movies was as much a part of seeing and being seen as it was the film itself. People dressed up. They would gather in the lobby and hobnob. It was an event.
But, alas, it's not the disappearance of the glamorous designs and styles, and the cut-off shorts and T-shirt attire of today's movie houses that I'm bemoaning here. To be honest, once the lights go down, you don't really notice the hieroglyphics or sarcophagus decorations or what the guy next to you is wearing. And, sure, being entertained by the Mighty Wurlitzer organ at the Grand Lake in Oakland, California is a rare treat, but it's not essential.
I say what has been lost from the movie-going experience is one of its greatest joys: the line.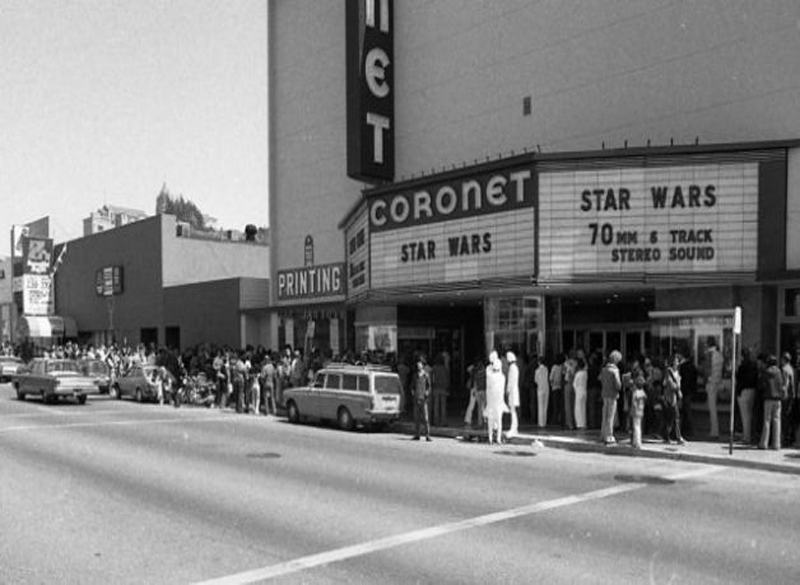 Click here to continue reading why we've lost the line and why losing it has taken a bit of the experience with it.... (at Theo's Roundtable)

Categories: March 2013, Movies, Rants