Shopping Cart
Your Cart is Empty
There was an error with PayPal
Click here to try again
Thank you for your business!
You should be receiving an order confirmation from Paypal shortly.
Exit Shopping Cart
Features, Reviews and a Blog by John Sciacca
| | |
| --- | --- |
| Posted on June 20, 2013 at 10:20 AM | |
By this point, I've drank and reviewed close to 200 beers. Very few have been awful, many have been middle of the road, several have been good, a few have been great, and a couple have been truly epic.
But of all the beers I've had so far, only one can stand alone at the top of the awesomeness taste pyramid; it alone worthy of bearing the crown, "Best Beer I've Ever Had." The beer that holds that honor is Stone Brewing Co's Ruination 10th Anniversary. (My full review of that beer here.)
The beer was a perfect, magical harmony of sublime hops, malt and alcohol that all worked together like a symphony conducted by the very hands of God himself. From look, to nose, to first dash on the tongue, to the lingering finish that was like Mozart creating a masterpiece in your mouth with his fruffy white wig dripping in sticky-icky sweet-juicy hops. The beer only had one problem. And sadly, it was a pretty giant problem. As an anniversary release, it was meant to be a one-and-done. I bought every bottle that I could find – including having a case shipped in – but once it was gone, that was it. Poof. Like Keyser Soze.
Fortunately Stone is not without soul and compassion. When they heard the pouring outcry of love and passion for the 10th Anniversary, they decided to brew it once again, now the beer rechristened RuinTen IPA.
Today (June 19) a bottle arrived at my door from Stone Brewing. This beer was released on June 17, and it could be no fresher. I let it rest all afternoon, and then cooled it down to enjoy it at the height of hop freshness and flavor awesome.
Before opening this before, I am like giddy with anticipation. It is sitting on the counter about twelve feet from me in an ice bucket, and it is all that I can think of. It is haunting me like the beating of the damned heart.  "Brewers!" I shrieked, "dissemble no more! I admit the deed! –uncap the bottle! here, here! --It is the brewing of this delicious ale!"
Imagine if you had spent years searching for the perfect lover. You had found many loves that were good, but you finally stumble across the one that left you breathless. And just when you fully committed to her mind, body and soul, she left. Vanished. A train in the night, never to be heard from again. No calls, no letters. You searched for her endlessly in the bodies of others, but it was never the same, it was never as good. There were glimpses of her in others, but never the full package. Then, after much time had passed and you'd finally convinced yourself that she was truly gone and would never be replaced by another, a postcard shows up out of the blue. She is coming back. She is coming to you. And tonight she has arrived in my bed. And I am trembling in anticipation to embrace her…
Let's drink.
Stone Brewing Co – RuinTen IPA
Hop Varieties: Columbis and Centennial, dry-hopped with Citra and Centennial
10.8% ABV, 110 IBU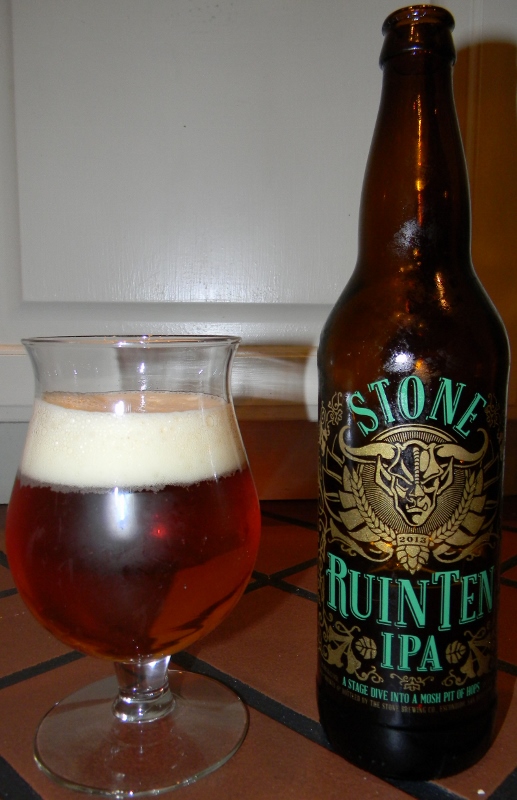 Stone Press Release: "Today, Stone Brewing Co. released Stone RuinTen IPA, a re-brew of the infamous Stone Ruination Tenth Anniversary IPA. Last year's release was embraced by fans and Team Stone alike, which prompted Stone co-founders Greg Koch and Steve Wagner to add the unabashedly bitter brew to the special release calendar this year. This highly sought-after hop monster will be available in bottles and/or don draft at select retailers, restaurants and bars across the U.S.  Last June, Stone Ruination Tenth Anniversary IPA was brewed to celebrate the tenth anniversary of Stone Ruination IPA. Stone achieved its staggering 110 International Bittering Units (IBUs) by using twice as many hops – five pounds per barrel to be exact – and cranked up the alcohol-by-volume (ABV) from 7.7% to 10.8%. "We brewed this beer using the same ingredients as in our classic Stone Ruination IPA, but we jacked up the hops – not just in the boil, but we doubled the dry-hop amount, using a 50/50 blend of Centennial and Citra," explained Stone Brewmaster Mitch Steele. "We also pumped up the malt to achieve its elevated ABV. The combination is, dare I say, magic." If Stone Ruination IPA is "A Liquid Poem to the Glory of the Hop," then Stone RuinTen IPA is "A Stage Dive into a Mosh Pit of Hops." Those that dare to enjoy this hop bomb will notice myriad fruity, tropical and citrus characteristics, plus a lingering bitterness on the palate. The elevated ABV brings about a full-bodied maltiness, which helps to balance out the aggressive hop flavors. For an optimal hop experience, this beer should be enjoyed before the "Drink By" date on the bottle – in fact, the sooner the better to maximize the hop flavor.
Overall: This was one of the team's favorite Double IPAs, so we were thrilled to have the opportunity to brew it again. The combination of Citra and Centennial in the dry-hop is magical. Please drink this beer FRESH to get the full impact of the hopping."
Enough talk. It's time to pour. My baby is back and daddy is home… Beer pours thick and wonderfully from the bottle into the glass producing a nice two fingers of slightly off-white head. It pours a beautiful deep golden, dark copper color that just screams of richness. The head kind of settles down over a few minutes, but with every shift of the golden liquid, the glass is just coated with this thick, oily sticky froth that clings to the sides for long minutes. The beer's body is clear but, oh, dammit! The smell! The smell is like…I smell sex and candy, yeah. I mean, I want to just state for the record that I have never done heroin. But, this smells to me like how I think heroin addicts feel about heroin. Like, I want to put this smell on a spoon, cook it down and then shoot it into my nose. I want to then lie down and just dream hazy, gauzy RuinTen dreams. The smell is just sweet and packed with sticky piney resin and gobs of gooey hops. Beneath are rich notes of tropical sweetness, like delicious fresh-squeezed oranges from a tree in the center of Eden. Honestly, smelling this beer is more satisfying than actually drinking many of the other beers I've swilled. If Dana wore RuinTen as a perfume, we would have like 17 children and she would be pregnant right now. First sip…oh, man. I'm starting to get emotional from it. I missed you, girl. Don't ever leave me again. We're perfect together. RuinTen, you complete me. The flavors are just so frickin'…perfect. Spot-frickin'-on *perfect*. If this beer were a golfer, Tiger Woods would caddy for it and say, "Please, teach me how I can be more like you." It's this wonderfully flash of sweetness and carbonation as it lands on your tongue, and you can just feel your mouth and every single taste bud rushing in to welcome all the flavors. Your mouth literally wants to give this beer a long, passionate lingering hug. The swallow is just a crush of hop bitterness that just goes on and on. You are chewing on the aftertaste for minutes after. The 10.8% ABV is like non-existent. The flavors are so well balanced that it's really like drinking a chalice filled with magic. To quote my brother, this beer is wedding night good. Admittedly, I've never tried Russian River's Pliny the Younger, but from what I've heard, this could be its closest sibling. And you don't have to travel 3,000 miles and wait in a 6 hour line to maybe get some. I can't think of one element that would make RuinTen even 1% better. This beer is a perfect 100 in every regard. From the second the beer hits the glass, it is engaging your senses. The amazing aroma, the mouthfeel, the incredibly intense, fully spherical flavors, to a finish that is like a Peter Jackson extended Blu-ray cut.  Seriously, if you told me that I could have a keg of this beer, but that it would mean a good chance of me becoming a gutter dwelling, raging alcoholic, I would say, "The fridge is all set; when will you get here?" It's that good. I want Kurosawa to make a documentary on this beer; a lengthy 3.5 hour doc with dramatic lighting and frame composition. Stone recommends some food pairings with this beer like salt and pepper shrimp, aged cheddar, or apple pie with caramel sauce. But, honestly, I can't imagine eating anything with RuinTen as it would take away from the savoring of it. I want to drink this beer WITH this beer. Like I want two glasses lined up to, I don't know, something. (Second pour...) Another nice, fluffy cloud of whitish head and nuclear blast of aroma. I do love the flavor of this beer as it is nice and cold. I mean, I would probably love this beer after it has been sitting in a 130-degree car all afternoon long, but it is just (insert sound of angels singing) when it is cold. The name of this beer is also amazingly spot on. It's not that the IBUs are so high they ruin your palate. It's that they flavor of the beer is so good, that once you've had this, you are ruined from ever wanting anything else. No joke, this beer is gone, and the thought of drinking anything else tonight just fills me with an empty sadness and regret. RuinTen is the girl from your past you have been hunting for on Facebook. Seriously. If Becky Frodsham is out there, she is drinking a RuinTen. And enjoying the living hell out of it. Well done, Stone. Now, promise to never leave me again. Highest rating, epic of epic status standing with the kings in the Halls of Beerhalla.
Categories: June 2013, Beer/Liquor/Wine, Reviews
/