Shopping Cart
Your Cart is Empty
There was an error with PayPal
Click here to try again
Thank you for your business!
You should be receiving an order confirmation from Paypal shortly.
Exit Shopping Cart
Features, Reviews and a Blog by John Sciacca
| | |
| --- | --- |
| Posted on January 8, 2011 at 5:57 PM | |
Kid's are honest. Like *brutally* honest. Want to know the truth – like the REAL, go on, it's OK, you can hurt my feelings, I really want to know truth? Then ask a young child something. But be *sure* you want to know. Because you might actually find out that that dress DOES make your butt look big. That your new hair cut is WAY too Bieber. Or that your make-up makes you look like Chuckles the Clown from Toy Story 3.
Lauryn has been known to break off some truth in me. Of course there's the usual stuff like, "I love mommy best" and "Mommy's the bestest mommy I could ever ask for. But I love you too, daddy" and, "Daddy, why is your hair not all black?"
Then there's a whole new level of truth like the picture that she drew of me the other night. The kind of truth where she is just capturing you as she sees you. In this case, whether I liked it or not. She turned to me and said, "Look at me daddy. I'm going to draw a picture of you." So I looked. And the artist drew. Her pen racing over the page, scribbling lines here and circles there and capturing truth – innocent, raw, unfiltered or unadulterated truth – everywhere.
The finished picture first made me laugh and then made me think of the line from the Counting Crows song, Mrs. Potter's Lullaby:
"All the blue light reflections that color my mind when I sleep
And the lovesick rejections that accompany the company I keep
All the razor perceptions that cut just a little too deep
Hey I can bleed as well as anyone, but I need someone to help me sleep"
So, here's the picture. I've included a reference map of my actual face for direct comparison purposes: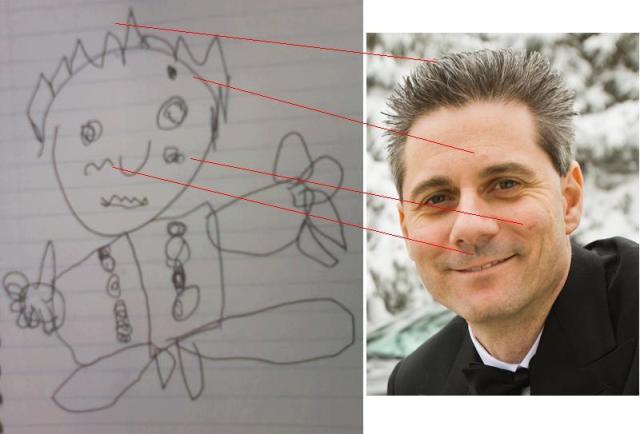 So it appears that when she looks at me, she sees the small mole over my left eye – an eye that is apparently suffering from Grave's disease and is experiencing the end stages of hyperthyroidism and is preparing to imminently burst forth from its socket at any second; also the eye is has gone all white and vacant, likely from too much Nintendo 3D gaming  – as a giant, cancerous nodule, likely growing gnarly hairs and saying "moley-moley-mole." And the I-barely-even-notice-it's-there skin discoloration below my left eye as a heinous, weeping wound, likely due to someone extinguishing a rather large cigar on my face. I think the radical relocation of my philtrum – that indented area between nose and chin – might just have been a slip of the pen; she drew that before my nose or mouth so I think she decided that those features needed to be relocated more, you know, accurately to the center of the facial area. As for my outfit, yes, I realize that it looks like I am a street hustler in New York, holding open my jacket as I quickly and surreptitiously show you my collection of knock-off Rolex watches. Or perhaps you think I'm wearing something akin to traditional Tribal garb, with scarves or necklaces or beads or sashes around my neck. Sadly, neither is true. I was wearing a jacket. And it had buttons on it. I'd like to point out that my left arm and right arm are far more in proportion with one another, though I'll allow that Lauryn was trying to achieve some forced perspective, likely trying for a 3-D effect of my reaching out through the paper towards the viewer. This might also explain my equally giant left foot. Also, I can assure you that I DO have legs and that the heels on my shoes have been grossly misrepresented here. 
The hair and smirk she pretty much nailed though.
For more of Lauryn's artistic talents from previous posts, click here, or here or here.
Categories: January 2011, Family
/