Shopping Cart
Your Cart is Empty
There was an error with PayPal
Click here to try again
Thank you for your business!
You should be receiving an order confirmation from Paypal shortly.
Exit Shopping Cart
Features, Reviews and a Blog by John Sciacca
| | |
| --- | --- |
| Posted on January 29, 2011 at 5:00 PM | |
My mom gave me a gift subscription to Wine Spectator a few months ago, and while it would be lying to say that I read every word on every page, I do try I flip through and keep up with the latest, greatest super-cab finds under $10 or the wine futures coming out of Bordeaux or those heated discussions on terroir. This issue has a ton of pages dedicated to single malt scotch, a new area of potent potables I'm starting to discover. (I fear a giant tangent coming up here. Yes. Here is comes... What I don't like about the Spectator are the two-per-issue ads from Bose. I swear, the rhetoric of their ad copy just burns me like chugging a pint full of acid reflux mixed with some Dave's Insanity Pepper sauce. The ad starts out with large, bold print type stating, "To be experienced by everyone and owned by a few." This is pimping their new VideoWave, a $5350 system essentially built around an outsourced 46-inch middle-of-the-road LCD TV and an integrated, all-in-one soundbar type audio system. The ad is chock full of classic Bose fluffery like, "When the result was demonstrated within Bose, the reaction was nothing short of astonishment." Now, I imagine that the astonishment they're talking about wasn't, "Holy crap! How much are we going to sell this for? FIVE THOUSAND DOLLARS?! Are you kidding me?! You know I can go and get a way better TV for like $1500 and then an audio system that will destroy this for like $3000 and then use that leftover, extra $800 to have a money fight with some guy I meet on the streets. Jesus, people, we have blown literally hundreds of dollars in R&D and millions in coffee and doughnuts. People, we've created an abomination here. Frankly, I'm astonished!" More from the Bose PR war chariot, "To us, research is not simply about creating a new product. It's about creating an experience that wasn't possible before." Like, not possible before because your stuff doesn't include any of the features common to products costing a quarter of the price, or not possible because your stuff is incredibly difficult to integrate with other gear, or not possible because you didn't think about rebranding another LCD TV with your name and then Jacksoning the price to crazy-cat-lady prices? Just trying to understand exactly what kind of wasn't possible we're talking about. Bose…better sound through advertising.)
Anyhow... So in this issue of the Spectator there's a really interesting article by James Laube titled "Hidden Pleasures." In the article Laube talks about a book he read (Paul Bloom's How Pleasure Works: The New Science of Why We Like What We Like) about the psychological motives behind pleasure, and the whys behind our thinking about what we buy and enjoy. He says, "Opening a rare wine can be a signal to ourselves and others that we're 'worth it.' For collectors, the longer a wine rests in their cellar, the greater the value. This is often taken to the extreme, where otherwise drinkable wines can't be parted with, with no occasion special enough to merit their consumption. People who age wine too long may experience remorse..."
And, man! This is just so me. Granted, I am not a wine collector by even the broadest definition of the word. We probably have 20 – 30 bottles at any point. But amongst those bottles are those few "special" ones; a 1994 this, a 1993 that, a 1997 library reserve other thing. And I will occasionally pull one of them out by mistake when meaning to grab something else, and think, "Whoa! No! Not you! Back you go!"
And it definitely gets to that point where you start to think exactly WHAT occasion IS special enough to open one of these bottles up? And while this is talking specifically about wine, it can be extended to encompass virtually any non-replaceable, consumable item; when they're gone, they're gone. And over time, there is just this swelling gravitas of age and collection and ownership and seeing-it-there-ness of having something like that that makes it harder and harder to part with – and ultimately enjoy – with each passing day. (This is a glimpse into my mania. Enjoy.)
Well, last night was Dana and my 16 year wedding anniversary, and that seemed like the right time to open up a bottle. A fine bottle. So thanks to a gift cert from my mom and dad – thanks! – we went to a fabulous steak dinner at Ruth's Chris Steakhouse. And brought along a bottle of 1994 Clos Du Bois Cabernet.  (FYI that thing in the background is not a gross, horrible lump of red-flesh meat, but rather a piece of chocolate mousse cake. I know...in the picture it looks a little sketchy, but you'll have to believe me that it was delicious and not at all gross looking in reality.)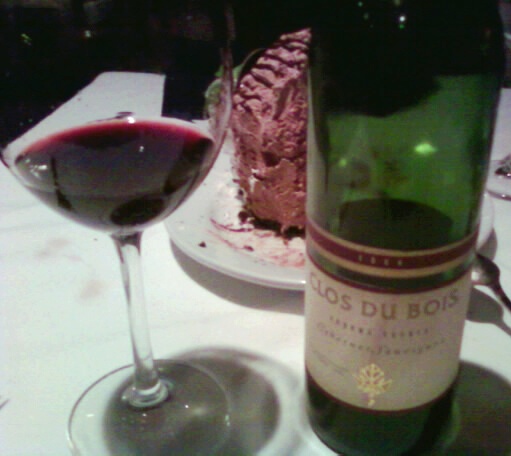 Now, this was probably a $15–20 bottle when we purchased it 15 or so years ago. Probably purchased on a whim at something like a Trader Joe's, and tossed into a basket with things that have long since been consumed and forgotten. But '94 was a famously good year for Napa Valley Cabernets and at some point we – OK, I'm sure it was just me – decided to save this. And it has been with us nearly our entire marriage. And it is easy to get nostalgic on a very special day, enjoying a bottle of wine that is almost old enough to drive itself to the store to buy its own special bottle of wine. A bottle that has moved 3,000 miles. Seen us buy a house. Seen us bring a new person into our family. Seen a lot of great and monumental times. (It tasted fabulous by the way. A ton of rich, cherry-berry and earthy flavors and smooth as silk. 17 years cooped up in a dark glass bottle will do that to you!)
The same can definitely be said for spending. Cash is a consumable, though -- hopefully -- a replenishable one for most of us. And certainly, making foolish purchases or buying something beyond your means or going into debt for a toy is a bad move. (Unless, that is, you're buying that toy from me, in which case, I will fully support you and your quest to fulfill your dream! Don't let anyone hold you back! Thumbs up for justice!) But if you can afford it, why not enjoy it? I've been to three funerals in the past 12 months, and I can tell you that leaving behind piles of money and regrets and "we'll get around to it" one days, isn't the way to go out.  My partner, Allen, calls it "converting money into happiness," and that's really a profoundly true statement.  A pile of money has the potential to make you happy, but until spent, or converted, it is just a pile of dirty paper. A bottle of wine unopened is, ultimately, a bottle of wine unenjoyed. Find your own special occasion and go and enjoy something you've been holding onto, waiting for that right moment. That right moment might as well be now.
Categories: January 2011, Family, Beer/Liquor/Wine
/