Shopping Cart
Your Cart is Empty
There was an error with PayPal
Click here to try again
Thank you for your business!
You should be receiving an order confirmation from Paypal shortly.
Exit Shopping Cart
Features, Reviews and a Blog by John Sciacca
| | |
| --- | --- |
| Posted on February 9, 2011 at 4:48 PM | |
You probably watched the Super Bowl. And you probably watched the ads. (I don't know what Spielberg's new movie Super 8 is about, but I already know that I LOVE IT!) And you probably remember the ad with Ozzy Osbourne and – did he really just say he looked like a girl? – Justin Bieber. What you might not remember was that that commercial – all $3 million worth of air time of it – was for Best Buy promoting a new program called Buy Back.
Now, on the surface, Buy Back sounds kind of slick. How many times have you purchased a piece of technology only to find out that a year later it was out of date and something newer, faster, better, cheaper more bionical had come along? Laptop, cell phone, digital camera...these types of technologies just seem to live to burn us the second we walk out of the store. If only there was a way to turn your old steaming pile of silicon worthlessness into a fresh gleaming pile of silicon awesomeness. On the surface, that's kind of what Best Buy seems to be offering with their Buy Back program.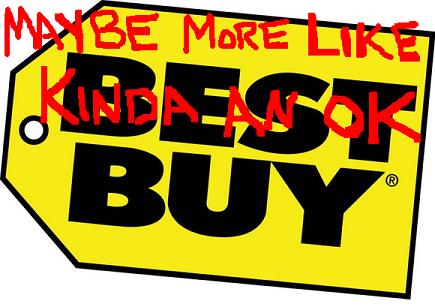 But, let's dig a little deeper, shall we?

 

First, any time a major corporation offers something, it isn't because they love you. They don't sit around the big-boy table discussing things like, "What can we do to show our customers how much we love them? How can we...give back?" They don't. If it were up to them, they would check the box that says "Don't ever need to see you again, please just send money," followed by you sending them money each month like an HMO at which point they would sit back and deny you coverage at every opportunity. So, take any offer like this with a heaping grain of, "Hmmm, I wonder what's in it for them?" And what's in it for them is an added revenue stream to cover ultra-low margin products.

 

The Buy Back program is offered on mobile phones, laptops, netbooks, tablets and TVs, and comes with a decreasing repurchase value for each item upon Buy Back depending on the length of time you've had it, or just how stale and rotten your putrefying piece of technology has become. From 31 days to 6 months you would receive 50% of the original purchase value; from 6 months to a year 40%; from 1 year to 18 months 30%; and from 18 months to 24 months 20%. For TVs only, you can play the long con from 24 months to 48 months and receive 10% of your purchase price.

 

OK, says you, I get to play with my new tablet for 5 months and 29 days, get it all choked down with crazy-lame apps and fingerprints and then trade that clunker in on the new iPad with (insert must have feature here). So, you paid $500 for your iPad and now they'll give you $250 in credit. Oh, but wait... You forgot that Buy Back wasn't free after the initial few day launch/trial period. So you have to factor the price that you paid for the privilege of being able to Buy Back. That price is $69.99 for laptops, Netbooks, or tablets and $39.99 for smartphones costing less than $350 and $59.99 for phones over $350. So really that is a net Buy Back price of $180 for your gently used iPad. That comes with a store credit that can only be used at Best Buy. Want to know what used iPads are going for on eBay? Right now they are fetching around $385 and up. And that is cash that can be used anywhere that cash is accepted. (Assuming you didn't get suckered in to some Nigerian prince scam where they convinced you to take Western Union. Dude: Don't do it!)

 

Mobile phones are actually credited back differently, and their value is based on the original retail value of the phone, not the discounted price you might have paid. But since you usually can't trade-in a phone while you are under some "severe penalties for early withdrawal" clause, and that these contracts generally run for 2 years – the length of time where you are actually eligible for a Buy Back – and that getting new phone when renewing your contract is usually massively discounted, again, this seems like a lot of smoke and mirrors and a bonus $59.99 to Best Buy's bottom line.

 

For TVs, the Buy Back is even more Best Buy-rutalizing...




You know you want to know more.... Head over to Residential Systems where you can find the rest of the story to see just how far down the ridiculous rabbit hole this goes...


Categories: February 2011, Electronics

0

/